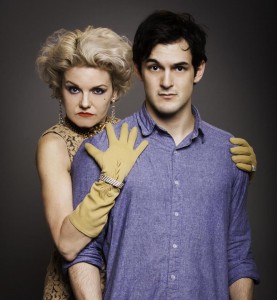 The hectic, complicated life of young New York actor Jacob Gordon is about to get even more complicated in the new comedy web series IT COULD BE WORSE, created by the series' co-stars, Wesley Taylor and Mitchell Jarvis of four a.m. Productions, the people responsible for another industry-based comedy web series, BILLY GREEN.
The show, which debuted its 15 episode first season on Feb. 1st, has new episodes airing Fridays on its official web site. Taylor, from the popular Broadway musicals ROCK OF AGES, THE ADDAMS FAMILY, and the NBC drama SMASH, stars as Jacob, a struggling actor who not only has to deal with the constant rejection of the business, but also an awkward relationship with his boyfriend, Phillip (Gideon Glick), and his dad, Leo (Richard Poe) moving in with him after his parents divorce. He must face all these struggles while landing what could be his big break: a co-starring role in a new Broadway musical, with the notoriously temperamental stage and screen diva Veronica Bailey, played by another stage veteran, Alison Fraser (GYPSY, among many other roles). Jarvis (Sam), Nancy Opel (as Jacob's mom Judy), and Adam Chanler-Berat (Ben) round out the impressive cast, and the series also boasts cameos by many Broadway stars, including several of Taylor's SMASH castmates.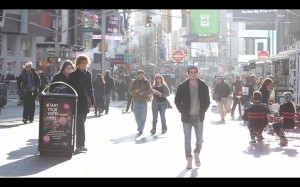 Before IT COULD BE WORSE was in pre-production, Taylor and Jarvis were both busy on other web series projects, but soon, both would develop their current project, one inspired by some of their most embarrassing life moments. "While waiting for funding to shoot a dummy pilot of "Veronica" (a series pilot developed by Taylor), we decided to shoot a series of short sketches based on personal stories of humiliation. The first sketch would be Wes' true story of humiliation that later became the "Ladies Room". A short that later became the pilot episode for "it could be worse". At that point our dummy pilot funding fell through, and so we set out to merge those ideas. "Ladies Room" and "Veronica" would merge to create the world of Jacob Gordon and "it could be worse".
Taylor and Jarvis' two-man operation Four A.M. Productions, which Taylor says was  lovingly referred to as "ghetto productions" by Broadway legend Audra McDonald (who plays Jacob's shrink) took on many roles throughout the show's production. "Wesley and I wear so many hats in making this series happen (Taylor writes, Jarvis edits, and both co-direct, but both work side by side in each task). We have learned that we are a solid partnership not only artistically, but as a production team as well. Wes' strengths as a producer are so vast. He plans and organizes location, cast and scheduling. While my strengths lie more in technical preparation, I serve as Director of Photography and plot the shot lists," Jarvis says.
Unlike the dramatic behind-the-scenes story of SMASH, IT COULD BE WORSE takes a humorous, though sometimes self-deprecating, approach to the world of Broadway, one that appeals not only to Broadway fans, but also to LGBT audiences. "We are industry/theatre-centric…but unlike Smash it is NOT a series about the show within the show/creation of a broadway musical, and as far as comparing us to other web series with the same genre, I think we posses a darkness they don't. Mitch and I have a specific brand, we believe," Taylor says. Both men hope to achieve bigger things with IT COULD BE WORSE, though Taylor feels that the web is quickly becoming one of the leading sources of entertainment. "We would like to pitch the series to cable…although the Internet is taking over entertainment. There are many shows thriving on web sources," he says. Jarvis puts it more simply: "The dream is for this alone to be our jobs."