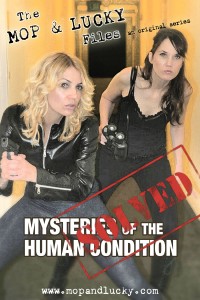 Espionage is always a risky business – especially when it's your profession. Just ask the two protagonists of the new comedy web series THE MOP AND LUCKY FILES, written, produced and created by the show's co-stars, Chloe Taylor (of the popular web series comedy AVE 43) and Jennifer Erholm, and directed by veteran actor/director Scott Paulin. The series follows two recently unemployed friends, Lucky (played by Erholm) and Mop (Taylor), who decide to start their own business as "personal espionage specialists". With almost no money and little resources, they end up taking space in a converted storage unit, only to discover that the storage facility is a lair co-owned by a pair of mobsters: Micky (Michael McGee) and Teddy (Frank Potter).
From there they set out to crack some of the oddest unsolved cases out there, while falling in (and often failing at) love, and getting in deeper with the mob. The cast also includes Judith Scarpone as the girls' first client, Mrs. Myronious, who suspects her husband (Judd Laurance) of being unfaithful – or at least of not saying he loves her. The series debuted last May, and was featured on the "Hotlist" of popular web series by the WGA's (Writers Guild of America) web site last October. The show's five episode first season is now streaming on Youtube, Blip.TV, and Boomtrain, and a Kickstarter campaign to raise funds for the show's second season is also in the works.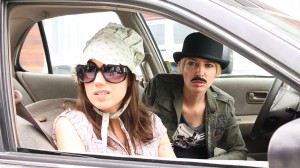 Taylor and Erholm became close friends while performing in a play directed by Paulin, and their series was in development for some time. Says Taylor: "For years Jennifer and I had talked about writing something but it took a long time to come up with an idea that we were really excited about. One night about three years ago, over dinner, wine, and bong hits, it finally came to us. We scribbled down ideas of story lines into a spiral notebook that night and it has pretty much been our whole life ever since. It's like a job that doesn't pay (yet!)" Both women set out to create a web series with a unique TV-like storytelling style, and despite running the risk of losing viewers accustomed to the quick lengths of most web series, Taylor stuck to her approach. "We wanted to make a show that felt more like a TV show than a web series, something really character driven that had layered plot lines and themes that would be explored throughout the entire series as opposed to stuff that would just be wrapped up in one episode," she says.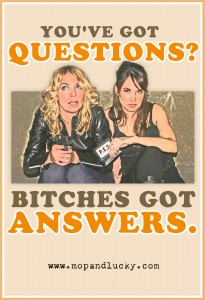 MOP AND LUCKY has proved to be rewarding for both actresses in many ways, though just producing their own web series came with its own set of challenges. Yet, thanks to Paulin and co-star McGee (who produced a feature film prior to joining the series' cast), the seemingly difficult task of filming was made a lot easier despite all the headaches that come with shooting a low-budget web series. "The only reason we were able to even get through our crazy six day shoot was because Scott Paulin, our director, had directed network television for years," Taylor says. "In fact this was his first time doing a low budget gorilla style shoot. He had directed shows like Melrose Place and Northern Exposure, shows with big budgets, so he really knew how to get the shots he needed and move us along quickly, and trouble shoot. I didn't realize until we got into post just what an amazing job he had done."
Like many actors and actresses who make web series, Taylor and Erholm created MOP AND LUCKY as their own personal vehicle for their talents, without having to wait for their next job. It's a series that tells the story of how two best friends can somehow manage to solve some of the most bizarre mysteries (and to help their clients), while trying to figure out their own complicated lives, Taylor says. "Mop and Lucky are lost and clueless in many ways in their own personal lives, but they have to solve seemingly unsolvable mysteries in the lives of their clients (for instance, Mrs. Myronious wanting to find out if her husband really loves her). In the process of fumbling their way through solving cases they end up learning more about themselves. So it's about putting one foot in front of the other, even when life (or clues if you will) aren't making sense, and how eventually mysteries in life have a way of being solved."
ON THE WEB: www.mopandlucky.com
FACEBOOK: https://www.facebook.com/TheMopandLuckyFiles
TWITTER: www.twitter.com/MopAndLucky
YOUTUBE: http://www.youtube.com/user/smallbutmightyprods/videos?view=0&flow=grid
Blip.TV: http://blip.tv/TheMopandLuckyFiles
BOOMTRAIN: http://boomtrain.com/shows/the-mop-and-lucky-files