Victorian-era England has been the subject of several popular movies and TV series, most notably the hit U.K. dramas DOWNTON ABBEY and UPSTAIRS, DOWNSTAIRS (both imported to American audiences via PBS), plus several filmed adaptations of classic novels like Charlotte Bronte's JANE EYRE, Charles Dickens' GREAT EXPECTATIONS and DAVID COPPERFIELD. Yet, have you ever imagined a Victorian-era period piece in the style of THE OFFICE? The new comedy/mockumentary web series WIMPOLE STREET takes such an approach. Created by Caitlin Shannon (who also stars in the series, more on that later), the series is set to debut its four episode first season today (September 20th) on Youtube and on Blip.TV (see links below).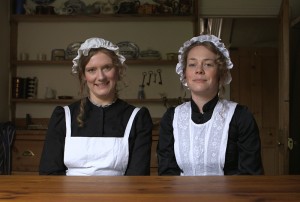 WIMPOLE STREET follows the lives of the Miller family, whose lives have been rocked by the disappearance of their patriarch, politician John Miller. Each member of his family is interviewed about John's disappearance by an off-camera interviewer. While the fact that he's disappeared is beyond dispute, no one knows just what happened to him, where he may be, or why he disappeared.
That's not to say, though, that several members of the family don't have their own theories – from Miss Rosamund, John's daughter (played by Mia Austen), who believes that her father's disappearance had everything to do with politics, to his son Matthew (Sam Wilkin), who thinks that he's taken an unexpected vacation. There's also his loving and devoted wife, Winifred (Alison Skilbeck), who's all too eager to bask in the spotlight now being shone on her family. The series also stars Simon Yadoo as the family butler (and self-proclaimed world's leading expert in butlering), Nelson Brand, Catherine Skinner as Matthew's no-nonsense fiancee Gertrude Hetherington, Rhiannon Oliver (also the series' co-producer) as the equally no-nonsense Clarabel Jones, and Sarah Simpkins as Mrs. Dippy, whose efforts to run a tight ship around the house are constantly foiled by the hapless maid Daisy Fleet (played by Shannon) and Brand. (The series is not currently closed-captioned, but Shannon says that it will be in the near future).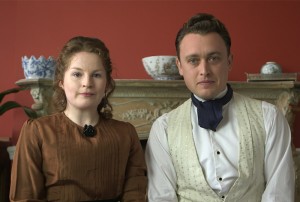 Already familiar with popular period dramas and comedies, Shannon took a distinctive and fresh approach to WIMPOLE STREET. "The idea had multiple inspirations – classic Victorian comedy literature – everything from NICHOLAS NICKLEBY to DIARY OF A NOBODY (the 1892 English comic novel written by George and Weeden Grossmith, the latter having illustrated it, later adapted into a BBC telefilm in 2007), films like GOSFORD PARK, and television series like UPSTAIRS, DOWNSTAIRS and THE OFFICE. I'm also an actress, and I was doing the play GASLIGHT when I started to write the script – Victoriana was everywhere and it felt natural to write in that style. I was excited by the idea of a more subtle 'fly on the wall' style comedy set in the Victorian era," she says.
While the idea of a mockumentary style period comedy was unique, Shannon soon found herself having to adapt to the realities of a low budget production. "I initially wrote a half hour sitcom pilot – it had lots of ambitious set pieces like pianos falling down the stairs – I knew that wouldn't work if we were going to make it ourselves on a micro-budget. Finally I adapted the pilot and created a short episode web format," Shannon recalls.
Shannon had no trouble finding her talented ensemble cast, having worked with all of them before on other productions (including the aforementioned stage adaptation of GASLIGHT). In addition, the people she worked with behind the camera made the otherwise daunting task of producing WIMPOLE STREET a lot easier. "I've learned that if you take the time to find good people, you'll be thankful when it comes to the crazy shoot. I knew the patience was worth it when I met our DP (director of photography) Daniel Fazio. He was an inspiration – very focused and enthusiastic about his work, and half the reason why our shoot days went very smoothly. I'd never worked with a Canon C-300 before so it was great to learn about it from him. The shoot honestly just felt like play. Of course nothing went to absolute plan, and I've learned a thousand lessons, but that's all part of it."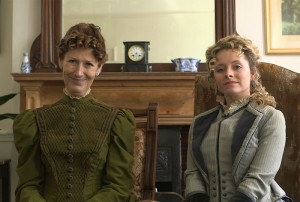 WIMPOLE STREET may be unlike any web series out there – in more ways than one, as Shannon explains. " I'm not sure the market's ever seen a Victorian mockumentary before, so I think it might be its own sub-genre! WIMPOLE STREET is, perhaps, old-fashioned, but it's fresh in the sense that I don't think many people will have seen anything like it. With Victorian characters who relate to the camera like Michael Scott or Pam Beesley, it is surreal, anachronistic, and funny."
Amidst all the hilarity, there's a deeper message within the series itself. "There's a little bit of social commentary running through the show – with particular focus on the poor standing of women in society. I don't think that's necessarily the theme though. Overall it's a nostalgic look at the way London society used to be, with all its hierarchy and class and servants and gentlemen."
Most of all, Shannon says that WIMPOLE STREET is a series that will have distinct crossover appeal. "I think if you're a fan of DOWNTON ABBEY or THE OFFICE, then you might like WIMPOLE STREET. It's a bit of a crazy cross between British period drama and THIS IS SPINAL TAP."
ON THE WEB: http://wimpolestreet.weebly.com/index.html
YOUTUBE: http://www.youtube.com/user/Caitlinbobby
BLIP.tv: http://blip.tv/wimpolestreet
FACEBOOK: https://www.facebook.com/wimpolestreetseries
TWITTER: @WimpoleStreet2