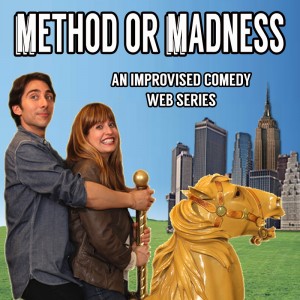 Being an actor remains an ultra competitive pursuit, one filled with its own share of highs and lows. As evidenced by several series that this blog has featured over the past few months, most notably THE COLD READ, IT COULD BE WORSE and BOOKED IT!, the process of making a living as an actor, as well as getting that first big break, is often just as dramatic – and often comical – as any role any performer could ever play in his or her career. Sometimes, though, it helps to have friends to make the journey towards showbiz stardom easier. METHOD OR MADNESS, the new comedy web series that debuted its first season of eight episodes last Monday on Blip.TV, follows the story of two aspiring actors who just happen to have a very unique friendship: Gerard (played by Gerard Bianco Jr.) and Nikki (played by Nikki Gold). New episodes air each Monday.
Both actors, who also created the series through their production company Rare View Films, portray what they describe as 'exaggerated versions of themselves', and throughout the show's  first season both Gerard and Nikki manage to get through some hilarious situations as they both try to achieve success in the ultra competitive world of show business.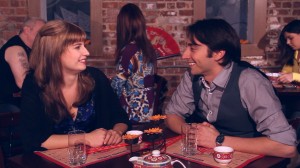 Bianco and Gold, both New York-based performers, created METHOD OR MADNESS as a way to not only work together on a unique project, but also as a vehicle for the city's talented lot of thespians. "The acting community in New York City is a small world. We (Bianco and Gold) were cast in many of the same projects, which were mostly dramatic. We quickly realized we worked very well together, had a similar sense of humor, and we both wanted to do more comedy. Creating a comedic web series seemed like the best way for us to collaborate. We both had backgrounds in improvisation and thought it would be fun to largely improvise the script to give the show an organic feel. This also opened the door to bring in other fantastic improvisers and characters," they say.
The ability to improvise within the framework of the often outlandish situations depicted in each episode was key to METHOD OR MADNESS' success, and Gold and Bianco prepared each member of the show's cast for the challenge. "Fortunately for us there is an abundance of talented and funny actors in New York City. During the auditions, we give the actors a scenario to improvise. The actors who stand out to us the most are not only funny, but they have a unique personality, listen and react well, and make choices that are justifiable."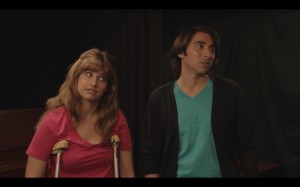 Both the show's creators say that its highly off-the-cuff style is perhaps the biggest factor that makes METHOD OR MADNESS unlike many comedy web series currently being produced. "We stand apart with our improvised structure of the series, which makes the comedy natural and relatable. Season 1 is filled with over 30 different characters all of which are extremely fun and diverse," they say.
While Gold and Bianco had little trouble finding their cast of METHOD OR MADNESS from New York's incredible pool of acting talent, producing each episode was a far more complicated affair. "With low budget productions, you are often wearing many hats. We do most of the pre-production, which includes finding locations, casting, creating the outlines, shooting schedules, hiring the crew and securing equipment rentals," the show's creators say. Filming each episode of the series was no picnic, either. "The shooting days themselves are jam packed, as we are always on a tight schedule. In an ideal world, we would only shoot one episode per day, but with limited resources, we've had to shoot as many as three episodes in one day," Bianco and Gold recall.
Yet, as they say, the most complicated part of the production schedule came in the editing room. "Post is probably the most tedious and lengthy part of the process. In the beginning, we were working with wonderful editors, but then decided editing the episodes ourselves proved to be more fulfilling as creators. Lastly, we have experienced sound mixers who work on our post-production sound."
Inspired by the works of such famed comedic geniuses and filmmakers like Louis C.K., (LOUIE), Tina Fey (30 ROCK, SATURDAY NIGHT LIVE), and Larry David (SEINFELD, CURB YOUR ENTHUSIASM), Bianco and Gold have big ambitions for the success of their show. "We would love to have our audience continue to grow and we'd like to pitch to larger platforms. Our show could easily translate to television. We'd love to just be able to continue to create content that we believe in, enjoy making, and could be proud of," they say. No matter how successful METHOD OR MADNESS is, both of the show's creators agree: it's all about what a difference friendship can make, and finding the humor in some of life's most unpredictable situations.
ON THE WEB: www.methodormadness.com
BLIP.tv: www.blip.tv/methodormadness
FACEBOOK: www.facebook.com/methodormadness
TWITTER: @MethodOrMadness
INSTAGRAM: @MethodOrMadness