Being a young, newlywed couple who's deeply in love is one of life's greatest experiences. Yet, it doesn't come without its own share of difficulties – from trying to find (and keep) steady employment, to the realities of living on a shoestring budget. Through it all, the biggest goal any couple can achieve is this – to stay together, no matter what challenges come their way. Such a couple is portrayed in the new comedy web series OUR STUDIO, set to launch on Youtube in mid-2014.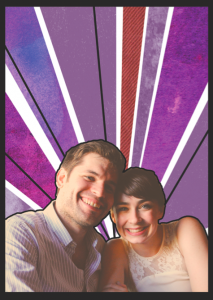 The series is created by, and stars real life newlywed couple Adam Rini (VOYAGE TREKKERS, and the animated series THE HORDE) and Megan Hughes (THE HORDE, and the upcoming short film HOTEL PENNSYLVANIA) as a pair of newlywed creatives (he a filmmaker, she an artist) who take up residence in a small apartment with their cat Edie (played by herself), an aspiring singer. Together, they pursue their dreams of professional success while trying to make ends meet – and to make the most of their lives. The couple recently launched an IndieGoGo campaign to fund the show's first season of 10 episodes, which raised $3,860 of its overall goal of $5,000. While its official web site and Youtube pages have yet to be launched, its Facebook page is already live.
OUR STUDIO was inspired primarily by the real life experiences of both Rini and Hughes – both in their personal and professional lives. It's a series of stories that each hope to portray in fresh, hilarious fashion. "We have been living in NYC together in either a small room or a studio for over a year and a half now. It is taking true life events and exaggerating them into a sketch comedy format," they say. The series relies heavily on both collaboration among its cast, many of which are fellow actors and friends of Rini and Hughes, as well as a heavy emphasis on improv.
Both Rini and Hughes seek to provide viewers with a web series that not only is of great quality in terms of its production, but also one that hopes to bring them a show that reflects the challenges, dreams and joy of being in love. "We know how to make high quality work and we are passionate about film work and acting. We believe that this is a subject that many people our age can relate to and we are both highly educated in our craft – looking for ways to produce the best work we possibly can," they say.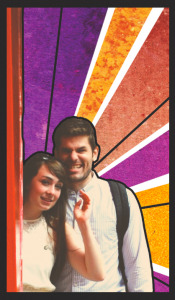 Creating quality work is another major goal that both Rini and Hughes hope to achieve, not only with OUR STUDIO, but also with their overall creative output. "We hope to devote a huge part of our life into creating something together as artists in the first year of our marriage that we can be proud of and strive to make the best it can be. We just want to work and we are so lucky to live in a day and age where we have the ability to create our own work using the tools and skills we learned in school and a way to show it to a large audience. We want to be funny and truthful, surprising and slapstick, sarcastic and genuine, beautiful and ugly, and really, honestly outrageous and happy," they say.
Rini and Hughes, who both cite popular shows like PORTLANDIA, PARKS AND RECREATION, THE MINDY PROJECT, BREAKING BAD, MAD MEN and the cult '90s classic TWIN PEAKS, among others, as among their primary inspirations for their overall creative work, feel that OUR STUDIO will appeal not only to those who tried – and still try – to make their dreams come true in a big city, but also those who pursue them with hope, courage and especially – with love, laughs and friendship. "[OUR STUDIO is for] anyone who likes to laugh, any one who lives in a big city who comes from a smaller town, and anyone who is looking to grow and are inspired to work hard to achieve happiness – in careers, relationships, family, and community. I would hope that we will be able to compare it to the shows that inspire us," they say.
Perhaps the biggest message both Rini and Hughes hope to send through their series is this: "That we all struggle, but it's those struggles in life that make it all worth living. We (people) are all about the journey – we don't even know what our destination is. We dream big, work hard and hope for the best. Hard circumstances build strong relationships, and when things go wrong its best to laugh."
The show's IndieGoGo campaign can be found here:
http://www.indiegogo.com/projects/our-studio-a-web-series/x/4257182
FACEBOOK: https://www.facebook.com/ourstudiowebseries?ref=hl