John Jupiter seemingly has life all figured out. He's a witty TV talk show host who puts a smile on the face of his viewers every night, and he's got a beautiful girlfriend. Yet, his seemingly charmed existence suddenly becomes supercharged when one day, he discovers that he's obtained incredible new powers – much to the frustration of his better half, who ends up walking out on him. From there, John's life changes forever, and he's recruited to join a mysterious group of superheroes whose adventures comprise the new comedy/action web series THE SUPER ALLIANCE, created by Niv Ende, Anaïsa Visser and Amber Davy of Awkward Alien Productions. The series' first two episodes of its seven episode first season have already aired on its official Youtube channel, with 5 more to air early next year.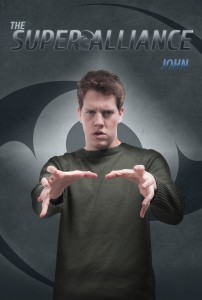 THE SUPER ALLIANCE stars Bruce Novakowski as John Jupiter, a man who becomes the latest, and, so far the most reluctant, member of a loosely knit team of extraordinary men and women whose equally incredible powers come with both responsibility – and consequences. The group is led by Rob (played by Frank Bailey), and while just what kind of powers he has is a mystery, his fellow superheroes each have their own special abilities. Along with John, who finds himself imbued with the power of telekinesis, there's Julia, who can suddenly turn invisible (played by Emma Lindsay) and her sister Shelby (Katherine Ramdeen), who can stop time instantly. Rounding out the cast is Jason Asuncion as the strong, intimidating Big Boy, and Carly Tan, who appears in the first episode as John's frustrated ex-girlfriend Lucy.
Ende, Visser and Davy developed the concept of THE SUPER ALLIANCE way back in their days studying film at the Emily Carr University of Art and Design in Vancouver, British Columbia, Canada. "Back in university I made a short film for a class, which was called THE SUPER SOCIETY. I always felt like there was more story to tell with this and my imagination was starting to run wild. By (the) summer of 2012, I knew I wanted to turn it into a web-series after graduating, so I rewrote the script. I pitched the idea as a presentation in one of my classes and Anaïsa and Amber joined as producers, writers and directors. The main idea when I was coming up with the show was to have John as a self-centered guy and the super alliance being a group of bigger jerks than he was. Along the way we came up with words like 'connection' and 'family' to describe our story and I think our main goal throughout the show became to deconstruct the meaning of heroism," Ende says.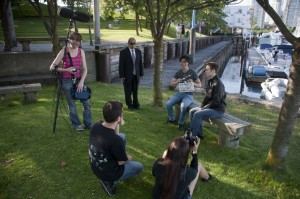 Producing a web series focusing on the ambitious subject matter of superheroes and their spectacular powers on a limited budget can be a daunting task, but when it came to finding the show's talented ensemble cast, it was no challenge. "For the main character, John, we got actors that we already knew and had worked with to come and audition. Bruce had worked with Anaïsa on a short film that she made. For the other characters we posted online and got an overwhelming response, which was amazing. I had worked with Carly on two of my own short films and on another short film in which I was the Director of Photography, so we offered her the part of Lucy. We were on set with Katherine (a) few weeks before we started auditioning and I knew right away that she would be great as Shelby. The moment I saw Frank perform during his audition, I knew he was Rob, and he has been fantastic to work with as well," recalls Ende.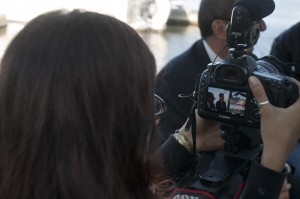 Despite the limited budget, the production process was made easier thanks to Ende's cast and crew, who gradually became closer both on-set and off. "We are a super low budget production, so a lot of the times it means small crew or being very selective about things, but I think we were able to make something great with the first two episodes and we've been lucky to have so much support. Working on the show is always really fun because we have all become so close, and the talent of the cast and the dedication of the crew make it such a privilege to work on the show," Ende says.
THE SUPER ALLIANCE is a show that will appeal to both fans of the superhero genre, as well as those who love dramas, comedies and action thrillers. It's a show that brings viewers a unique take on what happens when great power comes with great responsibility, and especially, as Ende says, how that power impacts the lives of those who possess it. "Often in films and shows the hero is placed on a pedestal, and as viewers we empathize with their choices. In this show, the premise is people dealing with their problems, and oh yeah, they have powers. This way the person's intricacies come before the need for heroism."
(While the series is not currently closed-captioned or subtitled, Ende says that making the show accessible to the deaf, as well as foreign audiences, is a definite possibility at some point in the future.)
YOUTUBE: http://www.youtube.com/user/TheSuperAlliance2013
FACEBOOK: www.facebook.com/TheSuperAlliance
TWITTER: @SuperAlliance
INSTAGRAM: @SuperAlliance