For decades, our society has been enhanced by the arts. From theatre, film, paintings and sculptures to books and music, millions of people have been touched by some of the most important and enduring works of those mediums. Therefore, it stands to reason that those works have been honored throughout the world in museums devoted to art, music, the moving image and the written word. Yet, the overwhelming task of running such museums is a side rarely seen by most except for those that assume such a responsibility. The new comedy web series OUR CULTURAL CENTER takes a hilarious look at one such museum, and the hectic, humorous adventures of its management.

Created by MartinJon Garcia, OUR CULTURAL CENTER debuted October 21st on its official web site and Youtube pages with 30 episodes set for its first season; new episodes air each Friday and nine of those episodes are structured around notable works of art. The series portrays the story of the Craft Family Art Center, a non-profit Chicago art museum founded by Victoria Craft (played by Julia Kessler, and then by Cameron Feagin) reeling from the untimely death of her ex-mother-in-law, who just happened to be its primary funder. As a result, the museum is in danger of shutting its doors unless it can find someone who'll keep it open. Unfortunately for Victoria, that someone comes in the form of her ex-husband Randall Vandeberg (Kurt Ehrmann), appointed by his mother to run the fledgling art center – and who's not at all pleased with her creative, non-business like approach to operating it.
The series also stars Eric Feltes as Pete Bomba, a Wyoming transplant and art enthusiast whose admiration of modern art often puts him in sticky situations in his job at the museum, plus Katie Hunter as Vicki's high maintenance niece Katee, who's desperate for a man to get her out of her mundane job as the museum's receptionist, and Andy Hager as Louie, the museum's artist in residence whose passion for making art out of junk got him fired from his former occupation as a scrap yard worker.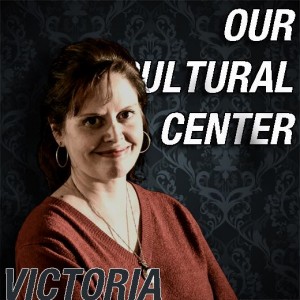 Garcia's extensive experience in the arts was one of several factors in the development of OUR CULTURAL CENTER. So too was his desires to bring a greater awareness of the arts, and to change the often negative perception of those who work in and admire the arts as a whole. "For 20 years I have been working in the arts industry. One of my most intense and driving passions is to make the arts more accessible. I have seen a lot of productions that pigeon hole the arts, artists and people who like the arts. This sort of pigeon hole has kept lots of people away from the arts even when they have interest in it. As an artist I also saw the inner workings of the non-profit arts world, which is in a heap of trouble and beginning to bring in people to get them out of the hole they find themselves; this transition is not easy but it is funny," he says.
Perhaps Garcia's greatest inspiration to create OUR CULTURAL CENTER came from his aspiration to use his creative talents in a meaningful way. "I was inspired originally by a 10 month stint in the corporate world. When I looked at the people I was surrounded by who were making money and were not exceptionally creative, or driven, I realized I could dream bigger than I had ever thought possible. I made a move to make a pilot for a standard sitcom of the original idea. I pitched that at the Great American Pitchfest where I was further encouraged because all of the producers I sat across from reminded me of myself. I saw them more as peers than as people who could do something for me. I left the GAPF with the idea of returning next year as a producer. The day after GAPF I called Dan Findley (the show's director) and told him we were moving forward, and one way or another we were going to create something. Over the next 3 months 10 episodes were written and shot," he recalls.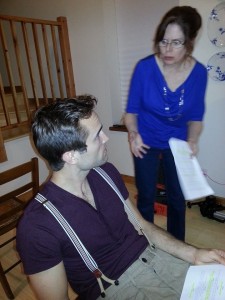 The series was filmed entirely in an actual art museum – Chicago's Hyde Park Art Center. However, despite an extensive pre-production process that included casting actors, plus writing and storyboarding each episode, and despite the convenience of shooting each episode inside one location, there were plenty of challenges for Garcia and his crew. "The process for this series is quick because we do shoot 10 episodes in a day, we have to do it all in one day because we shoot in the Hyde Park Art Center and they are open while we shoot, so we can only step on their toes so much. When I am building the storyboards and setting up the entire shoot, which is done the week of or before the shoot day, I have to take into consideration time. How long will 2 takes of any shot take? Can my actors and cameras catch all that I need for the edit in 2 takes, or do I need 3 and how long will that take? Each 10 episodes has about 40 to 50 shots, and each shot gets enough time for 2 takes (1 take is much more common on our set than 3). (K)eeping the actors informed and keeping wardrobe consistent is key, and the production assistants make sure that is all buttoned up," he says.
Although each episode typically runs anywhere from 2-3 minutes, even the written scripts don't exactly reflect what appears in the finished episodes. "I attempt to write the episodes so that they happen in one particular location of the art center, but I often have two or even three locations. In that case the episodes get shot out of order because lighting takes more time than the shot, and (we) shoot every scene in a location and then move locations," he says.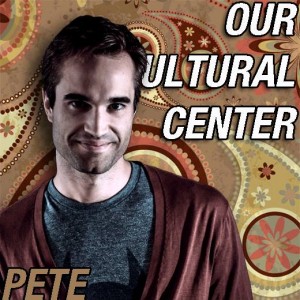 OUR CULTURAL CENTER will appeal not only to art lovers, but also sitcom fans in general – and especially working stiffs of all kinds. "Sitcom watchers overall I think would like it, office workers, middle management folks that can watch this on their phones during commutes might be common. That would focus on people who went to some sort of art school or had perused the arts for a time in their lives. I would also think non-profit workers would love the series because the situations and conflicts presented are pretty common. The Madness of Art I think is close but much more of an insider series than what I am presenting. Any workplace sitcom on TV like 30 ROCK could be compared," Garcia says.
In addition, the show's emphasis on modern arts and its implementation of several notable pieces of art is another factor that makes OUR CULTURAL CENTER unique among web series. "I think the combining of a focus on the arts and the use and promotion of specific artworks as well as the straightforward comedic approach to the series is how we set ourselves apart. There are a lot of web series that look at the arts world although OUR CULTURAL CENTER makes it a point to debunk even while contributing to some traditional stereotypes of the arts. We are not looking to be an arts show specifically though, we are looking to be a comedy that features and is housed within the arts," he says.
While Garcia hopes to continue to improve as a filmmaker, and to improve the quality of his productions, he's already made quite an impression with OUR CULTURAL CENTER through its hilarious portrayal of those who dedicate themselves to bringing the arts to a wider audience every day in museums across the country and around the world. Yet, as Garcia says, the messages that he hopes to send with the series are twofold: "That the arts and culture are not that smart or so sophisticated that anyone needs to feel left out of the arts. I also want to send the message that the arts folks out there need to figure their sh*t out and keep themselves funded one way or another. I am using comedy to draw attention away from the message at times, so it is not overbearing or preachy. Really, I want people to interact with the arts, however that happens, good bad or indifferent, and if I can contribute to that in any way, this is a success."
(Note: the series is currently closed captioned, but Garcia says he hopes to utilize subtitles in various languages.)
ON THE WEB: www.ourculturalcenter.com
YOUTUBE: www.youtube.com/user/chicagoarts
FACEBOOK: www.facebook.com/ourculturalcenter