Have you ever felt like all your true talents and skills were in areas that weren't exactly in high demand in the workplace? If you answered yes then you might find yourself identifying with Larry, the main character in today's #WebSeriesWednesday featured show. After Larry loses his job (an unpaid internship) he's forced to evaluate what exactly his true skills are and unfortunately for him his list is pretty limited. Beyond that, being a great friend isn't exactly a profession – but what if it was?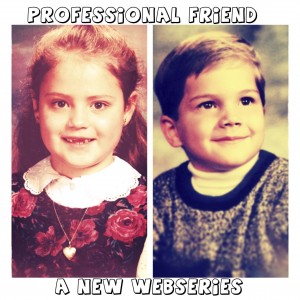 Larry's decision to become the friend of strangers – professionally – sets off a string of zany, comical and often heartfelt vignettes illustrating the power of moving out of your comfort zone and being there for others.
While the cast is essentially made up of Sal Neslusan and Jonathan Biver – who play fraternal twins Harper and Larry at the center of the story, along with Christian Blackburn (Jake), it is often the guest stars that steal the show.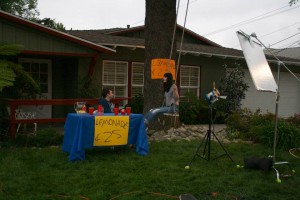 It's the little things, like an overweight softball umpire with an elaborate strike call and a no nonsense attitude, or a loving mother with the ability to get what she wants, and a talent for using the 'F word' flawlessly. Capping it all off was the cast of characters who arrive for a Clue inspired murder mystery party. The highlight being Turner Hooch – his real name – a real killer concerned that the guests in attendance are on to him. The fact that Mr. Hooch completely overshadows the couple that was expecting a swinger's party is a testament to just how great of an episode "Code M" was.
It's a compliment when I say that Professional Friend reminded me of two shows, 'Psych,' and 'Freaks And Geeks.' Those shows have excelled because they featured a great dynamic between their lead actors and featured plotlines that favored character over shock and exaggeration.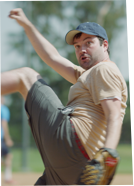 'Professional Friend' finds itself excelling in those same areas. The relationship between Harper and Larry is pretty much what you'd expect from twins, even those played by actors with mildly different hair color. Their love / hate / rivalry is primed for great 'television.' It's those silly things like having their own version of rock/paper/scissors (bear/hunter/ninja) or the constant teasing that sell the relationship and connect us with the characters.
Ultimately it's the human element of the series that will allow the show to stand out from the crowed. It's how Larry, in his effort to make money through his skills in friendship, ends up a better friend to himself, a more engaging person to others and a better brother. It's a show that makes its viewer want to go out and make some new friends, even if there is no financial reward to be had, because the real value is priceless.
So go and make a new friend in this great show, which can be found on their official web site http://professionalfriendseries.com – it's a relationship you wont regret!