Cleaning up a mess is hard enough. Having to do it for a living is even harder, and for the four house cleaners portrayed in the comedy web series THE CLEANISTS, that task is made even harder with every home they've been hired to clean. Further adding to those complications are their personal lives, which can often be just as messy. Created, written and directed by Tristram Baumber, THE CLEANISTS follows a crew of professional house cleaners whose job it is to make their clients' homes spic and span.
The series' 10 episode first season premiered on its official Youtube page on December 3rd, 2013. In addition to its worldwide streaming through Youtube, THE CLEANISTS also had its over the air premiere on December 8th on the UK-based cable channel Showcase, available to those audiences via providers Sky and Freesat (more on that later).
THE CLEANISTS follows a disparate, yet dedicated four person crew of professional house cleaners who constantly strive to achieve residential cleanliness for their clients, but only end up having their personal messes get in the way of that pursuit. The series stars James Chapman as Gregg, seemingly the only cool head in a wacky group that always seems to come close to losing theirs. Yet, somehow he tries his very best to stay on top of everything primarily because of his affection towards his co-worker, Libby (Shanon Kulupach). Although she's delightful and is (at least according to Gregg) the very definition of a dream girl, Libby may not exactly be what she appears.
In addition, Gabriella Stevens plays the domineering, headstrong Magda, who considers herself both the company's de facto 'leader' even though it's an equal partnership between the four. Rounding out the cast is Craig Lindeman as Philip, a man who takes pride in being a weirdo no matter how often he tries to make the others' lives miserable – and who also covets Libby.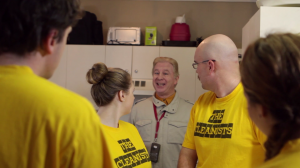 Baumber developed the concept for THE CLEANISTS primarily as a way to exhibit the outstanding talent of Australian actors and to take advantage of the conveniences of shooting each episode in a single space. Both of those advantages would become prominent throughout production.
"I came up with the idea for the show in late 2012, after I saw a group of actors here in Newcastle, Australia. I thought it'd be great to work with some local actors on a web project. I knew the biggest challenge would be finding locations to shoot, so I came up with the idea of a cleaning company, because it meant every episode would be inside a house. People's houses are the easiest places to shoot, because you don't have to contend with the public, worry about weather or ask businesses if you can use their premises. I also thought trapping the characters together in a house for each episode would increase their sense of claustrophobia and make for a better dramatic situation. Comedy needs a good dramatic dynamic to make it work," he says.
In keeping with that goal, the show's storylines and characters evolved as the show developed. "We actually shot a pilot in 2012 for an early version of the show. The feedback we got on the pilot was that it required further development, so I went back to the drawing board and totally reworked the concept. That's when the character of Philip was introduced. The first version didn't have an antagonist for James Chapman's character to bounce off, so it lacked that dramatic dynamic I was talking about earlier. It really is so important in a comedy. All the best comedies have some sort of conflict at their core: characters that create friction with one another. Once I cemented the idea that Gregg was trapped with Magda and Philip, the rest started to fall into place," adds Baumber.
As is the case with any web series, it takes a good amount of preparation for both cast and crew before the cameras roll. As Baumber recalls, that preparation proved to be beneficial when it finally came time to bring THE CLEANISTS to the screen. "In terms of production for this series, I spaced it out over a number of months, to give us all the best opportunity possible to feel comfortable with the material. I rehearsed with the actors four or five times. We had a tech rehearsal day with the whole crew and all the equipment, so that on the first day of shooting we'd have all the kinks ironed out. That was invaluable, because the shooting schedule for each day was incredibly tight. We shot ten episodes in five days. Each day had a different location, and we shot two episodes at that location: one in the morning and one in the afternoon. Everyone worked together so well, which meant that even with unexpected hiccups, we were able to shoot everything we needed in the five days we had."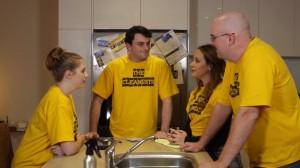 Unlike some web series comedies that often cram the laughs into a short time frame with little to no payoff, THE CLEANISTS takes the time to not only tell a good story but to do it within a limited time; in this case, 5 minutes or less. However, as Baumber explains, achieving that goal didn't come easy but the end result was pure comedy gold. "A lot of comedy web series will just have one scene or a series of jokes, with no satisfying beginning, middle and end. When I was writing THE CLEANISTS, my ambition was to create proper sitcom episodes that were so fast-paced that they could be done in under five minutes. We really had to streamline things to make that happen: first in the scripts, then in the performances and again in the editing process. But we managed it. Our longest episode is 4 minutes and 56 seconds, and each episode contains a complete story that I hope audiences will find satisfying."
A veteran Australian radio and TV comedy writer with credits including the current events based ABC (Australian Broadcasting Corporation) series WEDNESDAY NIGHT FEVER, Baumber saw the appeal in web series because of its many advantages. While efficiency of production and instant audience retention through multiple episodes was definitely a plus, Baumber also gravitated to web based content because of how difficult it can often be for traditional media projects (like those for broadcast and cable TV) to get off the ground.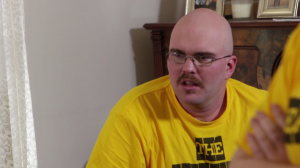 "I've had a number of sitcoms in development in the past and once it's in the hands of the producers it can take a very long time before anything happens, if anything ever does happen. The appeal of making a web series, for me, was that we'd be able to produce something relatively quickly and get it out there for people to watch. I've made a few short films in years gone by, but I feel like they're kind of a dead-end. They're very time-consuming and then it's hard to find an audience for a five minute or ten minute film. But a web series is actually very cool. The episodes are short, so they're not too hard to make, and there are multiple episodes, so you can keep people coming back. There's something for an audience to actually feel invested in," he says.
In addition to the hilarious stories in each episode, THE CLEANISTS features great characters that will also keep viewers coming back for more; characters that viewers will get to know and understand as each episode progresses. "I didn't consciously set out to have a message when I wrote the series. I just wanted to do something that was funny. But I think there is a bit of a message in Gregg's story. He's very closed-off when it comes to Magda and Philip; he has less than no patience for them. He's also made up his mind about what kind of person Libby is without necessarily getting to know the person behind his infatuation. To a certain extent Gregg brings on his own problems by being so rigid in his attitudes, which I think becomes a bit of a theme as the series goes on. Different viewers could feel differently about it though, which is the beauty of these things. The show is certainly not prescriptive in its message," Baumber says.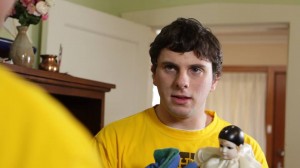 Along with its streaming availability on Youtube, THE CLEANISTS also airs simultaneously in the UK on the cable network Showcase. While many web series creators see TV as a future goal, and while many existing web series have made the transition to broadcast with varying degrees of success, Baumber has instantly taken advantage of the outreach of mainstream television. It's a goal that he's already achieved with THE CLEANISTS in the United Kingdom, and for a series running just under five minutes long it's a perfect fit for the Showcase network.
At first, though, no one seemed really convinced that it would work as a part of their programming. "One of our goals was always to get THE CLEANISTS on television as well as making it a web series. I think there's space for five-minute shows on television. I grew up watching a lot of them, mainly cartoons like ROGER RAMJET and DANGER MOUSE. Channels sometimes have spaces to fill at the end of an hour, and we thought our show would be perfect for that. We sent it out to broadcasters in Australia, but no one felt it was the right fit for their channel."
It may not have been the right fit for Australian broadcasters, but THE CLEANISTS would soon find a champion in Showcase. "I lived in the UK for years and have some experience with the television landscape there, so I started sending THE CLEANISTS to British channels. Showcase liked our show and were actually looking for content from emerging artists to feature. It worked out really well for us, because they now broadcast episodes of our series as interstitial material between shows, as well as a semi-regular one-hour block. It's fantastic exposure and we love the good folks at Showcase," he says.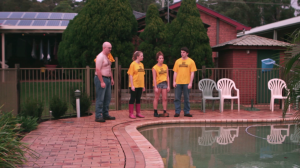 No matter where or how people watch, THE CLEANISTS is a comedy that not only brings the laughs but does so in an enjoyable, smartly written and produced manner. "I think this a show for comedy fans – particularly comedy nerds. It's a very fast-paced show, so in that way it's a bit like 30 ROCK. It has an on-the-fly shooting style that's similar to PARKS & RECREATION and VEEP, both of which I love. If you've enjoyed Australasian shows like SUMMER HEIGHTS HIGH and FLIGHT OF THE CONCHORDS, you'll find a lot to like in our show. There are lots of quick jokes that audiences might miss the first time around. We think anyone who's into comedy and comedy writing will appreciate our show. The final handful of episodes in season 1 are the best, I think. We've had lots of feedback from people who said that by the end of the season they really felt the show hit its stride, which is one of the reasons we're so enthusiastic to do a second season," Baumber says.
Along with a second season of the further misadventures of the most inept yet hilarious professional house cleaners around, Baumber's hopes for the success of THE CLEANISTS are manifold: "Our goal is to create something that people will enjoy. We'd like enough people to watch the show that there's a demand for more episodes. Financially, I think our big goal is just to get paid. The amount doesn't have to be huge, but getting paid for our work would be lovely. Artistically, we're really proud of the work we've done. We've managed to make something that's funny and satisfying as a longer story at the same time. I guess what we'd hope to do is improve on that again with a second season. We all felt that we learnt a lot from making these ten episodes. I know there are things I'd do differently next time in terms of script and shooting technique. The actors and I know the characters better than we did the first time around, so there are all kinds of interesting places we can take them," he says.
(Note: The series is not currently closed-captioned, yet Baumber is seeking anyone who can help him add that feature to each episode. For cable viewers in the UK, more information on where and when to watch THE CLEANISTS is available on the show's Facebook page, linked below.)
YOUTUBE: http://www.youtube.com/thecleanists
FACEBOOK: https://www.facebook.com/TheCleanists
TWITTER: twitter.com/thecleanists