For decades, tales of the terrifying and the macabre have always spooked audiences throughout the world. Whether it's literary classics like the works of Edgar Allan Poe, Mary Shelley, Bram Stoker, and Stephen King, or the classic Universal and Hammer horror films that have held moviegoers in the grip of terror for generations, or even classic TV suspense anthologies like Rod Serling's THE TWILIGHT ZONE and ALFRED HITCHCOCK PRESENTS, it's clear that everybody loves to be scared out of their wits every now and then.
Web series have also contributed greatly to the genre, and one such horror anthology has already made a frightening impression on its viewers through its incredible brand of storytelling; one that uniquely blends sci-fi, horror, comedy and drama elements to paint a portrait of the darker side of humanity as it unfolds in a rundown, dingy motel that's no ordinary place to spend the night.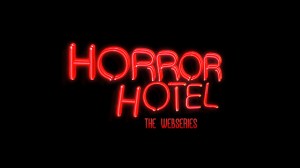 Created by Ricky Hess, and produced by his mother Debbie Jo Hess and father Al Hess, the acclaimed, award winning HORROR HOTEL promises to bring viewers even more of those terrifying tales.
The series, which premiered its first season of 6 episodes last September on its official web site, Youtube and DailyMotion pages (see links below), is now streaming for free via the popular video network Hulu, and has also secured a new distribution deal to stream its first season episodes through AT&T UVerse. (See links below. More on that news later).
In addition, the first season of HORROR HOTEL is also available to buy on DVD through amazon.com. (A link to buy the DVD can be found at the end of this article.) Production is now underway on its second season of 6 episodes, each of which will bring viewers an incredible new experience every time. (A 'making of' video of the show's season premiere, 'Aliens Stole My Boyfriend' is also embedded at the end of this article.)
Every episode of HORROR HOTEL takes place inside a dilapidated, run down motel on the outskirts of a fictional town called Poganisville. It's at that spot where a wide range of disparate individuals do more than just stay the night. It's a place where those guests display their own personal failings – be they greed, lust, deceit, or vanity, and every episode brings viewers those stories in entertaining and memorable fashion with plenty of wicked twists and turns.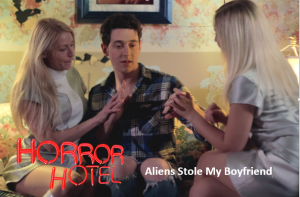 Filmed in Atlanta, HORROR HOTEL features some of the city's best acting talent in each episode.
For Ricky Hess, himself having worked on several indie horror short films shot in the area, the city's vast filmmaking community, the emerging medium of web content and the vast technological possibilities it provided gave him the perfect opportunity to create a horror anthology that's already achieved an incredibly diverse and dedicated fan base.
Given that HORROR HOTEL is an anthology with different stories and characters in each episode, there's something for virtually everyone. Yet, unlike straight narrative-based series with set storylines and characters, the anthology genre does come with its own set of challenges. Despite those difficulties, he says that the rewards of the genre itself far outweigh any risks.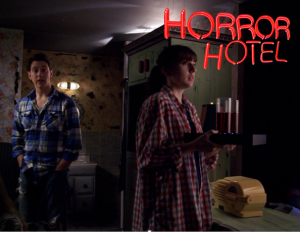 "Most web series are serials with the same cast and story line progression. Anthologies are harder because the higher demand for new stories and new cast all the time, but they have the advantage of offering something for everybody from sci-fi/fantasy/mystery/horror/suspense. If one episode doesn't float your boat, try another. It is likely totally different."
While HORROR HOTEL's trademark storytelling and distinctive characters continue to be a key part of the show itself, the show's production quality grew immensely from season to season. Yet, the series' creator recalls, expanding HORROR HOTEL's scenic atmosphere from beyond a single hotel room to the outside world was not an easy task.
"The major change we are trying to adopt with season two is expanding our special effects/visual effects and location scenes. Everything we write has to be able to be produced over 4 days which is our allotted shoot time for each episode. Every time we introduce a special effect or location change, it eats up time, so there is always a balance between how long our story can be and what kind of effects we can introduce."
Despite those difficulties, the show's expanding production scope is evident right from the first episode of season 2. "We like sci-fi a lot and will kick off the season with 'Aliens Stole My Boyfriend'. Al Hess custom carved a nice space buggy for this episode that crash lands on the parking lot of our miniature motel model, which he also built," he says.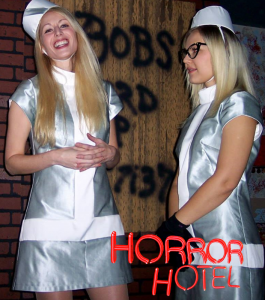 "The 2nd episode, 'Coma Girl' is about a man who sneaks his comatose wife out of a convalescent home to celebrate their anniversary night at the motel. Problem is, Bob, the delusional maintenance man at the home (played by Troy Halverson, one of several actors reprising their roles from season 1) has fallen for Connie in her vegetative state and interrupts the celebration to take Connie for himself. We have a full slate of unusual tales to spin for our audience in (our) 2nd season for sure!"
The Hesses also find inspiration in some of Hollywood's most impressive visual effects sequences. However, as any indie filmmaker can attest, the task of pulling off such sequences on a small scale proved to be quite a big one, and nowhere was that more evident during production on the season 2 premiere.
"Our writer, Al Hess, sometimes comes up with new story ideas based solely on something we want to do visually. With 'Aliens Stole My Boyfriend', he wanted to do a crash scene because he loved the airplane crash on Denzel Washington's movie FLIGHT. From that sprang his idea for the storyline, which is good and totally entertaining," Ricky Hess recalls.
"But, in doing so, we took some time to make the models necessary for that scene and even had to custom design a large green screen to film a very small space buggy cruising through the galaxy to Earth. But, it was something we really wanted to do in terms of production value. We can't afford the luxury of making every episode as labor intensive as this one was, but you will see more of that in season two," he adds.
Despite the slowly expanding world that viewers will see in HORROR HOTEL's sophomore season, the heart of each story takes place inside that one motel room. "Even with location and scene changes we are upping the ante a bit. 'Coma Girl' will see 4 scene changes which is a lot for us, but will expand our world some. Fortunately, we film on a custom built set which can be redecorated for different scene changes, which helps time wise. But we will never stray from the primary location being inside a motel room. That's what our stories center around and we strive to come up with plausible stories that could take place there," he says.
Thanks to its substantial fan following and viewership on Youtube, HORROR HOTEL's outreach has grown considerably. As a result, the series has now been picked up for streaming on the popular Hulu service, where it'll be seen alongside many of today's most popular TV shows.
"We were just so excited and pumped to have Horror Hotel distributed on Hulu! It was one of our primary goals to have it there because of the quality of content they offer and the current programming they offer. It is so gratifying to watch the episodes running alongside popular TV series. But most of all, we are elated to have that platform for all our excellent cast and crew to showcase their talents to the world!"
That showcase has continued to expand, as has the opportunities for HORROR HOTEL to grow its audience. Now, in addition to its Youtube and Hulu platforms, the series will now be distributed through AT&T Uverse online, one of America's most popular video streaming platforms.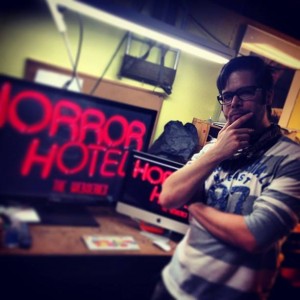 As Ricky Hess explains, that increased outreach combined with the show's outstanding production quality has helped HORROR HOTEL immensely.
"The addition to these upper level platforms definitely expands our audience since they both have devoted viewers who can easily search by genre and find new shows to watch. And it's so nice that typically they choose higher production value shows to maintain viewer expectation for their content."
With stories that run the gamut from terrifying to comical to just plain suspenseful, HORROR HOTEL is already a hit with a wide range of audiences. It's a show that continues in the great tradition of such classics like THE TWILIGHT ZONE, ALFRED HITCHCOCK PRESENTS and countless other sci-fi/horror movies and TV shows, while providing a distinctive twist on the anthology genre itself with stories that don't resort to blood and guts in order to be effective  Now, season 2 promises to deliver even more of those stories and is poised to grow even more through its new distribution pacts with Hulu and AT&T Uverse.
Indeed, HORROR HOTEL brings viewers stories and characters that are just as diverse as the audiences that it attracts, and the show's creator feels that's perhaps the biggest key to its success. "As far as we can tell from YouTube analytics and feedback, people of all ages like the show a lot! We have heard of teenagers telling their parents they have got to watch the show to the older generation digging it as well. The episodes do not contain any vulgarity, offensive content or over the top gore, so that increases the audience potential.  If you like THE TWILIGHT ZONE, Alfred Hitchcock, and a number of sci-fi movies, you will most likely be drawn to HORROR HOTEL."
Note: The show is currently closed-captioned via its Youtube and DailyMotion pages.
To order the season 1 DVD of HORROR HOTEL on Amazon.com, visit:
http://www.amazon.com/gp/product/B00HBQT3OU
ON THE WEB: www.horrorhotelwebseries.com
HULU: http://www.hulu.com/horror-hotel-web-series
AT&T UVERSE: http://uverseonline.att.net/tv/show/horror-hotel-web-series
YOUTUBE: https://www.youtube.com/channel/UCKJNvJwrsbr4fECqLr9I7wQ
DAILYMOTION: http://www.dailymotion.com/horrorhotelwebseries
FACEBOOK: www.facebook.com/HorrorHotelTheWebseries
TWITTER: @HorrorHotel123
Embedded below is an exclusive behind the scenes look at the making of HORROR HOTEL's season 2 premiere, "Aliens Stole My Boyfriend".