As we grow older, life has a tendency to become more and more complicated. However, being an adult does have its own share of advantages. As any grownup can attest, it's all about finding a balance between the fun parts of life and the growing responsibilities that come with it. Along with those comes the promise (and heartbreak) of love, and in season 2 of the web series comedy REAL ADULT FEELINGS, a group of young adults try their best to navigate the rough waters of romance and relationships while struggling to maintain a roof over their heads.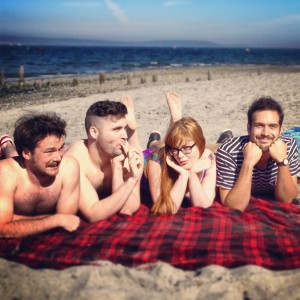 Filmed and produced in Seattle, the series' 5 episode first season premiered in December of 2012, while its second 5 episode season premiered in October of 2013 on its official web site, Youtube and Vimeo pages.
Production is already underway on the show's finale, with episode 4 airing later this week. Some episodes for this season have been split into 2 parts due to running time, and each episode often runs 20+ minutes.
Written, directed and created by Jason Ryan, and co-produced by series co-star Eric Sanders and Colin Thiel, REAL ADULT FEELINGS follows the lives of four people who share their lives, loves and personal struggles together under one roof, that of Ethan (played by Mikiech Nichols, who's also the show's co-editor). Ethan's life is changed forever when he finds out that his recently deceased mother left him her house, only to have it be in danger of foreclosure as a result of its debt.
In order to pay it off, Ethan teams up with his longtime friend Rob (played by Devin Badoo), a struggling actor who stooped to conquer Tinseltown, but ended up with nothing more than a world of disappointment. During a heavy night of drinking, the two friends post a bizarre Craigslist want ad in search of roommates for their new place. The respondents to that ad prove to be just as bizarre.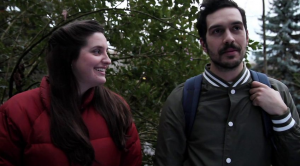 There's Alice, an offbeat performance artist (played by Sierra McKenzie) who ends up not only responding to Rob and Ethan's ad but also shows up early one morning on their doorstep, ready to move in. Along with her is the mysterious, cash carrying Greg (played by Sanders), a man who shares the dough but not necessarily the details regarding who he really is.
Joining the cast for season 2 is Katie Bicknell as Ethan's girlfriend Kate, whose relationship with Ethan becomes even deeper as the season progresses; a relationship that figures heavily into the show's main storyline throughout. Together, they each try to keep their personal and professional lives afloat, while learning more about themselves as people along the way.
Viewers can not only expect plenty of hilarious comedy in season 2 of REAL ADULT FEELINGS,  but will also see Ethan, Rob, Alice, Greg and Kate experience their own growth as people during the season. "Some of the characters grow up a lot, getting serious with their careers and love lives, some decidedly don't. There are some big life changes for the crew and you definitely find out why the show's called REAL ADULT FEELINGS, both figuratively and literally," Ryan says.
Ryan grew up religiously watching and taping some of TV's best and most beloved sitcoms, like SEINFELD, THE OFFICE, ARRESTED DEVELOPMENT and 30 ROCK, just to name a few. His love of those classics, and the characters who made those shows memorable, gave Ryan a strong desire to create an ensemble sitcom of his own.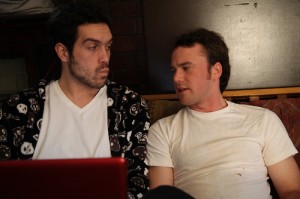 "I knew I wanted to create an ensemble comedy in the vein of those shows, where the comedy mostly came out of people just talking and interacting with one another as opposed to something really high concept or serialized where you had to watch it in sequential order to understand it. I also wanted a large part of it to be based on the dynamic I had with one of my best friends, one of the season 1 writers, Bobby Farrington."
That real life dynamic that Ryan and Farrington shared, along with a podcast that both did under the same name as the series, would become the basis for the fictionalized on-screen friendship between Rob and Ethan.
"Our relationship is very similar to the relationship between Rob and Ethan on the show and we actually had a podcast called "Real Adult Feelings" in the beginning that kind of laid the groundwork for the show. Ethan is an exaggerated version of me and Rob is a (really) exaggerated version of Bobby. I wanted to balance it out so that it wasn't just "Bro TV: For Bros!" so I added the character of Alice who is kind of conglomerate of several different women I've known over the years."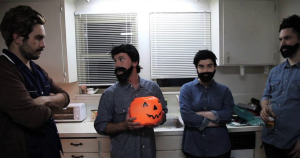 Given Ryan's love of SEINFELD, it was only natural that he develop a character similar to that show's resident oddball. "Greg came about early in the writing process when Eric, who is a writer on the show and who ended up playing the character, kind of threw out the idea for a more wildcard character, a 'Kramer' if you will and we all kind of developed the character together."
After assembling his talented core ensemble during an extensive casting process, Ryan and his team began filming what would be the pilot episode for REAL ADULT FEELINGS. While Ryan says the production quality of that first episode left a lot to be desired, he knew that there was plenty of room for improvement which would be crucial to the show's success.
After being a one man crew on the pilot episode, Ryan immediately bolstered his production team; one that would make bringing season 2 of REAL ADULT FEELINGS to life a whole lot easier, including co-producers Eric Sanders and Colin Thiel.
Says Ryan: "They (Eric and Colin) consistently make me laugh harder and more frequently than any other people on the planet so when it came time to put season 1 together and write the scripts I decided to enlist their help. In addition to them we also have a really awesome camera department in Katie Killeen and Logan Sayles, an awesome sound guy in Doran McBride and our main actor, Mikiech Nichols, also edits or co-edits most of our episodes."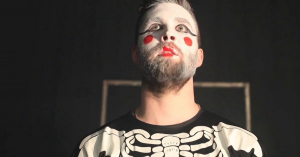 As season 2 approached, crowd funding would also prove to be beneficial for Ryan and his team as REAL ADULT FEELINGS' Kickstarter campaign raised $3,000 toward production of the season's 5 episodes.
"Getting somewhat of an actual budget for season 2 through Kickstarter helped a lot too as we were able to invest in more lights and other equipment. It's still not perfect, as we went from no budget to barely having a budget but it's definitely improved," he adds.
REAL ADULT FEELINGS has already become a favorite with audiences all over the web, and although many viewers see a parallel between Ryan's show and a certain 'adorkable' brunette who shares an apartment with 3 guys on one of TV's most popular sitcoms, REAL ADULT FEELINGS is distinctively different in at least one key respect:
"People compare us to NEW GIRL sometimes because our show is also 3 guys and one girl in an apartment. I like that show a lot but I think our show is pretty different. We don't focus on the "girl", for starters, and the tone is a little different. It's still a nice compliment though because that show's pretty dang great so I'll take it."
Nevertheless, Ryan feels that REAL ADULT FEELINGS will attract those audiences with its own distinctive brand of humor. 'I think our show would appeal to most comedy fans, honestly. The jokes are pretty strong and the comedy is pretty smart, in our humble dumb opinions, of course," Ryan says.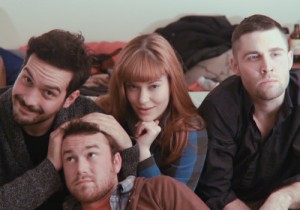 With relatable characters that have instantly struck a chord with viewers, REAL ADULT FEELINGS stands out from many web series because of its storytelling structure; one that's very much like a typical half hour TV sitcom in terms of length and content.
As Ryan explains, he and his production team sought to utilize that approach right from the start, despite the fact that some viewers were initially wary of a longer form web series.
"We set out to make a "real TV show" in the sense that each script is 25-30 pages long and each episode typically runs at least 20 minutes. We did that because it looks easy on TV and we didn't know any better. It was only after we started doing it that we realized pretty much nobody does that and most web series are like 10 minutes max. Oops! We definitely get more mileage out of our episodes though and it allows us to do more with our characters and stories. I don't know how I would even begin whittling down the show to 10 minutes, I admire people who can self-edit and can 'kill their darlings'. I sure can't," he says.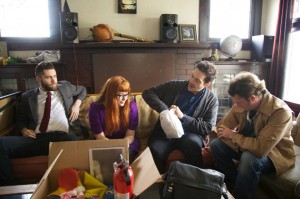 While Ryan hopes that he can expand the show's horizons and audience, plus give his cast and crew even greater opportunities to build their careers through his series, he knows that REAL ADULT FEELINGS has already succeeded with viewers and fans of great comedy, plus all those who truly know about life, love and all the ups and downs that come with it. It's those moments and feelings that are even better when shared with friends, and REAL ADULT FEELINGS captures them in hilarious and heartwarming fashion in each episode.
Just as SEINFELD and his other favorite sitcoms gave Ryan plenty of reasons to smile and laugh, he hopes that REAL ADULT FEELINGS will do the same for his viewers. "We just want people to have fun watching it and hopefully find something to relate to in the characters and feel like they have 4 familiar faces to cheer them up whenever they press "play". I didn't have a lot of friends growing up as a kid and am an only child so I pretty much was raised by TV. As lame as it sounds turning on those tapes of Jerry, George, Elaine and Kramer made me feel like I had 4 really funny imaginary friends in New York to keep me company. That's hopefully what our show is, the Seattle version of that."
Note: Regarding closed-captioning and subtitling of REAL ADULT FEELINGS, Ryan says: "It currently isn't captioned or subtitled but I would like to make this possible in the future on our complete series DVD release which we're working on putting out this fall."
ON THE WEB: www.realadultfeelings.com
YOUTUBE: https://www.youtube.com/user/jrfilms
VIMEO: https://vimeo.com/channels/477372
FACEBOOK: https://www.facebook.com/pages/Real-Adult-Feelings/537239726291065
TWITTER: https://twitter.com/RAFwebseries
TUMBLR: http://realadultfeelings.tumblr.com
The season 2 premiere of REAL ADULT FEELINGS can be viewed below:

Real Adult Feelings – S2E1 – THE BEACH (PART 1) from Jason Ryan on Vimeo.