Have you ever found that someone who just happens to "complete you"? To be specific, have you ever met someone who suddenly gives your life the purpose and meaning it has long been missing?
That's the situation that two young women experience in the new comedy web series #ATOWN, set to make its public debut at the Austin Indie Flix Showcase on September 25th. Co-starring Elena Weinberg and Mallory Larson, and co-produced (with Weinberg) by Duncan Coe of Turtledove Films, the series' 10 episode first season will debut shortly thereafter.
#ATOWN follows the adventures of two talented young adults, both of whom come from different backgrounds and places. There's Layla (played by Weinberg), an aspiring standup comedienne who hails from Austin, Texas, and who loves everything there is about the city itself. At the same time, she works a seemingly mundane job as a barista in order to keep herself financially steady.
Even more so, she's a big fan of teen dramas on the CW network, and also of the popular TV series FRIDAY NIGHT LIGHTS. In fact, she strongly believes that the acclaimed saga of high school football in the Lone Star State closely resembles her own childhood. Although she lives alone, Layla also has an active social life, and loves spending time with her own friends.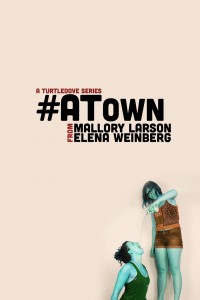 While she's committed to achieving all the goals she's set out to accomplish throughout her life, her often stubborn ways have made it harder for Layla to succeed. That's all about to change thanks to the newest part of her life, and the newest resident of Austin, Melanie (Larson). Hailing from Portland, Oregon, Melanie doesn't quite know what to make of the city, nor of its notoriously hot summer weather.
Furthermore, Melanie lives completely off of her father's dime, though for her, it's a regular aspect of her daily life. She neither feels any need to enter the workforce, nor any understanding as to why people would work thankless jobs for low pay.
Despite these differences, Melanie and Layla share something that does bind them together: their love of TV shows like FRIDAY NIGHT LIGHTS. For Melanie, her desire to have the fictional world of that drama resemble her real life was the primary decision she moved to Texas.
While Layla is a more realistic and decisive thinker, Melanie is optimistic, free-wheeling and yet not very committed to one choice or another who isn't quite ready to take on the world. Together, Melanie and Layla manage to help each other through all of life's challenges, and in the process, these total opposites end up becoming closer than they ever imagined.
#ATOWN also stars Derek Babb as Thomas (a.k.a. "Sex God"), a dimwitted, yet fun loving, muscular and friendly party dude who Melanie befriends on the popular site Craigslist, and who eventually becomes roommates with her. In addition, Layla remains close to her childhood friend Whitney (Ivy Koehler), who also joins the girls on their social pursuits despite her penchant for being an often irritating personality.
There's also Whitney's main squeeze since high school, boyfriend Travis (Eric Calbat). While Whitney is intensely loyal to him, Travis does his best to prop himself up as a big shot lawyer even though he's merely working a desk job as a paralegal at one of the top law firms in the city.  Unfortunately, he doesn't seem to look out for Whitney's best interests, and almost never leaves home except when he goes to work.
Both best friends in real life, Weinberg and Larson based #ATOWN on their own lives and the many experiences that they've had since they first met two years ago while working on a stage play. As they explain, the storyline of that play would provide a jumping off point for what eventually became a tale of two people who gradually overcome their differences, while having a lot of laughs along the way.
"That January, we co-starred in a Fringe Theatre piece called ALL ABOUT A BOY that Mariah MacCarthy (CapsLock Theatre, NYC) wrote for us. It was basically 20 minutes of us daring each other to do ridiculous things to impress a boy, but realizing our friendship was more important in the end. We had so much fun doing that silly show that we decided to expand on the idea. Although #ATOWN has become so much bigger than that, the spirit of ALL ABOUT A BOY is still very much present."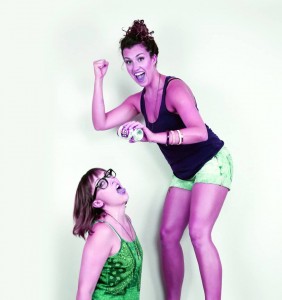 The unique comedy and stories found in each episode of #ATOWN are based in Weinberg and Larsen's real life friendship, and it adds a significant layer of authenticity to the series itself. As a result, both Weinberg and Larson feel that the show will not only give viewers great humor, but also a series that all people can relate to.
"It's real life. There are definitely heightened situations and silly comedy involved, but we don't really exaggerate all that much. This series was born out of texts and Facebook messages Mallory and I had saved from each other that we thought were funny. We think people are going to be able to relate to that."
Yet, Weinberg and Larson's true to life experiences and friendship aren't the only thing that makes #ATOWN unique. For them, the biggest tasks they hope to achieve is one that all female filmmakers have long sought to accomplish: honest, accurate and realistic portrayals of women in entertainment, and greater opportunities for them in front of and behind the camera.
"…The role of women in the film industry, and, quite frankly, in society, inspired us to create something that could push for change. We're tired of women being portrayed as incomplete without men, or just obsessed with shopping and all looks with no brains," they say.
Adds Weinberg and Larson: "We want to show that it's okay for women to be individuals, to be f*ck ups, but that it's all going to be okay. We want to break down the idea that the "man-child" is so endearing, but women have to be perfect for us to like them. We hate that. We want to show that life is messy, but as long as you surround yourself with the right people, everything is going to be okay."
With the show's primary cast comprised mostly of the talented actors Weinberg and Larson previously worked with last year on a year long short film project (12 short films, 1 produced and distributed every month), the series' co-stars/co-creators added to that ensemble by casting performers who they had long hoped to work with for #ATOWN. "Honestly, we're incredibly lucky: we literally got our first choice for every role," they recall.
Described by Weinberg and Larson as "hectic", the production of each episode of #ATOWN has only recently wrapped. The transition from script to screen is one they both have long planned for ever since they started work on the show's scripts.
"We've been dreaming about #ATOWN since January and finally put pen to paper in May. By the end of June, we had the whole season written and two weeks into July we had sped through pre-production and are now on our 4th week of production. We have 5 shoot days left as of today (8/5)."
Although Weinberg and Larson hope that #ATOWN will succeed with audiences who love sophisticated, realistic adult comedy on the level of shows like BROAD CITY, GIRLS and LOUIE, they also aspire to have their show become a calling card for greater opportunities in the entertainment industry – and to have the series get the attention of some of today's most popular and influential women in comedy.
"We have big dreams and small dreams. The big dream is for someone like Amy Poehler or Tina Fey to see our show and say "wow, these girls are really doin' it for females. I want to help them produce it on a bigger scale." But honestly, all we really want is to make our audience laugh and feel good. Life is hard sometimes. If we can be a little bit of an escape from that for anyone, we did our job as artists."
Overall, Weinberg and Larson sum up what #ATOWN is all about this way: "The overall message is simple: Friendship First. Girl Power. Thematically, I'd describe us as a world in which everything silly matters."
(Note: Regarding closed-captioning, Weinberg and Larson say: "It isn't (closed-captioned), but we aren't opposed to doing so if a need arises.")
ON THE WEB (Creative District): http://creativedistrict.com/project/3981/
FACEBOOK: www.facebook.com/ATownTheSeries
TWITTER: @ATownTheSeries