This week I watched a cooking show. I learned how to make peanut butter and jelly sandwiches, ham sandwiches, tomato soup sandwiches, left handed sandwiches (a sandwich made with your left hand), scrambled eggs (not in a sandwich though) and other assorted non-sandwich dishes. But more importantly than that, I learned to do it with class.
You see, 'Feathers And Toast' is all about cooking for one while never lamenting the fact that you are not cooking for two. This means one must truly do it for themselves.
Every episode finds Tallulah Grace dressed as if she were on her way to church. Her outward persona speaks to an off screen indulgence in several cups of coffee. She yammers on to the camera, occasionally drifting in to French, as if she were a high class chef, only to endeavor to make simple dishes.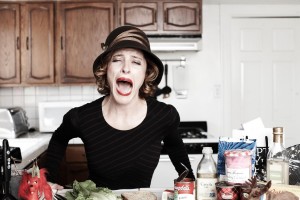 You see, while not being a "high class chef" she is clearly "high class" and also cooking. While I hesitate to read deeper into a character too far beyond what is presented on screen one gets the feeling that Ms. Grace has never actually had to cook before in her life. Her modest kitchen, her dishes for one, and her hopes for finding a twitter romance hint at some fall from a life she used to have.
Created by Mhairi Morrison and produced by Holly Payberg, 'Feathers and Toast' is about living the dream that is moving to Hollywood. Morrison grew up in Scotland, and studied mime in France and now finds herself four years into her LA adventure as a comedian. The hope here is to develop a character, a sort of alter ego that can grow into something bigger.
It's easy to see that Tallulah and Mhairi must share a lot in common. Episodes were scripted with bullet points, and the dialogue almost completely improvised. It was clearly the case as I don't think I have ever seen an actor recite lines in such a way. I don't know how anyone could write that, or act it out honestly. If it had been fully scripted it probably would've take years to film all the episodes, rather than the one day they actually managed to do it in.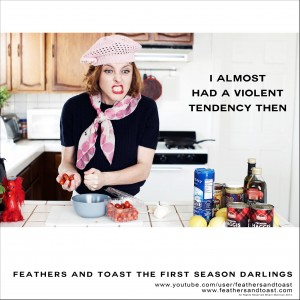 It's also funny how, in season two, the episodes feature just a couple of minutes of cooking and preparation, only to linger on over an even longer period with the credits rolling. The characters get talking, arguing back and forth and it just continues on. I have no idea how they found all of those credits… in fact I'd almost bet that if I went back and looked that someone them would be made up.
Long term the goal is to create a sitcom pilot featuring the character. When I try to envision it I struggle, if only because it would be so different from anything actually on television right now. That said, I love the idea of making something different and there is definitely more than enough here for me to sign off on a pilot sitcom were I a man of any power and influence what-so-ever.
The biggest challenge will be in building the audience and growing a fan base a long the way. Who exactly is this show marketed towards? High class single ladies? Divorcées? Women who love to drink wine and make scrambled eggs? There may be something here, it all depends on just how big that potential audience is.
You can find 'Feathers And Toast' online at http://feathersandtoast.com