DISCLAIMER: Earlier this morning, I contacted LA Web Fest founder Michael Ajakwe by phone to get his response to this story. Due to the contents of the interview, we felt it was in the best interests of the community to remove it from the article. As a result, the audio containing that call, which was previously posted here, has been removed. My sincerest apologies to those affected by the statements made therein. 
A highly unusual, and potentially costly decision currently faces the hard working, dedicated and talented web series creators who've submitted their shows to three of Los Angeles' biggest and most prominent indie TV events: LA WebFest, the upcoming Indie Series Awards (or ISAs), and the Hollyweb Festival.
That decision comes as a result of LA WebFest's controversial "exclusivity clause", which states that entrants into LA WebFest must withdraw their shows from Hollyweb and their award consideration at the ISAs, or be disqualified from LA WebFest.
According to the event's official rules, the clause states that LA WebFest "will not accept any entries that enter other web series festivals or awards ceremonies taking place in Los Angeles County 30 days before or after the event, and within 100 miles of the event."
The clause, established by LA WebFest's founder Michael Ajakwe in August 2014, came about as a means of "protecting" its entrants from the potential competition provided by Hollyweb and the Indie Soap Awards (now known as the Indie Series Awards). That rule has since been a subject of controversy and derision in the web series community.
However, since last week's announcement of the nominations for the 6th annual ISAs, and the ensuing threats of disqualification from LA WebFest to those nominated, the consequences of Ajakwe's "exclusivity policy" have once again come to the forefront.
The policy itself will almost certainly rear its head again when the official selections for Hollyweb are announced today (February 10th).
The Indie Series Awards will take place on April 1st, the night before LA WebFest officially begins, and Hollyweb will take place from March 27th-29th. LA WebFest runs from April 2nd-5th, and its submission deadline has been extended to February 13th.
Those who entered both LA WebFest and the ISAs were given 48 hours notice (which has since passed) to either withdraw from the ISAs, or face having their nominations for LA WebFest revoked. As of this writing, there has been no formal announcement from LA WebFest on whether any shows who entered the Indie Series Awards will be disqualified from participation in LA WebFest.
It's a subject that has generated outrage among web series creators on social media, generating the Twitter hashtag #Clausegate. For many, LA WebFest's exclusivity clause is an anti-competitive and unreasonable policy that effectively establishes what the web series community has fought so hard and for so long to avoid: an unnecessary gatekeeper determining the worthiness of what should and should not be exhibited for audiences.
On LA WebFest's Facebook page. Ajakwe posted a extensive statement explaining the rationale for why he chose to introduce the event's exclusivity clause, and why he expanded that clause to cover awards ceremonies that take place within 30 days of LA WebFest – including the Indie Series Awards.
Claiming that both the ISAs and Hollyweb "encroached" on his event on numerous occasions, Ajakwe said that "we (LA WebFest) are the victims of severe encroachment by these other opportunistic web series industry players that won't let us hold our event in peace because we believe they both covet the international audience we have spent the last six years growing."
As Ajakwe explained, the problems he encountered with both Hollyweb and the ISAs began in 2012, beginning when Hollyweb scheduled their festival on the last weekend in March. It just so happened that LA WebFest would be taking place on the same weekend, which it normally did prior to 2012. From there, Ajakwe says, the two other festivals began "trolling" LA WebFest in subsequent years.
Quoting Ajakwe: "Instead, we decided to hold our event the following weekend – the first weekend in April 2012. But in 2013 we took our dates back and held our event the last weekend in March once again. This other festival (Hollyweb) responded by holding its event the weekend after our event."
Last year, Ajakwe claims, Hollyweb's scheduling only served to escalate the already tense situation. "In 2014, I noticed something odd. I noticed that this other festival (Hollyweb) that is based in Los Angeles waited until after we set our 2014 dates to set its 2014 dates and, like it had done the prior year, it made sure to take the weekend right after us," he recalls.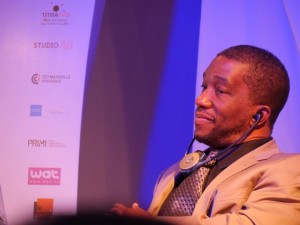 Claiming that Hollyweb, and later the Indie Series Awards, were "cannibalizing" LA WebFest's audience, and in effect, making their show submissions virtually indistinguishable from each other, by holding their events within a relatively short time span of the LA WebFest's dates, Ajakwe made the decision to enforce the event's controversial exclusivity clause.
This year, having announced that LA WebFest would take place from April 2nd-5th, and with its pre-opening night awards dinner on April 1st, Ajakwe later found out that Hollyweb would schedule their event the weekend before, thus falling into the 30 day window he established through his clause.
Once he learned that the ISAs would take place on the same night of LA WebFest's pre-event dinner (an event several web series creators and industry professionals say they were not aware of), Ajakwe extended the clause to cover awards ceremonies, including, in theory, both the upcoming Daytime Emmys (which takes place on April 26th, 3 weeks after LA WebFest) and the First Glance Film Festival.
Though not initially aware of the Daytime Emmys taking place 3 weeks after the conclusion of LA WebFest, Ajakwe and I discussed that aspect of the situation in our phone conversation earlier today. He later clarified his statement on the subject via email.
"The Emmys is an award show for TV that also has a web series category, while LA WebFest's e-clause, if you look at it, specifically applies to web series award shows in Los Angeles," he says. "We don't consider the Emmys a web series award show, so our e-clause would not apply to it."
Going so far as to describe his competitors and critics as "the web series community version of the Tea Party", Ajakwe added, "They (Hollyweb and the Indie Series Awards) don't feel we deserve our audience and our accolades, want this audience for themselves even though they haven't earned it, and will do whatever they have to (except go out on their own and create it) to secure it. We consider them opportunists and their behavior lecherous."
In response to Ajakwe's announcement, Kevin Mulcahy, Jr., the director of the non-profit organization Indie Series Network (which sponsors the Indie Series Awards) responded, several days ago, by saying: "…We absolutely condemn and diligently discourage any endeavor to limit or censor opportunities for creators to freely present and publicly celebrate their artistic creation."
Prominent web series creators like Ed Robinson (PAIRINGS), Jason Leaver (OUT WITH DAD), Jonathan Robbins, plus countless others throughout the web series community, publicly voiced their criticisms and concerns about LA WebFest's exclusivity policy. Lisa Gifford, creator of the acclaimed web series 3SOME, was one of many who spoke out about Ajakwe's decision, including through a detailed post on her blog several days ago.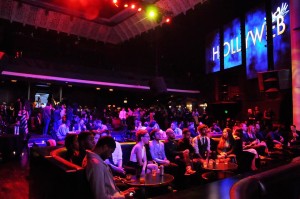 As she explains, while web series are becoming more and more prominent in the industry, there is a major difference between major film festivals like Sundance, Cannes and numerous others, and the relatively modest world of web series festivals.
"With a film festival, that is often the first time you get to see that particular film on that continent, or country, whereas most web series are already freely available online. They are two completely different business models and what works for one does not work for the other," says Gifford, who believes that the economic realities of those business models make Ajakwe's policy all the more perplexing.
"I have never heard of any web festivals demanding exclusivity. The industry is simply nowhere near that point yet," Gifford says. "I cannot imagine why he (Ajakwe) has done it and how he thought it was a good idea. For someone who, apparently, cares so much about web series that they set up a festival to now do something so ugly and divisive, is beyond me."
For Newcomb, the announcement of LA WebFest's exclusivity clause applying to awards shows came as a complete surprise as this year's ISAs approached. With last year's event a success, and with literally no complaints from Ajakwe on the scheduling of that ceremony, Newcomb figured that the run up to the 2015 ISAs would also be problem-free.
"Our ceremony was the first Wednesday of April in 2014, and 100% of the creators we spoke to gave us feedback that the time worked, and they had more incentive to travel for our event and/or other events because there was more than one that week," he remembers. "So we planned the same date for 2015. We didn't announce the date until October, once we locked down our venue. At some point after that, LA WebFest added 'awards shows' to its exclusivity clause."
T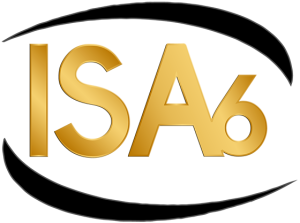 he reasoning behind Ajakwe's decision to expand the event's exclusivity clause to awards shows like the ISA was equally baffling.
"A couple of months later, we heard that the clause was modified because our ceremony date conflicted with a pre-event dinner held by LA Web Fest on April 1st, which we had no idea even existed," adds Newcomb. "Based on emails and social media messages I've seen, it seems like a lot of negative feelings were created as a result of a conflict we didn't even know was there."
The exclusivity clause established by Ajakwe also applies, though mainly in theory, to one of the industry's biggest awards events. Adds Newcomb: "Even the Daytime Emmys have a web series drama and web series performer category this year. Since they're on April 26th in Los Angeles, they also fall under the LA WebFest exclusivity clause about awards shows. Nominees (for the Daytime Emmys) are announced at the end of March."
The real impact of the clause's expansion became even more evident once Newcomb heard back from several of the ISA's entrants, who also happened to have entered their shows in LA WebFest.
"We didn't know the full extent of it until January, when a few creators contacted us to say LA WebFest had emailed them about their exclusivity clause, warning them if they were nominated by the Indie Series Awards, they would be disqualified from LA WebFest. I was shocked by it then and a little in disbelief."
The exclusivity clause was not the only problem that web series creators faced with LA WebFest. Many vividly recall it being a highly disorganized event that only got worse every year.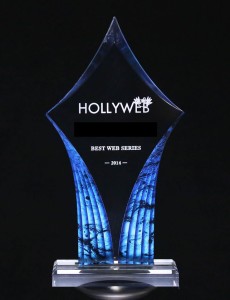 On the IAWTV's Facebook page, Matthew Barnard, creator of SPIN THE BOTTLE, remembers just how unpleasant it was during last year's festival. "Everything they said was a lie. (There were) more charges when I walked in and (when) I went to sit in on my screening," he says.
"There were like 3 people there. They played the first part of an episode for 2 minutes and then never played the rest, like they had promised," Barnard adds. "So I walked out and headed for the door, never to want to partake in their nonsense again, and everyone in attendance was bitching about something."
Having screened 3SOME at last year's LA WebFest, Gifford also witnessed, first hand, the true extent of LA WebFest's operational problems, including a botched screening of a friend's web series.
"At the time, the festival was held at the Radisson Airport Hotel at LAX (Los Angeles International Airport), which is a nice hotel," she says. "The screenings were held in what appeared to be conference rooms. The rooms were okay, but the quality of picture and sound was very poor. None of the screenings ran to time, and many did not run at all."
Even amid all the criticism of LA WebFest's policies and organization, Newcomb says that he and all those who have been affected by this controversy hold no ill will towards Ajakwe or LA WebFest in general. "I wish Mike and LAWebfest well. We never had an issue with them and support any and all sister initiatives that also enhance the visibility of, and acknowledge the talent behind, independent web series," he says.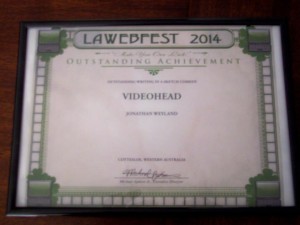 For his part, Newcomb is focused on celebrating the achievements of web series and their creators through this year's ISAs, including those who have entered LA WebFest.
"We don't have a conflict with anyone and have so much work to do, so we can't get caught up in anymore unnecessary drama," Newcomb says. "Our focus is in our celebrating the indie series community, and we will be busy over the next seven weeks planning our best ceremony ever."
Despite those problems, and the enormous uproar Ajakwe's controversial policy has generated, Gifford, Newcomb and so many others in the web series community still hold out hope for improvement. While their suggestions vary, the most important thing they seek is for LA WebFest's organizer is not just to merely lift the exclusivity clause, but most of all, to listen to those who have disagreed with it.
"There has been a huge outpouring of feedback from dozens of well-respected creators from all over the world in open letters, on social media, and in private emails. Listen to those people! They are the ones we create festivals or awards shows to celebrate," Newcomb says. "Lift the exclusivity clause this year and spend the next two months celebrating all the series that were selected to be screened."
Gifford concurs. "Everybody knows that some of the quality of shows at the festival in previous years has not been good. There is a place for a festival that has an open door policy, but that should be stated up front," she says. "It's no good pretending to be selective when you are screening over three hundred series – it doesn't compute." Adds Gifford: "Above all – communicate. And don't shout people down who complain. We all learn by what goes wrong, not what goes right."
Hopefully with today's announcement of official selections from Hollyweb we won't be seeing #ClauseGatePart2.