Crossover episodes that feature characters from two or more popular TV shows within the universe of one show or another have been a constant presence on mainstream broadcast and cable TV. Despite the concept of crossover episodes being widely accepted in TV, outside of YouTube stars it's a phenomenon that's been something of a rarity in the world of web series.
While shows like SUPER MASHED UP (a crossover between SUPER KNOCKED UP and several other web series like PAIRINGS, THE BLOODY MARY SHOW and CHOP SOCKY BOOM) are among the rare exceptions, there are relatively few examples of crossover web series episodes or even series that employ the concept.
However, a newly filmed episode of the acclaimed comedy FRIENDS IN THERAPY seeks to add its own memorable contribution to that relatively short list. Titled THE BLIND DATE, this special episode of FRIENDS IN THERAPY brings together the cast of that series, plus actors from 4 other popular comedies: HelLA, I'M TRIGGERED, DEAD KEVIN and TWO POPULAR GIRLS' GUIDE.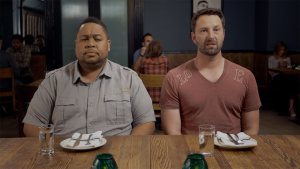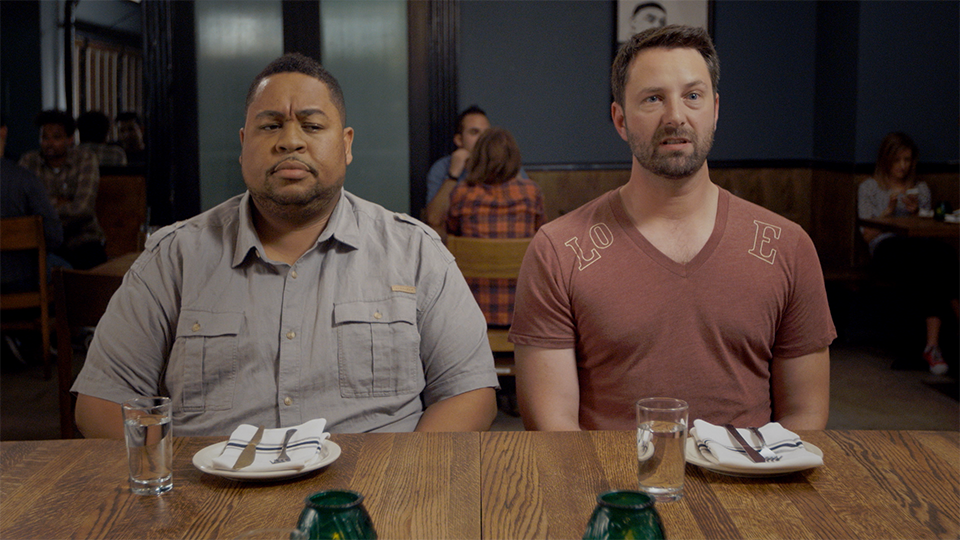 This special episode of FRIENDS IN THERAPY premiered Friday, February 13th on the show's official web site and Youtube pages (see links below), and was executive produced by Daryl Johnson and Joe Towne (who also star here as Daryl and Joe, respectively).
In addition, the episode was directed by Erin Cardillo and Richard Keith (co-writers of the CW online series SIGNIFICANT MOTHER).
THE BLIND DATE follows Daryl and Joe as they leave the comfortable confines of the therapist's couch and embark on a fateful night out at dinner, where they've been set up to go on a blind date with two of their roommates: Donna (played by Nicole Dalton of I'M TRIGGERED) and Leslie (played by Karen Forman, also from I'M TRIGGERED). Dalton and Forman also co-produced the episode.
The episode also features HelLA star/creator Rory Uphold as the restaurant's waitress, along with guest appearances by Jackie Seiden and Lindsey Gort (from TWO POPULAR GIRLS' GUIDE), and by Ahmed Bharoocha and Richard Bain from the Youtube sketch comedy troupe DEAD KEVIN.
With each performance heavily improvised by its cast, THE BLIND DATE came together as a result of Towne's past collaborations with both Uphold and Dalton, as well as a strong desire by Cardillo and Keith to direct a short film. As both Towne and Johnson remember, Uphold and Dalton jumped at the chance to appear in it.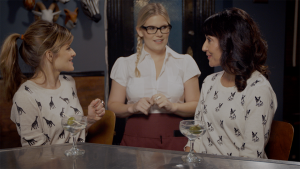 "Joe came up with the basic concept of a double date and the loose structure of the episode. Joe had worked with Rory Uphold and Nicole Dalton in the past and was a huge fan of both of their series," they say.
"Joe and Daryl took them to coffee and asked if they would want to work on the crossover episode. They said yes!"
When Bharoocha, Bain, Seiden and Gort filled out the remaining cast, both Johnson and Towne knew that the episode would be even more memorable – and hilarious. "Once it was decided what the ending of the episode would be (no spoilers) it was pitched by Erin Cardillo that it would be even more special if every cast member for the entire episode was from a web series," they say.
While this episode of FRIENDS IN THERAPY is unique in that it presents Daryl and Joe embarking outside the therapist's office for the first time, it's especially distinctive because it represents a concept that, as has been mentioned before, has rarely been attempted in the world of web series.
"We know that this happens in television all the time, but we felt like it was a rarity in the web universe," Johnson and Towne say. "We had never seen it before, with so many series crossing over at the same time. We see and meet so many web series creators all the time at festivals we've attended and it can be super inspirational to see the work everyone is putting out there."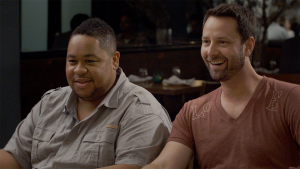 Although crossovers between web series are still a relatively new concept, both Johnson and Towne feel that it could benefit show creators and on-camera talent in a variety of ways.
"Under the right circumstances, we would highly recommend we support each other and find ways to get creative together," they say. "It is a wonderful way for audiences to meet other shows audiences and the cross promotion of the series can create a win-win for all parties involved."
As filmmakers, both Johnson and Towne have plenty of creative inspirations and influences. Johnson is driven by his lifelong desire to entertain people through the universal gift of laughter, by the wide ranging impact that movies, TV series and web series continue to make on viewers worldwide, and by his goal of impacting people through his own projects.
"The thing that inspires me most is how any person anywhere can watch, listen or share something that was created by someone different, and then can be affected by it," he says. "The ability to create content and create emotion is what inspires me to keep doing what I do. When I was a kid I just wanted to make people laugh. It was a universal language that I recognized at an early age."
For Towne, the indelible contributions and talents of his fellow filmmakers serves as his primary inspiration. "What inspires me are storytellers who can transport me away from my life for awhile," he says. "I love watching art created by people who are passionate about what they do. I love opportunities to learn something, become more compassionate, or just (to) laugh my ass off."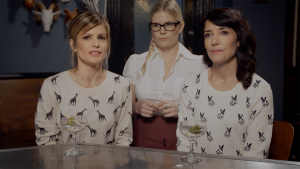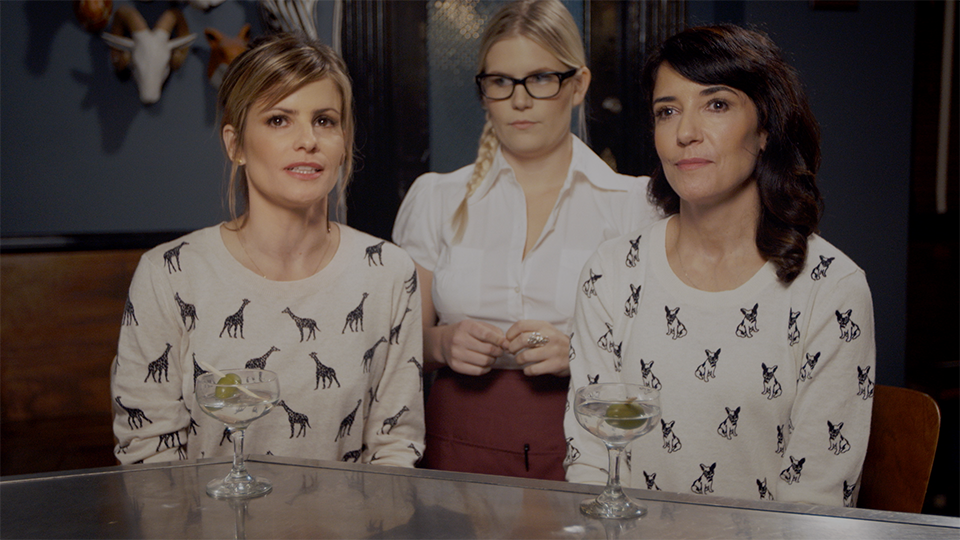 Thanks to their real life friendships and working experiences, finding the main cast for THE BLIND DATE proved to be incredibly easy for Johnson and Towne.
"Jackie Seiden is a fellow student (and acting coach) at Warner Loughlin Studio in Hollywood where Erin and Joe teach, and where Daryl, Rory and Richard have all been in class at one time," the show's creators say. "Rory made the introduction to the cast of DEAD KEVIN."
The task of finding who would call the shots behind the camera was just as trouble-free. "Erin Cardillo is Joe (Towne)'s wife. and after she and her writing partner Richard Keith had just finished executive producing a short season of their first series entitled SIGNIFICANT MOTHER for the CW, they decided they wanted to direct a short film," the show's creators add.
THE BLIND DATE was filmed at the downtown Los Angeles restaurant The Gorbals, and was produced with much of the same crew that Johnson and Towne utilize for production of FRIENDS IN THERAPY. Despite some difficulties during pre-production, Johnson and Towne managed to make the most of the location and the personnel available.
"A few people were out of town, but people were great about helping to find replacements," they recall. "We met with the crew a couple of times, did a site visit and then shot one afternoon on a weekend in September of 2014."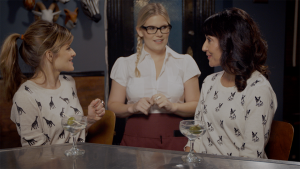 Through this special episode of their series, both Johnson and Towne have several key goals for its success, as well as for that of FRIENDS IN THERAPY, HelLA, I'M TRIGGERED, DEAD KEVIN and TWO POPULAR GIRLS' GUIDE.
"We want to help people become aware of these incredible talented artists we have the pleasure to know and to work with," they say. "We hope to inspire a production company to sign on to turn FRIENDS IN THERAPY into a half hour scripted show on television. Or a feature film. We have been developing both in-house."
Above all, Johnson and Towne hope to achieve an even more important goal through FRIENDS IN THERAPY and through THE BLIND DATE; one that all who create and perform great comedy seek to accomplish: "We hope that we can help people to laugh, if only for a little while," they say.
(Note: Regarding closed-captioning, the show's creators say: "We want to make sure our content is available to anyone who wants to enjoy it, which has led us to caption all three seasons of Friends in Therapy so far. This crossover episode is in process and will be captioned the next week.")
ON THE WEB: http://friendsintherapy.com/?page_id=484
YOUTUBE: http://www.youtube.com/channel/UCuUs0rhwLgWqwr5zQi-zuTQ
THE BLIND DATE can be viewed here: