Editor's Rating
JOHNNY DYNAMO SEASON 2 is an action-packed perspective on the unpredictable game of show business. It is full of unexpected twists and turns as viewers cheer on actor Robert Pierce Mitchell as he desperately tries to revive the show and the role that made him famous. Fasten your seat belts!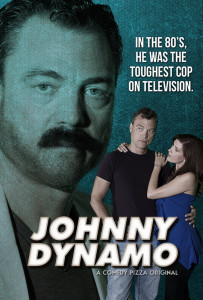 Have you ever seen one of those "Where Are They Now?" shows about lost stars of Hollywood? Johnny Dynamo suffered a disastrous publicity stunt that brought an abrupt end to his career and sent his series into the pile of cancellations. Well, surprise! This beloved action hero has returned for another season! Fasten your seat belts. Pop your popcorn. You're about to witness the epic return of JOHNNY DYNAMO in season two, launching today on YouTube.
JOHNNY DYNAMO is an award-winning series produced by Joe Thomas, Raquel Thomas and Ed Lamberg. It was directed and written by Joe Thomas. The series follows actor Robert Pierce Mitchell (Rick Wells), RPM or Bobby, as he likes to be called as he continues on his path to reboot his show. He wants to bring his character back to life, the same character that launched him right into fame. Mitchell's journey is filled with a lot of complicated obstacles including his inept talent agents/three musketeers: fiercely determined Hannah Motlow (Sarah Shoemaker), physically fit Jack Meredith (Jonathan Everett) and PR/salesman Ira Stein (Daniel Collins).
Mitchell and the three talent musketeers run into some bad luck when their path leads them to highly intimidating mob boss, Mickey Petrucelli (Terry Kiser). Petrucelli meets with the group to offer them funding for the show if they will make him a partner and give him executive producer credit on the show. He also wants a voice in the creative process on the show. Mitchell and his team aren't delighted by this sudden turn of events at all. The money also becomes a concern. That's a lot of money!
Eventually, Mitchell and his team find themselves in the middle of what seems to be a "turf war" between Mickey Petrucelli's gang and hip hop record producer Maurice "Mo' Lotto" Black's (Tiny Lister) gang. Black also wants to invest in the new show. The battle for control of the Johnny Dynamo reboot begins to get intense.
Along for the ride is Mitchell's wife, Sandy (Jennifer Shelton) and daughter, Hailee (Hailee Ricci). Mitchell's comeback has become a priority to him which has caused a lot of tension in the family at their home in Nashville, Tennessee. He has used a majority of their money and even sold their lovely house in order to put money toward the reboot. Sandy and Hailee say they support him, but it's obvious that they have their doubts. Sandy is concerned about their money. Hailee is having to leave her friends behind in order to move away with her family.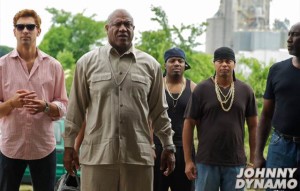 The actors delivered solid and believable performances in this action-packed series. The only exception to that might be Mitchell's wife, Sandy. I didn't believe that performance as much as the others. It may have something to do with the dialogue. It may be a mix of the dialogue and performance. The way her dialogue was delivered didn't feel natural.
It was impressive to see actors involved in MR. FROST and THE ACCIDENTAL PRESIDENT transform once again to take on another role. It is always fun to see how much an actor can stretch. The range of some of these actors is impressive. For example, Terry Kiser. He was really convincing as Adams' chief of staff and now he is playing a mob boss. His performance as Mickey Petrucelli is a real treat and a highlight of the show.
I absolutely loved the cinematography (Ed Lamberg) in this series. It gave a wonderful glimpse of Nashville, Tennessee. Some of my favorite shots were of the cityscape and the nightlife. It was truly stunning to see how the traffic lights, the neon signs and the atmosphere of Nashville was captured. It effectively established the location of the series and worked as a smooth transition between scenes. Just beautiful.
The episode length seemed a bit long. There are viewers that like long episodes because of the increased ability to tell a more detailed and full story. There are also viewers that like short episodes that they can watch on the go or they have a short attention span. The episodes range from about 22 minutes up to about 40 minutes in length, so I'll let you decide if this is the right amount for a web series. The episodes do not disappoint though. They are all full of twists and turns – everything a full length television drama should have.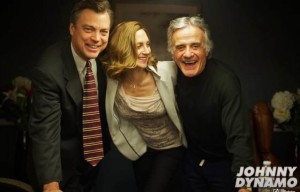 JOHNNY DYNAMO SEASON 2 provides a second act in actor Robert Pierce Mitchell's drama of desperately trying to reboot the show that made him famous. It is a unique series depicting the unpredictable entertainment business and how it takes a toll on performers and those close to them. If you loved Season 1, I guarantee you that Season 2 will not disappoint. If you have yet to watch the series, I recommend it! Will Johnny Dynamo succeed at rebooting his career and rescuing his family life? We shall find out.
For more information about this series, check out:
WEBSITE: www.leftbraintv.com/johnny-dynamo