Anyone who's ever moved to a new, unfamiliar place knows just how hard it can be to make themselves at home. For some, though, moving from the relatively traditional and easy going manner of country life to the bustling, hectic pace of the big city can be a huge culture shock.
No one knows that better than Krystal (played by series creator/writer Meredith Riley-Stewart), the protagonist of the new comedy series SOUTHERN DISH. The series' 4 episode first season premiered March 15th on its official web site and Youtube pages (see links below), and new episodes will air each Thursday.
In addition, special transmedia content features Riley-Stewart (in character as Krystal) giving her unique perspective on some of the newest and most popular craft beers from around the world each Tuesday on KRYSTAL'S BEER REVIEWS (also on its Youtube page, more on that ahead).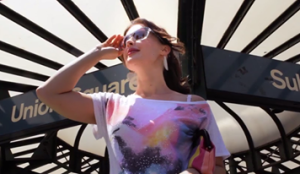 SOUTHERN DISH stars Riley-Stewart as the aforementioned Krystal, a trailer park raised, Southern belle wannabe who escapes her humdrum existence in the small town of Catchatubbee and sets out to make a new life for herself in New York City.
Having wedded an older (read: senior citizen) real estate mogul in order to spite his adult children, Krystal soon seeks to do more than just hang out in his luxurious penthouse.
Having opened a new "dive bar" called Southern Dish (hence the show's title), Krystal decides to bring a little bit of Southern charm and hospitality to the busy, relentless pace of the Big Apple. Along for the ride is Krystal's best friend Darlene (Ogy Durham, HOUSE), who breaks free from her frustrating marriage and Catchatubbee itself to join Krystal in New York.
Among those who make things interesting for Krystal are her handsome, yet dimwitted bar back (a.k.a. 'Cute, But Stupid', played by Hayes Mercure), plus her most frequent – and favorite – customer, Whatawino (played by Courtney Black). Trying to maintain the business end of things at Southern Dish is Mike (Ben Whitehair), whose attempts to make it as an actor are often offset by his attempts to rein in Krystal from time to time.
Although, at first, she did not fully realize how important it is for actors to create their own professional opportunities, Riley-Stewart would soon find that the best chance she had for success was through the rapidly growing world of digital media. As she explains, it was the incredible potential of web series that would begin the development of both SOUTHERN DISH, and of its charming protagonist.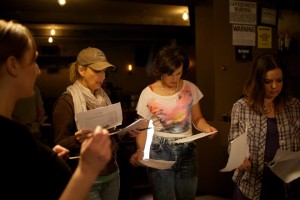 "As an actor, I've heard for years that you have to do your own stuff, (but) I just never took it to heart," she says.
"Finally, once I had an idea I could sink my teeth into, an opportunity to create an alter-ego that was so much a part of where I came from (a small town in Alabama), I figured there was no time like the present."
In fact, she adds, the increasing popularity and prominence of original online content gave her the best opportunity to grow in her career. "I realized no one was going to do it for me. I had nothing to lose and everything to gain," Riley-Stewart adds.
"It was the perfect opportunity to learn more about this industry (especially the exploding online scene) than I ever had the chance to thinking of myself as just an actor." Interestingly enough, the concept for SOUTHERN DISH first took shape during Riley-Stewart's time in a recent production of a classic Deep South melodrama.
"I was in a play, STEEL MAGNOLIAS (how Southern!), and had the idea while chatting with the other cast member about my age, Nicole Lowrance (who has since starred on Broadway in PETER AND THE STARCATCHER)," she remembers. "Living in New York City, we percolated ideas and I kept running with it till I decided to raise funds to just do it; therefore the Indiegogo campaign."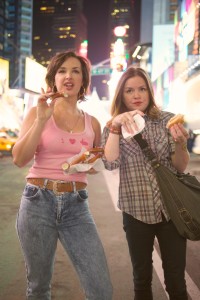 While many comedies such as BROAD CITY, IT'S ALWAYS SUNNY IN PHILADELPHIA and LOUIE take great pride in making their big city settings a huge part of the story, including through its characters, Riley-Stewart feels that SOUTHERN DISH's tale of a country girl making a big splash in an even bigger pond (that of New York City) makes her show different from all the rest.
"I think it's a unique mix, maybe a world we've seen, but never with the culture clash as part of it. It's the world/tone of IT'S ALWAYS SUNNY IN PHILADELPHIA," she says. "It's almost like if Abbi and Ilana from BROAD CITY had a friend from the South who was just as bawdy and real as they are…just from a different background."
Further elaborating on the concept, Riley-Stewart believes that SOUTHERN DISH's distinctive brand of uproarious adult humor, mixed with the traditional "fish out of water" storyline found in countless comedies and dramas, promises to appeal to fans of both mature and Southern-based comedy alike.
"I like to say it's as if THE BEVERLY HILLBILLIES met the gals from BROAD CITY. It's definitely a comedy, but single-cam style, and it's definitely mature in content," Riley-Stewart says. "I mean, we had craft breweries give us swag to use, and we drop an F-bomb or two. So, anyone who likes smart mouthed women will get a kick out of Krystal and her crew!"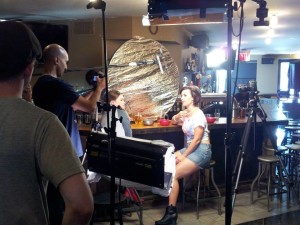 Thanks to her friendships with several talented actors, Riley-Stewart had few difficulties assembling the show's hilarious ensemble cast.
"I have the wonderful fortune of knowing Amanda Richards, in casting at Sony," she says. "She brought in her favorite actors in L.A. and we found everyone. I knew Ogy (Durham, "Darlene") and Courtney (Black, "Whatawino") and personally invited them, and they both showed themselves to be the best choices for the roles."
With the show's cast now complete, attention turned to bringing SOUTHERN DISH to the screen. It all began with the series' introductory "sizzle reel" on popular crowd funding platform IndieGoGo, which was filmed in New York City. After the success of the show's campaign last Spring (achieving 108% of its overall goal on IndieGoGo), production began in earnest on the West Coast.
"…Once we had funds, I found a director, D.P. and producer in L.A. and we all put the pieces together to shoot last August in downtown L.A. The D.P. brought on the editor (who had completed THE INCREDIBLE BURT WONDERSTONE right before that) and she brought it all together," recalls Riley-Stewart. "Director BT Jackson was tireless in that process, always involved and always working to make the final cuts the absolute funniest/best looking/most entertaining."
On March 15th, Riley-Stewart premiered SOUTHERN DISH at the recently concluded South By Southwest (SXSW) Film and Music Festival in Austin, Texas. As she remembers, the final cuts for the series were completed just in the nick of time. "Once we knew we had the opportunity to do a screening in Austin during SXSW (South By Southwest), that was a great deadline for us to get final sound and color finished – which we did just days before we left for Texas!"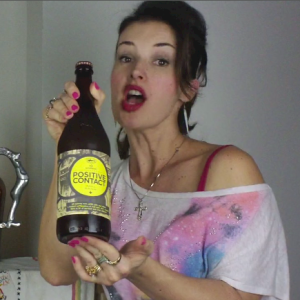 Along with the series' 4 main episodes, Riley-Stewart appears (in character) in KRYSTAL'S BEER REVIEWS, a transmedia series of informative – and entertaining – reviews of popular craft beers.
It's a key feature of the SOUTHERN DISH experience that Riley-Stewart feels could provide ample opportunity for the show to grow through sponsorships.
"I think in the online space, where branded content is more and more common, especially with the need for content that can reach a female audience, my show is perfect for a second season sponsored by a liquor brand or a few craft beer brands," she says. "We're working to get our media impressions high in season one so we can pitch that idea."
No matter how successful SOUTHERN DISH goes on to be, the experience of starring in and producing the series has proven to be highly rewarding, as well as eye-opening, for Riley-Stewart. "…Artistically, it's been so fun to write this and try things out as an actor too. Who knows, maybe Amy Poehler and the BROAD CITY ladies will want a crazy Southerner as a side kick in a few episodes of their show!"
SOUTHERN DISH is more than just your typical big city comedy. Through its unique characters and story, it's a show that proves that we're all after the same hopes and dreams for success – no matter where we come from.
"We take a Southern-fried yet urban-aware approach to life," Riley-Stewart says. "It's a fish-out-of-water story, but we realize that it's in finding the similarities that we find each other; it's defying expectations of those stereotypes we all know that's actually funny; it's about embracing who you are, not denying it that makes you your most interesting self."
Note: Regarding closed-captioning of SOUTHERN DISH, Riley-Stewart says: "I am currently taking advantage of the great classes at YouTube for content creators and that's one of the suggestions they make. It's on my to-do list!"
Episode 1 of SOUTHERN DISH can be viewed here:
ON THE WEB: http://www.southerndish.tv/
YOUTUBE: https://www.youtube.com/channel/UCtv2aCJt1T8VgYBiNSgn8Jw
FACEBOOK: www.facebook.com/SouthernDishTV
TWITTER: @Southern_Dish