For three seasons, the groundbreaking, award-winning online drama series ANYONE BUT ME brought viewers the lives, struggles and triumphs of six young adults attempting to make sense of life and love in post 9/11 America.
Executive produced by Susan Miller (BESTSELLERS) and Tina Cesa Ward (GOOD PEOPLE IN LOVE, PRODUCING JULIET), ANYONE BUT ME won critical and fan acclaim thanks to its realistic portrayal of modern romance, and of the LGBTQ (lesbian, gay, bisexual, transgender and questioning) community.
Though known as an ensemble drama that focused on the lives of people growing up in a decisively changed world, the core of ANYONE BUT ME's story line was found in two of its most memorable characters: Aster Gaston (played by Nicole Pacent), and Vivian McMillian (Rachael Hip-Flores). Their romantic relationship, and the difficulties they endured along the way, made for many of ABM's most powerful moments.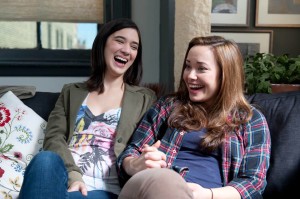 Although ANYONE BUT ME ended its 3 season run in 2012, its contribution to the LGBTQ community and the incredible impact it's made on its viewers remains as significant as ever.
Now, thanks to incredible fan demand, Ward and Miller have developed a new way for new and old fans of the original series to experience Vivian and Aster's incredible story.
Premiering September 1st on Hulu, and two weeks later (Sept. 15th) on its official Youtube page, ANYONE BUT ME: THE LOST SCENES will bring viewers the further exploits of Aster and Vivian in a unique and creative way; one that continues their story while doing so in a manner that those new to the original series can easily appreciate.
ANYONE BUT ME: THE LOST SCENES features moments and situations that could have easily been part of any of the episodes from ABM's original 3 year run. While not moving forward in time, and while serving as a complimentary sidebar to the series, each scene is newly filmed and with the focus squarely on both of its key protagonists.
"The territory explored here is entirely that of Vivian and Aster, which is a departure from our regular seasons where we delve into stories encompassing all the characters," says Miller, who co-wrote these new scenes with Ward. "So we had a certain freedom in creating these scenes to offer them up as stand alone moments, as well."
As Ward explains, each scene gives her and Miller an opportunity to convincingly mix the old and the new. "First, we're producing new scenes for existing episodes, not new episodes. With these new scenes we get to explore topics and situations that we didn't have the chance to in the run," she says. "We want the scenes to feel like they can slip seamlessly into old episodes but still give new information."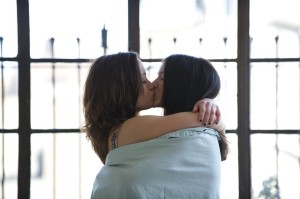 The truest and most important measure of any film, TV or web series' success is its audience. ANYONE BUT ME had, and continues to have, a strong and devoted fan base that's kept on growing long after the original series concluded.
For Miller, the chance to give them an unexpected, yet unforgettable surprise led her and Ward to reunite with Pacent and Hip-Flores for this new venture.
In fact, Miller adds, she, Ward, Pacent and Hip-Flores knew that timing was everything if they hoped to get the concept off and running. "It was a wild idea that came out of wanting to do something unexpected and unique for the fans at a rare moment when we found ourselves with the time and opportunity to make it happen."
With their goal of bridging the gap between the original ANYONE BUT ME series and this new collection of scenes ahead of them, Miller and Ward began their writing process by focusing on several existing episodes that they could easily add to through each of the 10 new scenes with Vivian and Aster.
"Our approach with these new scenes was to look at specific episodes from the past three seasons and find places where new scenes could fit in them," Ward says. "So the fun thing for the viewers will be to go back to the previous episodes and search for where they think the scene may have fit into the episode. It's a fun way to get viewers to revisit the series, or (to) find it for the first time."
As it turned out, the task of writing and producing these "additions" to some of the series' existing episodes was challenging, but ultimately, rewarding, for all involved. "Our episodes are already packed with a lot of information, so when we re-watched the episodes we really had to think, what is it that we want to say here that we didn't get a chance to," adds Ward. "So it was a fun challenge."
Moreover, Miller says, this distinctive approach will also benefit new and longtime viewers of ABM. "I think newcomers to the series will be intrigued by what they see and be drawn in to the characters in a way that compels them to check out everything that came before," she says.
"So, these new scenes, hopefully, will entice the uninitiated to join the ranks of ABM addicts and will also work our already smitten fans into a hot lather."
ANYONE BUT ME'S legacy as a true to life portrait of modern love, sexuality and growing up in rapidly changing times is already secure, and so too is its undeniable impact on the lives of its audience, cast and production team.
Having played a major part in the positive portrayal of the LGBTQ community through its characters and stories, as well as adding to the increasing viability of original online content, ABM continues that contribution through ANYONE BUT ME: THE LOST SCENES.
For Ward and Miller, entertaining people while reflecting the reality of today's world is the most important goal they hope to achieve through this new set of scenes; one they've always sought to accomplish going back to the very first time viewers met Aster and Vivian.
"We've always aspired not only to entertain, but to extend our reach, to engage with diverse populations, to bring our stories to people all over the world who might not otherwise have the access to the kinds of relationships and struggles our show reflects," Miller says. "ANYONE BUT ME: THE LOST SCENES enlarges those efforts and at the same time is one more thing our little show has pulled off that is out of the box. Fun. Relevant. And of our time."
HULU: http://www.hulu.com/anyone-but-me