This article has been co-written by Chris Hadley and David Schwartz
There are as many different types of web series as there are television and film genres, including comedies, thrillers, action/adventure, mysteries, westerns, and documentaries.
In this post, we focus on perhaps the most popular, prominent, and successful genre of web series: comedies. Web series comedies have also resulted in making the seamless transition to network or cable TV (Broad City and Children's Hospital among the most notable examples).
Comedies are also popular with viewers because of their brevity. The short running time of a typical webisode can run anywhere from under a minute on up to five minutes or more. While there are some exceptions to that rule, including a few shows that run for a traditional 30-minute duration, most comedy web series tend to run on the shorter side.
It also helps when you've got talented actors, high quality writing, razor-sharp direction, and high-end production value. Combining all those elements makes memorable original comedy for online viewers, and have resulted in some of the best web series ever produced. We provide below a few examples of high quality, original sitcoms currently streaming on the web, including a few shows that have gained an even greater following after successfully transitioning to mainstream TV.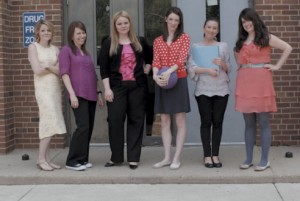 TEACHERS
A beautifully produced web series with top-notch writing and crisp performances is TEACHERS, a show about "the small and often wildly inappropriate conversations teachers have with each other in the course of their workday." You won't see better sketch comedy anywhere on the web or even, I would argue, on television.
The show, performed by the all-female comedy troupe The Katydids, is a series of irreverent sketches involving moments in the classroom, the principle's office, or the schoolyard. Most notably the sketches are very short (always less than 2 minutes).
According to Katie Lambert, one of the show's performers: "We noticed that, for online content, longer comedic videos got less traffic. People are trying to watch things quickly—on a break from work or on the train – so we wanted to make sure we created videos that were funny, short, and would keep people coming back for more." Thanks to an efficient and fast production schedule, 3 episodes of the series were released every week.
Filmed in 2012, TEACHERS is also notable for the appearance of a pre-SNL Cecily Strong, who filmed the series just before she joined the Not Ready For Prime Time Players. As its co-executive producer Matt Abramson explains, the series would also attract the attention of some of comedy's biggest web sites, and eventually resulted in a major TV deal.
"Once we started rolling out the webisodes, we got contacted by The Onion and then later Funny or Die. Both places wanted to roll out some episodes and help us boost views," he says. "We were excited that both of those brands were reaching out. Then through the Katys we got connected to WME (William Morris Endeavor)."
From there, Lambert and Abramson got some much needed help as they shifted from the web to TV. "They (WME) connected us to (COMMUNITY star) Alison Brie, who we all were thrilled to have come on board as an Executive Producer," adds Abramson. "From there, TV Land decided to order a pilot! Great show runners came on board (Ian Roberts and Jay Martel) and the Katys wrote a terrific pilot script. Once produced, TV Land ordered season 1!"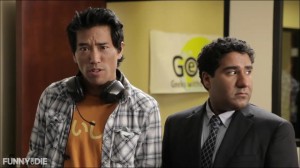 THE STARTUP
Anyone who's ever tried to start a company from scratch knows how difficult it can be to make a dent in the competitive world of business.
More often than not, though, even the best-intentioned efforts to compete with the big guys end in failure. However, thanks to inept management and employees, that's not always the case. In the workplace comedy THE STARTUP, one man learns this lesson the hard way.
The series focuses on Manish (Parvish Cheena), who is convinced to leave the comfort and certainty of his job in the Great White North for the glitzier climate of L.A., and for quite possibly the job of a lifetime: working for a highly touted new entertainment/social media company called Pump'd Entertainment, headed by the ambitious Mark (Peter Shinkoda).
Manish soon finds that Pump'd is stocked with employees who prove to be less than adequate at their jobs, and with an ill-conceived business plan that further threatens to doom the startup before it even has a chance to succeed.
For Dave Conde and Manoj Rao, co-creators of the series, their own personal experience working for an eventually failed company provided them the spark to create a hilarious view of the ups and downs of young entrepreneurs.
"Dave & I worked at the same startup (Amp'd Mobile) a few years ago and pretty much mistakenly put our heart & soul to it. When it went under, we started to write THE STARTUP, really to grieve I guess," Rao says.
"Since then, we've all been at multiple startups, achieved different levels of success & failure, and witnessed some pretty amusing things done by some interesting people."
In fact, adds Rao, many of the wacky employees depicted in THE STARTUP are also inspired by their real life work experiences. "The characters are based on the types of people we've run into at work over the years, but no one particular person defines any character we've made for the series," Rao says. "The two main guys (Manish & Mark) are loosely based on me and Dave Conde (Dave likes to emphasize the word loosely here)."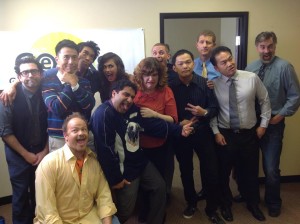 Like all the great shows mentioned in this article, THE STARTUP is yet another example of how effective short form comedy can be online.
"I think comedy works best in this medium, or perhaps it's better to say that comedy is easier. You can tell a joke in a few seconds but it takes longer to build a strong dramatic arc," Conde says.
"People online have no patience (I know I don't) so you have to hook them fast. Once you have them laughing you can get them to care about the characters and sneak in some drama."
STONER COMEDIES: DEVOLVE, CINEDOPES, AND HIGH MAINTENANCE
No sampling of web series comedies would be complete without a compilation of shows centering around the great universal equalizer.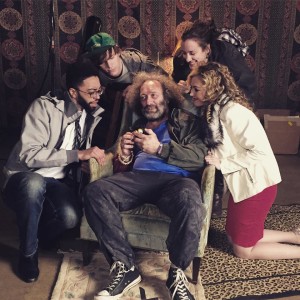 In DEVOLVE, a Stoner God (played by the great Richard Cotovsky) is losing his powers while exiled to Earth awaiting Satan.
The only thing standing between the World and the apocalypse is a group of evangelical, misfit stoners. The series deals with topical and political issues of the day in a satirical and fantasy setting.
As the show's Executive Producer Dan Arthurs says: "We thought that using God as our central character would allow us to tackle some pretty big issues. But by making him a stoner, we could have fun with the genre and go over the top."
Another workplace comedy that makes our list is CINEDOPES. Co-executive produced by, and co-starring Ben Gleib and Brian Drolet, CINEDOPES revolves around the small, incompetent yet extremely dedicated staff of an independent cinema that's got something extra to enhance the movie watching experience: freshly baked pot.
Drolet stars as Tim, a meandering stoner who inherits his deceased father's movie theater, and teams up with his best friend Blake (played by Gleib) to keep it afloat alongside a totally unqualified group of employees.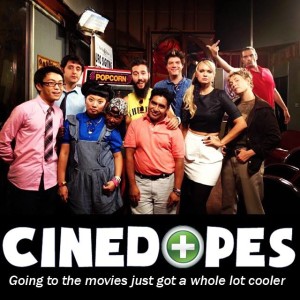 Making things even more complicated is that Tim's childhood nemesis Kurt Bullman (played by Ben Morrison) is in charge of a luxurious multiplex across the street from the otherwise run-down establishment that Tim now operates.
When Tim and Blake decide to lure away Kurt's customers with the seemingly irresistible lure of weed, the battle between the underdog staff of their theater and the intimidating crew of Kurt's decidedly modern multi screen showpiece kicks into high gear.
No article summarizing the web series landscape would be complete without HIGH MAINTENANCE. This series made quite a splash when it debuted on Vimeo, and its incredibly high viewership helped the show gain a lucrative deal with HBO to produce 6 new episodes (announced, of course, on 4/20 of 2015).
Created and written by the real life husband and wife duo of Katja Blichfeld and Ben Sinclair, HIGH MAINTENANCE follows the daily, door to door travels of a dope dealer known simply as "The Guy" (played by Sinclair). Throughout each episode, "The Guy" meets a diverse, as well as hilariously memorable, range of individuals who take advantage of his services as they attempt to seek that satisfying "high" that only he can provide.
CHILDREN'S HOSPITAL
One of the first online comedies to successfully make the transition to broadcast TV, CHILDREN'S HOSPITAL has already achieved a significant following through its airings on Cartoon Network's popular overnight animated/live action adult comedy block, Adult Swim.
Beginning as a web series in 2008, and with its sixth season having just premiered earlier this year, CHILDREN'S HOSPITAL also won critical acclaim, as well as 2 Primetime Emmys in 2012 and 2013 (Special Class-Outstanding Short Form Live Action Entertainment Program).
Created by Rob Corddry and co-stars Rob Heubel, Rob Corddry, Zandy Hartig and Ken Marino, the long-running medical drama spoof focuses on a team of physicians who are charged with the responsibility of healing sick children, but whose bizarre sexual desires and awkward personal problems take wacky precedence over the importance of their jobs.
According to Hartig, starting out on the web has come to define the show, even to this day when they have more resources. "The show's budget has gotten bigger, so production values are better, but basically we shoot the same way, down-and-dirty, so to speak. There is so much more flexibility and imaginative potential shooting stuff for the web. It can be a demo for something bigger or it can be a little gem all on its own."
Note: A version of this piece also appears on the Huffington Post.
http://www.huffingtonpost.com/david-h-schwartz/what-the-fk-is-a-web-seri_1_b_7891820.html