All over the world, young filmmakers dream of making it in the competitive, rapidly changing atmosphere of movie, TV and web production. Yet, as time goes on, hopes of achieving success in that industry while maintaining a sense of artistic integrity can disappear as quickly as the very youth they possess.
For anyone who's ever aspired to be the next Spielberg, Hitchcock, Tarantino or Fincher, the challenge of breaking out without selling out can make or break the careers they hope to begin.
In the new comedy series LIVIN' THE DREAM, a talented young screenwriter/director finds herself attempting to achieve success amid stiff competition from the industry, and from her already thriving former classmates.
Created and written by sisters Kim Spurlock and Mai Spurlock Sykes, produced by the Spurlocks and Stavroula Toska, and with Snobby Robot's Erik Urtz serving as an associate producer, LIVIN' THE DREAM's entire first season of 8 episodes debuted on July 9th on its official web site (see more links below).
The ensemble comedy series follows a young woman named Kit Scanlon (played by Laura Campbell), whose post-film school life has been filled with potential and disappointment in equal measure.
Hailing from West Virginia, and having blossomed in film school thanks to her screenplay, which took home a Student Academy Award, Kit now sets her sights on making a name for herself in one of the film and TV industry's biggest and most competitive hubs – New York City. Although she won an alumni award for her work, Kit's efforts to break through in film are now complicated by the fact that she's 35 – and that her classmates have already enjoyed success.
They include Yvonne (played by Geri-Nikole Love), a screenwriter about to pen a highly anticipated new TV series, Leslie (played by Erin Fritch), who's gained acclaim throughout indie film circles as a producer, and Brad (played by Samuel Douglas Clark), a handsome, charming Aussie who's become part of two acclaimed independent films.
There's also Jonah (played by Meng Ai), who works on developing slickly produced corporate videos, while harboring his own affections for Kit. Rounding out the group is Emily (played by Shannon Beeby), a Brit whose upper class background and experimental filmmaking style belies the fact that she's yet to complete her college thesis film.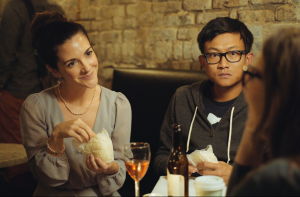 For Kim Spurlock, the struggles faced by LIVIN' THE DREAM's main character Kit paralleled those she experienced upon graduating from a prestigious film school.
"I had recently graduated from NYU Grad Film School and had been making the rounds with my first feature, KIN, which is the basis for (Kit's script) "Blood into Tears" in LIVIN' THE DREAM, and the script had gotten a little heat – we had interest from some very exciting talent for the leads," she recalls.
Just as the show's protagonist endures a never-ending series of hopeful developments followed by crushing setbacks, Kim witnessed for herself just how cruel the world of indie film can be. "And then, almost as quickly as the script had gained momentum, it evaporated, and I began to understand how difficult it is to get a first feature off the ground – especially in the financial climate at that time."
Every screenwriter knows it's always best to have more than one good idea in his/her back pocket. For Kim, it was her sister's love of one of the most successful web series of all time that turned her on to the potential of original scripted content for online audiences. Having been unable to gain traction with KIN, Kim realized that it was time to go in a much different direction.
"After another year or two of writing and developing and growing increasingly frustrated, my sis (Mai Spurlock Sykes) called me excited about a web series she was watching called THE GUILD," she says. "She was excited about the content (she's a fan of Joss Whedon, and its star Felicia Day appeared in a couple of Whedon productions) but also about the production itself."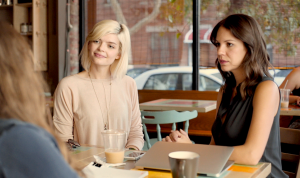 At first, though, Kim wasn't necessarily convinced of the potential of producing for online audiences.
Yet, thanks to Mai, plus the impressive quality and hilarious comedy of THE GUILD, she was finally sold on the possibilities of the new medium. "I was skeptical. I didn't even know what a web series was! But then I watched THE GUILD, and understood what she meant."
From there, the Spurlocks would develop the concept for what would become a hilarious, yet intensely personal story of young adults determined to succeed in a notoriously competitive field, while faced with the challenges and responsibilities of growing older.
"I pitched her an idea about three lady filmmakers who have just finished film school and are trying very hard to make their first features – and she turned around and wrote a first draft of 5 episodes based on me! I then joined her in the writing process, fleshing out characters and storyline," she says.
Through each character in LIVIN' THE DREAM, the Spurlocks sought to defy the typical expectations and stereotypes of female and minority characters found in mainstream movies and TV. As they describe her, Kit (the series' main character) is a key example of this unique approach.
"So often in film, female characters are judged by their likability, and how nice they are. In Kit we wanted to create a character who was a kind person, but not necessarily nice," they say. "She often makes decisions in ways that a typical female character wouldn't and people tend to either love her or hate her. We like that."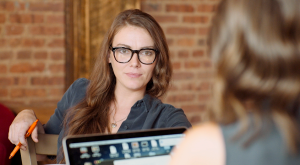 Each of the show's characters are based, in some way, on both the Spurlocks' own individual personalities, as well as on influences from a wide range of sources – from popular TV and movie characters, to their own experiences in dating, to typical archetypes found in both entertainment and everyday life.
"We like to say that certain characters are combinations of our public selves and our secret selves. I think Kit is a combination of me and my sister – she isn't a pleaser (Kim) and she is sarcastic and less easily mortified (Mai)," says Kim, who adds that the other characters in LIVIN' THE DREAM also fit both those easily seen and visibly hidden aspects of their lives.
"Yvonne (is someone) we just wanted as the voice of reason, and also as that super successful friend that you simultaneously cheer on and eat your heart out over their success," the Spurlocks say. "Emily is like Kim's secret voice, obsessed with all things anal. We wanted her to be British, because saying perverse things with a posh accent makes it more fun."
Another key character in LIVIN' THE DREAM was inspired by the Spurlocks' love of '80s teen romance movies like PRETTY IN PINK and SIXTEEN CANDLES, mixed with a healthy dose of geek chic. "Jonah is Mai's secret fangirl voice obsessed with all things fantasy and sci-fi. We also wanted his character to be influenced by a lot of John Hughes characters – Ducky and The Geek," they say.
For the character of Brad, the sexy Australian filmmaker, the Spurlocks again borrowed from real life, while turning a common archetype on its head in the show's first episode.
"Brad is inspired by every douche-y but charming guy we ever dated. Also, we wanted to play around with the white male writer, giving a minority character a "voice" as in (Brad's film) DINGO RUNNER – a cliché that still continues to this day."
The Spurlocks' creative influences didn't stop with the characters. As it turned out, their own past work played a key role throughout each storyline in LIVIN' THE DREAM. "We also wanted to incorporate a love triangle, (and) a cliffhanger, and (to) infuse the screenplay with a references to other films and tv shows, as well as to several of our own screenplays, including KIN and MARCUS FROST, TEEN NECROMANCER!"
LIVIN' THE DREAM shot its 8 episodes over a 6 day period. For the Spurlocks, their main goal throughout the shoot was to achieve a quality level of production while on a small budget. With a small production crew utilizing spare yet easily mobile equipment (such as the Sony A7S camera, which the Spurlocks chose because of its adaptability in low light situations), and with tremendous attention to detail, that task was achieved in meticulously planned fashion.
"We were very strategic about using available resources to create production value. From locations, to production design, to casting, to shot choices, we did our best to give the show a more polished feeling," they add. "So much time and effort was put into pre-production for this purpose alone."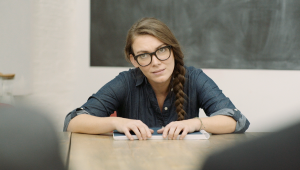 Combined with its characters, their influences and hilarious situations that any aspiring or current filmmaker can relate to, LIVIN' THE DREAM's brand of comedy mixes distinctively lowbrow style humor with pop culture and film related references in every episode.
In fact, the Spurlocks feel it's an element that makes their series truly unique while attracting a diverse audience.
"I think we bring a unique blend of poopy jokes and cinephilia to the table," they say. "Where else will you have characters discussing the merits of Black Snake Moan, Buffy season 6 and butt crumbs in the same conversation? Although it does have such a female perspective the humor is more universal – dudes, cinephiles, women, pop culture junkies."
While the Spurlocks hope that LIVIN' THE DREAM will strike a chord with audiences, they've already accomplished their goal of creating a series that they can be proud of; one with humor and characters that anyone who's ever tried to chase a dream can easily relate to, no matter if that dream happens to lead to Tinseltown or just about anywhere else.
"We just wanted to make something we would enjoy watching – funny, topical – an amusing examination of the struggle to "make it" – something everyone identifies with," they say. "No matter how successful one is in life, there is always the next idea, (and) the next goal to reach."
Note: Regarding closed-captioning, the Spurlocks say: "It is not (closed-captioned). We are open to doing that of course, but have not yet investigated how to proceed."
ON THE WEB: www.livinthedream.tv
TUMBLR: http://livinthedreamtv.tumblr.com
FACEBOOK: https://www.facebook.com/LivinTheDreamTV
TWITTER: https://twitter.com/LivinTheDreamTV