Have you ever felt like a 'fish out of water'? To be specific, have you ever felt like a stranger in a strange land, particularly one with a totally different kind of culture that's literally opposite of the one you've become accustomed to? Such a scenario can be a humbling experience for anyone, but the new sketch comedy series YUKATA COWBOY proves that culture shock can also be uproariously funny.
Set to debut its first season of 7 episodes on November 12th via its official web site and Youtube page (see links below), and preceded by a series of behind-the-scenes short videos beginning September 15th on both platforms, YUKATA COWBOY focuses on the adventures – and misadventures – of a multi-cultural filmmaker/comedian (played by Japanese-American creator/writer/producer/director Atsushi Ogata in the title role).
In addition, 3 more seasons of the series have been filmed and produced, and will air in succession following the conclusion of season 1. Ogata says viewers can expect more of the show's signature brand of comedy, plus expanded locations, character development, elevated emotions and absurdity. "Later seasons are planned, built around guest performers from online communities in different countries, including actors, YouTubers, hipsters."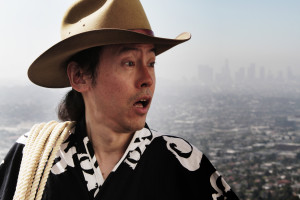 Having been born in Japan, but with much of his life having been spent in more than one country, the man they call "The Most Mistaken Man In The World" (played by Ogata) finds himself not only an avid world traveler, but also very confused about his own nationality.
In all his attempts to get himself acclimated with the culture he's surrounded by, he ends up getting stuck in some pretty awkward situations.
Much of the comedy in YUKATA COWBOY is based on Ogata's real life encounters with people who are equally as diverse in background and nationality as the countries he's lived in. Ogata portrays many of these characters throughout the series, regardless of age, race, ethnic background, gender, or sexual orientation. As a result, he demonstrates both his tremendous comedic range, while displaying his own unique brand of 'slice of life' humor.
Anyone who's ever found themselves mistaken for someone else knows just how embarrassing that kind of situation can be. However, such moments can also be a great source for comedy. For Ogata, his own incidents of mistaken identity provided him with an incredibly rich amount of material as he sought to bring those stories to the web.
"In my own life, there has been a long-running theme of being mistaken for someone else, all over the world," he says. "These were humorous incidents which always made people laugh at dinner parties, other social occasions, or even during Q&A sessions at my own film screenings. I thought of developing these anecdotes into stand-up comedy routines for online distribution."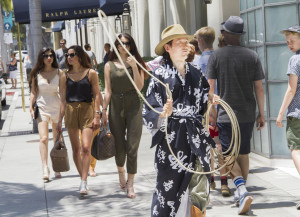 It's that kind of comedy that viewers can expect to see throughout YUKATA COWBOY's 7 first season episodes.
"YUKATA COWBOY is about the cross-cultural experiences I myself have had, and there is an odd informative aspect that comes out of those adventures," adds Ogata."Also, I believe the nature of my humor is unique – quirky stories about a man who blends into his environment so well that he gets mistaken for a local wherever he goes."
The idea for YUKATA COWBOY also came at a time when Ogata, who had recently produced a feature length film in Japan, sought to begin production of his next movie in the States. Although production related issues (difficulties casting English-speaking actors, working within a next-to-nothing budget) would arise, the recent death of his father would bring him a renewed sense of purpose and focus.
"My father had passed away, and I needed to stay at my parents' house in Tokyo to help my family and also manage tons of paper work. Being able to shoot everything at home was a blessing and even therapeutic," remembers Ogata. "I had previously directed a full 35mm feature with a cast of stars and veteran crew. It was released theatrically in 16 cities in Japan and San Francisco, and published as a novel."
Working alongside producer Sian Evans, Ogata would develop each of the characters that he would play in YUKATA COWBOY. Embracing the DIY (do-it-yourself) style of low-budget production, Ogata would also call upon his incredible range as a comic actor as he prepared to go in front of the cameras. During the shoot, he utilized a vast array of quirky props, costumes and other assorted knick-knacks that would be on full display in each episode.
"To stress the cross-cultural aspect, Sian suggested that I wear something Japanese and also something else Western. I looked around my room, and noticed the 'Yukata' (a Japanese garment popular in the Summer months) and the cowboy hat, so I chose them. This combination was perfect for me – since childhood, I have been a fan of Samurais and cowboys."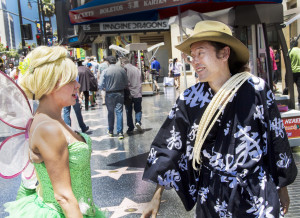 Making the series even more distinct is its emphasis on depicting many different cultures and settings throughout every episode.
"The cross-cultural aspect of the show is not just between Japan and the U.S., but also involves other European countries, particularly the Netherlands and Germany. I've done a lot of research on similar comedic short web series, and that's quite unique to this show," adds Ogata.
As a result, YUKATA COWBOY is a comedy that transcends both setting and culture, with each episode also reaching a wide array of diverse audiences. "The 'target' audience is not limited to one ethnic group or culture," Ogata says. "I make sure the episodes alternate between different cities and cultures, so it never feels like the series is just about Japan or Amsterdam or wherever."
YUKATA COWBOY is also different because of the overall depiction of its characters. Whereas most shows tend to go for the all too common, stereotypical kind of humor, YUKATA COWBOY is a refreshingly realistic, yet definitively humorous take on the 'slice of life' comedy perfected by such luminaries as Jerry Seinfeld, among others.
"The idea of this show is to open up viewers to other cultures, other kinds of people and the different ways in which we all live," says Ogata, who discusses his mission for YUKATA COWBOY this way: "I want to show them slices of other peoples' lives, in other countries – beyond the clichés, archetypes and pigeonholes offered by the dominant mainstream media and by the prevalent 'alternative' subcultures."
Ogata finds plenty of comedic fodder not just from his own life experiences, but from the more mundane aspects of daily life itself. "Many episodes focus on common, everyday, aspects of our lives such as stairs, elevators or bicycles. In these shows I found a way for the specificity of these topics to translate into something more universal," he says.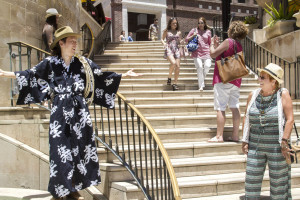 While YUKATA COWBOY is a series with its own distinctive approach to such humor, Ogata adds that comedy based heavily on the seemingly ordinary parts of life itself is nothing new.
"Jerry Seinfeld accomplishes something similar in the way that he can talk about a sock caught in a dryer – sounding both quirky and specific while at the same time connecting to underlying human, and global, issues."
Taking on many different characters also gave Ogata the opportunity to maintain a professional, efficient style of production that would give him both pride and peace of mind. "Performing all roles, I wouldn't have to worry about cast scheduling, catering, varying levels of acting ability or experience – much less on set intrigue! So, that's what I did."
In fact, he says, his versatility as a performer also benefits those who watch each episode of YUKATA COWBOY. "Since I like acting and had training, I thought it would be fun to cast myself in multiple roles. Also, from the point of view of the audience, I thought it would be engaging to watch one performer play multiple characters, as I had seen in the brilliant South African play SYRINGE TREE," adds Ogata.
While being a one man production crew seems like a daunting task for any filmmaker, the advantages of such an arrangement far outweighed the difficulties for Ogata as production of YUKATA COWBOY got underway. Each episode's shoot was made even more successful thanks to American-based producer Evans, who remained in constant online contact with Ogata and helped him refine the quality of his show's production.
"Subsequently spending most of my time writing and developing scripts, it was truly refreshing to act, direct, shoot and edit all by myself without having to rely on anyone else," he says. "If I missed a shot or a line, I could immediately re-shoot and add it into the edit without stepping a foot out of the house, asking anyone or spending an extra dime."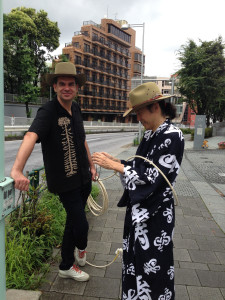 For Ogata, the constant change from his Cowboy character to other assorted roles and back again was perhaps the most time consuming part of filming each episode of YUKATA COWBOY. As time went on, though, the actor found that accomplishing such a difficult task would become second nature.
"As long as the sun was out, and I had enough sleep, I could keep going. I got so used to the process that when I woke up and was still groggy, I would first play a thug, or some antagonist," he remembers. "Then, as the day went by and I was more energetic, I'd shave, clean up and play the protagonist."
While Ogata says that YUKATA COWBOY is a comedy that all audiences can enjoy and identify with regardless of background, he believes that his series will have its greatest impact on people who've experienced the world at large, and on those who've struggled to understand cultures, customs and traditions that are different than those they're already used to.
Most of all, Ogata hopes that YUKATA COWBOY will expose viewers not only to different cultures, but to different people who are seemingly taken for granted in our society. "I want to focus attention on the many marginalized, less heroic individuals around us," he says. "Through pointing out quirky, subtle, daily incidents and observations, I make the point that we humans really are capable at laughing at any situation anywhere – good, bad or ugly."
Note: Regarding closed-captioning/subtitles, Ogata says: "We have shot and produced shows in both English and Japanese language. The English versions of the show are not yet closed-captioned for the deaf and hard-of-hearing viewers. However, the Japanese versions are subtitled and ready for viewing."
ON THE WEB: www.yukatacowboy.com