Cooking shows have always been a major part of the TV viewing landscape. Why, there's even 2 cable channels devoted to nothing but cooking and food-related programs.
Since Snobby Robot focuses on the wide, wide world of online web series both scripted and non-scripted, and since we're on the subject of food, it's only appropriate that these two worlds come together in the hilarious, critically acclaimed comedy THE KATERING SHOW.
Described as "Jamie Oliver meets ABSOLUTELY FABULOUS (the famed '90s British sitcom)", the six episode first season of THE KATERING SHOW (now on its official web site and Youtube page, see additional links below) stars Australian comedians Kate McLennan and Kate McCartney (who also co-produced and directed), who team up to bring viewers some of the silliest "food intolerant" recipes and "foodie" lifestyle experiences ever captured on video.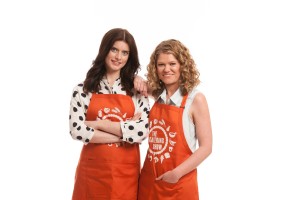 Even though they may be friends, the two Kates have totally different views on what they like to eat and drink.
McLennan can be best described as the "foodie" of the pair, herself being a constant presence at every fresh food market. On the other hand, McCartney can't stand anything that even resembles food at all. That being said, she does enjoy a good, low fructose libation.
Having racked up almost 5 million views worldwide, recognition by prominent online blogs including TubeFilter and BoingBoing, and various accolades (winner of Best Comedy at Melbourne WebFest, Streamy Awards nomination for Best Indie Series, official selections of the New York Television Festival and London's Raindance Film Festival), THE KATERING SHOW has become a sensation within a relatively short time.
McLennan and McCartney had become well acquainted with each other, while obviously being aware of each other's own likes and dislikes. When it came to food, the differences they shared, as well as a major health issue that arose in McCartney's life, were among the major factors that led McLennan and McCartney to create THE KATERING SHOW.
"We had been working on a long project together for about a year and were getting bored; of the project and each other," they recall. "Around the same time, McCartney had been diagnosed with very limiting food intolerances, which was something that foodie McLennan couldn't wrap her 'I'm a food snob, I own a smoking gun' brain around."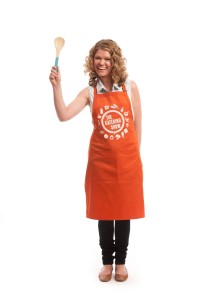 As time went on, McLennan and McCartney found that their differing perspectives on the foods they ate would provide the perfect fodder for their new project.
"She (McLennan) kept getting annoyed at McCartney for not being able to eat her homemade chimichurri, and more gallingly, not caring that she couldn't eat it," they say. "Realizing that there was an idea in this dynamic, we started to blow off writing the other project, and began writing THE KATERING SHOW."
Given that food is, and has always been, a huge part of daily life, McLennan and McCartney sought to make the lifestyle aspects of food itself part of their show.
"As we formed the idea, we realized we could link our experiences back to food culture, cultural trends at large and topical news," they add. "And, if you looked at it sideways and squinted hard enough, that created something that vaguely approximated social satire. Or a Seeing Eye Pirate Ship. Either one."
While food as it relates to culture and lifestyle is prominent in THE KATERING SHOW, the most interesting – and funniest – part of McLennan and McCartney's series is the food itself.
Of course, trying to bring viewers foods that will appeal to both "foodies" and people whose options are limited by health issues is a huge challenge for anyone who's ever tried to create a cooking show. With that in mind, the show's co-stars did their very best to find dishes that would win over the tastes of both, and that would help achieve the series' main objectives.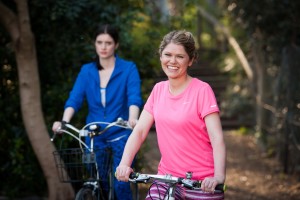 "We tried to find recipes that would fit the double brief of the show; food that spoke to foodie culture at large, and food that could be adapted for McCartney's food intolerances, to varying degrees of success," they say.
"For instance, to introduce the series we tried to find something that is now ubiquitous with the food culture 'revolution', and would also be incredibly hard to adapt to McCartney's no garlic, no beans, no dairy, no onion, no chili hellscape diet. Mexican Quesadillas fit the bill perfectly."
In keeping with McCartney's sensitivities, viewers can expect more of the same type of foods in each episode of THE KATERING SHOW. "In other episodes, we touch on Kombucha, risotto, sugarless energy food, a custard that had so much brandy in it you could drop a match in it and read by it, and a food porn cupcake that had plastic figurines stuck to it with poly filler," McCartney and McLennan add.
While all those dishes may seem tasty at first glance, the two co-hosts of THE KATERING SHOW have some simple advice for anyone wanting to try them: don't. "Although we do supply all the recipes, we wouldn't recommend you eat any of them unless you're jonesing to get your stomach pumped by a very tired ER nurse called Pam."
As noted, THE KATERING SHOW has gained an enormous fan following worldwide, with an equally diverse range of viewers. With nearly 5 million views for the series itself, plus an astonishing 1.7 million for the episode "Thermomix" alone, McLennan and McCartney marvel at the incredible demographics and viewership of THE KATERING SHOW.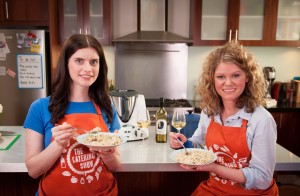 "We've been surprised by the breadth and scope of who has been watching the show. We have a pretty big following in the U.S., and the U.K. But we've also had fans in Saudi Arabia, and recently, my mum also conceded that we were doing well," McLennan and McCartney say. "We also thought that we'd only attract women our own age, but we've had younger people get on board, and also dudes on YouTube and Reddit."
Simply put, THE KATERING SHOW is not your average cooking/food show, but it sure is the funniest. With massive audiences, critical acclaim and honors by their industry peers, McLennan and McCartney know they've created a series that will definitely make you laugh – even if some of the food doesn't exactly make your mouth water. "The main message (of the series) is 'whoever wins, we lose.' It's as true today for our show, as it was for ALIEN VS. PREDATOR way back in 2004."
NOTE: Regarding closed-captioning, McLennan and McCartney say: "Yep, it's closed-captioned. Although, we do miss the auto-generated YouTube subtitles," they respond. "Those things became completely unstuck by our accents and added a whole new dimension to the series. Mainly, it seemed like we were quoting transcripts from a Ouija board."
The first episode of THE KATERING SHOW can be seen here:
ON THE WEB: thekateringshow.com
YOUTUBE: youtube.com/LeadBalloonTV
FACEBOOK: facebook.com/thekateringshow
TWITTER: twitter.com/thekateringshow