Last year, Snobby Robot interviewed Youtube star Andy Goldenberg about his hilarious comedy BAD TIMING. Now, he's starring in a new 5 part series, SUPERGUY AND FRIENDS, produced in cooperation with Marvel Comics legend (and all around hero to geeks everywhere) Stan Lee's POW! Entertainment, and Youtube Space L.A. The series is now streaming via Goldenberg's GoldenTusk Youtube channel.
SUPERGUY AND FRIENDS is one of several shows that will screen this Halloween, Oct. 31st (a Saturday), at Lee's annual Comikaze Expo, taking place at the Los Angeles Convention Center's Room 515B at 1:00 PM Pacific (4:00 PM Eastern).
More details are available on the Expo's web site, and tickets range from $35 for a single day pass, to $75 for a 3 day pass. Kids 12 and under gain free admission when their parents pay to attend.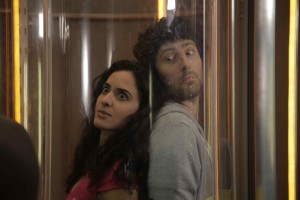 Also on that day (Oct. 31st), and immediately following the screenings, Goldenberg will speak about his experience creating SUPERGUY AND FRIENDS during a panel discussion (first of two) with filmmakers who participated in POW!/Youtube Spaces' World of Superheroes program, an effort geared towards increased creation and production of more superhero themed online content for Youtube channels.
Other panelists scheduled to appear alongside Goldenberg at the event, titled "Youtube Spaces Presents A World Of Superheroes", include actress/writer/producer Anna Akana, plus web series creators from Youtube channels Robot Underdog, Cinema De Guerrilha, and comedy video portal Above Average (founded by SNL creator Lorne Michaels).
The second panel takes place on Sunday, November 1st at 10 AM Pacific (1 PM Eastern) at the Convention Center's Screening Room 411, and will feature plus panelists representing Nerdist, The Brothers Riedell, GearMark TV, AdiShankarBrand and others.
There will be several other web series panels and screenings throughout the weekend, touching on a variety of issues that affect those who create and produce original content for online audiences.
SUPERGUY AND FRIENDS stars Anton Narinskiy as the title character, an average guy who just happens to possess superpowers. Unfortunately, he's often knocked down a few pegs by his two ordinary friends, roommate Barry (played by Goldenberg) and Alanna (Natalia Ferreiro), a lawyer who serves clients affected by the collateral damage left behind by Superguy and similar superheroes.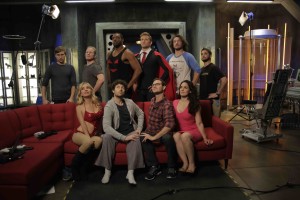 Even worse, Superguy's life is turned upside down when his "super" ex-girlfriend Wonderchick (played by Lauren Francesca) returns with intentions of rekindling her romance with him, despite the fact that she's currently in a relationship with the inept villain Scary Man (Eric Dunn).
Filmed in Los Angeles, SUPERGUY AND FRIENDS was one of several produced at Youtube Spaces throughout the world, including New York, Tokyo, Sao Paulo, Brazil, and London.
I talked to Goldenberg about his upcoming appearance at this Saturday's panel, how it will benefit aspiring and current web series creators who will attend, how SUPERGUY AND FRIENDS was developed and refined thanks to the vast production resources of POW! Entertainment and Youtube Space L.A, and how active YouTubers can apply to use each space throughout the world.
How can attending the panel benefit web series creators/filmmakers wanting to attend? Will there be a Q and A afterward?
I think creators/filmmakers need to be looking toward online content more and more. Attendees will learn some behind-the-scenes tips from some of the web's most prolific creators and network with not only them, but also like-minded individuals. One of the biggest hurdles in our industry is also just finishing a project.
What topics will be discussed, in addition to the screenings?
The topics will vary depending on the questions asked, but I'm sure we will all talk about our process and how we decided on what we actually wanted to produce for the collaboration.
If people are unable to attend, will the panel be live streamed or posted online afterward?
I don't think the panel will be live streamed, but I'm sure with several social media stars on the panel, we'll be able to find some footage online afterward, at some point.
All of these creators had only a handful of days/weeks to go from concept creation to production. It's also interesting and really fun to see the same superhero lair look wildly different in all of the various productions, depending on their style and tone.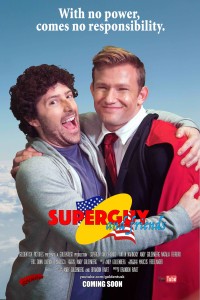 How did you become involved with Stan Lee's POW! Entertainment on SUPERGUY AND FRIENDS?
I was selected to be one of the first creators to shoot at the new YouTube Space L.A. back in 2013.
This past April, they joined with Stan Lee's POW! Entertainment to look for submissions for a special World of Superheroes collaboration in mid-May of 2015 to encourage YouTubers to make original superhero stories.
They were going to accept 10-12 creators at the L.A. studio and we had about a week to create a concept and pitch our project. After my pitch was selected, I had three weeks to complete a final draft and cast it before our production dates, May 20-22nd. The videos included in these panels are the "best of" results from the various YouTube Spaces in L.A., N.Y., Tokyo, London, and Sao Paolo.
How has working with his company helped you grow as a filmmaker and actor?
Stan Lee is a legend. You can't think about comic books and their characters without thinking of him. The quick process of the project taught me a lot of lessons about time management and streamlining tasks for efficiency.
It's a challenge to get everything done so quickly, but you constantly judge what is most important and what needs the most attention. How could you not have fun "playing" in a superhero lair for two days? The set was unbelievable.
What was it like working at Youtube's space in Los Angeles for the show, and what resources did you have access to during your time there?
YouTube Space is the greatest playground in Los Angeles. The best part: they want to nurture anyone with creativity. Anyone 18 and older, with at least 10K subscribers, and no copyright or TOS (terms of service) strikes, can apply to shoot at the studios for FREE. (Details on how they can apply to use Youtube Space are located here.)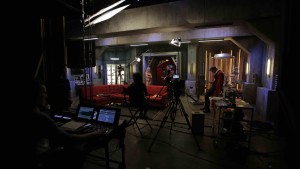 Aside from the superhero lair, built on a 5,000 square foot pre-lit soundstage, we were also given access to costume designers, visual effects artists, stunt coordinators, and a flying rig. We were also able to reserve RED cameras and sound and lighting equipment, all at no charge.
How did working inside that space help with the show's production?
Working inside the space allowed us the opportunity to compete with broadcast television, in terms of quality. We could still have made the show in a living room with a couple DSLRs, but shooting a majority of it on a practical set with RED cameras really allowed us to shine.
What advice would you give for potential web series creators who hope to one day achieve a partnership like yours with Stan Lee/Youtube?
Do what you love and create content for your own enjoyment; partners will fall in love with your unique voice and enthusiasm. As soon as you're able to reach that 10,000 subscriber mark, immediately apply to create at the Space.
Regardless, head to their site now and take advantage of all the additional resources they have for creators, like happy hours and classes geared toward enhancing your production values.
For more information on Stan Lee's Comikaze Expo, visit its official web site at:
http://comikazeexpo.com/
For more information on how to apply to Youtube Space, visit:
https://www.youtube.com/yt/space/la-space-access.html
For more information on Youtube Spaces, visit:
http://www.youtube.com/yt/space/
To watch all 5 episodes of SUPERGUY AND FRIENDS, visit Goldenberg's GoldenTusk Youtube page:
https://www.youtube.com/playlist?list=PLGM-v4WI0_5OZ-JX5rsYRnzcKtmCifXCA
FACEBOOK: https://www.facebook.com/superguyandfriends/
TWITTER: @GoldenTusk