The new comedy digital series ATTICUS' ACTIVISTS (premiering its first season of 4 episodes in January 2016 on its official web site and YouTube page, see additional links below) seeks to both put a hilarious and positive spin on environmental activists, while making more viewers aware of how important it is to care for the only place we can truly call home. (The series' trailer can be viewed at the end of this article.)
Led by the brave, determined and often reckless scientist turned environmental crusader Atticus Lexis (played by Gerry Bednob, a.k.a. Mooj in THE 40 YEAR OLD VIRGIN), these activists include the gorgeous trio of Sky (Korrina Rico), a brilliant mind whose mission is to protect those who fly from the forces of air pollution, plus Earth (Scout Durwood), who's dedicated to preserve precious plants and trees from corporate destruction, and Ocean (Krista Kalmus), the social media conscious, kick-ass defender of the seven seas.
Accompanying the activists on their quest to protect and preserve the environment from powerful oil and gas company interference are Atticus' loyal yet wacky butler Boz Cruz (Tian Wang), whose ongoing rivalry with Atticus' strait-laced, deep voiced (think Barry White) pet monkey The Admiral (played by Katie, the monkey, and voiced by Ray Grady) provides hilarious counterpoint to the adventures of Earth, Sky and Ocean.
Created, written and executive produced by Josh Isaacson, ATTICUS' ACTIVISTS is a series that serves three important purposes: to make people laugh, of course, but to also bring greater awareness to younger viewers of the need to protect our environment, and to fight for it through continued activism.
As Isaacson explains, his love of the popular '90s animated series THE ADVENTURES OF CAPTAIN PLANET, and his concerns about the increasing damage of water, air, plant and animal life by corporate destruction, everyday neglect and carelessness, propelled him to create ATTICUS' ACTIVISTS as a way to achieve both of those above mentioned goals.
"I developed the show back in 2010 because I was fed up with how bad the environment was getting and wanted to do something about it," he says. "I wanted to create something that everyone could relate to while putting an original spin on things both my parents and I grew up on. Every Baby Boomer watched CHARLIE'S ANGELS and every millennial watched CAPTAIN PLANET."
In addition, Isaacson's frustration with mainstream Hollywood's often inaccurate depiction of environmental issues through movies and TV series, and with how the industry has tended to produce seemingly average portrayals of those problems despite how "revolutionary" each concept is propped up to be, drove him to create ATTICUS' ACTIVISTS.
"I wanted to take a fresh take on how the environment was being broadcasted into our culture. That was the reason for creating this show, on top of my anger at how things were not changing and were only getting worse, Isaacson adds.
"For years, I worked in Hollywood observing time and again them missing the mark with each show they put out, in my opinion. Sure, there were a few shows that were groundbreaking, but for the most part they were all very vanilla and dull."
With all that in mind, Isaacson began his quest to create a truly unique series that both entertains viewers, and compels them to fight for the environment.
"Since no one in Hollywood took this idea seriously, I decided to do it on my own and make the coolest and most original series I could possibly make with the limited funds I scrounged together," he says. "I wanted to create something that was ahead of the curve and a true work of art. I wanted this show to make a difference in the eyes of the world and be a useful tool to the environmental movement."
ATTICUS' ACTIVISTS is also different from many typical movies and TV shows because of its humorous, yet realistic presentation of women through its three primary activists, and its incredibly outrageous approach to the comedic situations found in each episode. According to Isaacson, that style is inspired heavily by one of cable's most popular adult animated series.
"I centered the show around strong female characters, but did it in a funny way. I decided that the tone should match that of ARCHER, which is very outlandish and completely ridiculous," he says. "I dreamed of creating a show that could be the face of the environmental movement, but I did it in a way that millennials would get behind."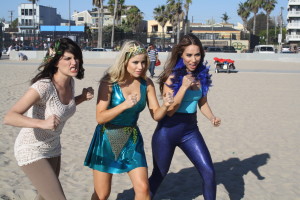 In fact, Isaacson says, ATTICUS' ACTIVISTS' combination of distinct humor and environmental activism truly sets it apart from traditional comedies.
"I pride myself on really good writing, and that's what (the show) contains: really funny jokes with great storytelling along with wit, and my perspective on how to frame the environmental movement's message. I think that's what drove everyone to come together for this show. This show is a first in my opinion. Totally original."
So much so, that when Isaacson prepared to develop the concept for ATTICUS' ACTIVISTS, he watched many different digital series that currently stream online. Over the course of his research, though, Isaacson discovered a common thread running among those shows: they were all pretty similar to things that had been done before.
With this in mind, Isaacson knew he wanted to do something completely different with his series. "In my experience, I've never seen anything like this before," he says. "I pride myself on the fact that ATTICUS' ACTIVISTS is very original, very funny, and something you have not seen before, ever, even on television."
Bednob, a veteran actor/comedian whose credits include the short lived sitcom UNDECLARED (where he first collaborated with writer/director Judd Apatow) and WALK HARD: THE DEWEY COX STORY (just to name a few), says that ATTICUS' ACTIVISTS stands out from all his past work – including the film that gave him his big break.
"ATTICUS' ACTIVISTS is the most original project I've ever been a part of," he says. "It's more original than THE 40 YEAR OLD VIRGIN."
Shot over a three day period in Los Angeles, all four season 1 episodes of ATTICUS' ACTIVISTS were made possible thanks to the talent and dedication of Isaacson's cast, crew, and by the knowledge Isaacson gained throughout his time producing and writing each episode.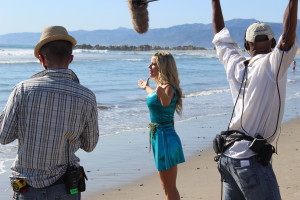 As he recalls, every moment spent on set gave him a chance to learn about the filmmaking process, and to apply the lessons he learned in the most difficult of circumstances.
"It was the most intensive and challenging shoot I've ever been a part of. We did things that film school taught me not to do like using kids, animals and being on difficult and expensive locations, which is a no-no when it comes to really low budget projects," Isaacson says. "With that kind of pressure, it's really difficult to deliver brilliant art because anything can go wrong at any time, and there are a lot of moving pieces to the equation."
A comedy that will make people laugh, while making them appreciate how important it is to protect our planet, ATTICUS' ACTIVISTS is a show that Isaacson, his cast and crew take tremendous pride in.
As he sums up his goals for its success, Isaacson hopes that his series will do more than just make people laugh out loud. He hopes that it will finally drive viewers – and Hollywood – to take notice of just how important saving the environment really is.
"With everything I write, I always try and take an authentic approach to storytelling. I tend to gravitate towards vastly complex subjects that are hard stories to tell," he says.
"With ATTICUS, I hope environmentalists embrace it for the wacky and wild story that it is. I also hope Hollywood takes my vision seriously. Mostly, I want my art to speak for itself. I have always been the underdog, and I kind of like the fact that I've been challenged to rise to the occasion."
Regardless of its commercial success, though, Isaacson seeks to bring viewers a show that will truly make a positive difference by motivating them to take a stand for preserving the only home we have: Planet Earth.
"It's up to us to change the status quo, and force politicians and the rest of Washington to enforce intense regulations that stop global warming and the deterioration of our planet, to the point where it's uninhabitable," Isaacson says.
"We need to move away from an unregulated capitalistic society where greed and corruption reins supreme, and pushes us towards oblivion. The theme is simple: (we must) come together as one voice and let's make a difference to save our planet," he adds. "We need to make it so things change, and we have to realize that it's time for us to roll up our sleeves and change the world. Hear Mommy Earth roar!"
(Note: Regarding closed-captioning of ATTICUS' ACTIVISTS, Isaacson says: "The show will be closed-captioned for the deaf and hard of hearing viewers. Everyone will be able to experience ATTICUS' ACTIVISTS and get a lot of laughs from Atticus and his delusional female super heroes.")
The trailer for ATTICUS' ACTIVISTS can be viewed here:
ON THE WEB: http://atticusactivists.tv
FACEBOOK: https://www.facebook.com/atticustv
TWITTER: https://twitter.com/atticustvshow
YOUTUBE: http://youtube.com/atticusactiviststv
INSTAGRAM: http://instagram.com/atticustv/