As has been the case for decades in the overly image conscious world of designer fashion, size matters. Yet, while today's leading apparel companies focus their efforts on creating clothing that's designed for supposedly "fit" consumers, the fact that a significant part of the American population wears clothes above size 14 has been all but ignored by the industry.
With that in mind, and with a strong desire to create a series that both celebrates career-minded women, while at the same time, depicting positive portrayals of plus size women, Lily Hayes Kaufman created, wrote and directed the hilarious comedy series RARE BIRDS OF FASHION.
The series is now streaming its first season of 8 episodes on its official web site and Youtube pages (see additional links below). The first episode of RARE BIRDS OF FASHION can be seen at the embedded link located at the end of this article.
RARE BIRDS OF FASHION stars Jackie Zebrowski as Brenda, a talented and skilled woman who works alongside her best friend Alix (Haley Rawson, THE AFFAIR, THE SLAP, THE BLACKLIST, SNAFU) at the upscale apparel firm Couture Co.
Together, they work on building a plan for the company to achieve further success through creating a designer line of clothes for the plus size market.
However, Brenda and Alix soon encounter resistance from their boss (a.k.a. "Boss Lady", played by Stephanie Gibson from Broadway's CINDERELLA), who constantly dismisses their suggestions at every turn, while sticking to her belief that high-end fashion belongs only to those who can fit in it.
RARE BIRDS OF FASHION also features Christopher Chwee as Boss Lady's right hand man Uber, who also spends his time creating "fashion forward" apparel that, for better or worse, makes people pay attention, and Zoe Geltman as the "snooty sales lady" that always tries to push tiny sized fashion onto the buying public – at the expense of plus sized women.
Other standout performances include those of Nancy Opel (IT COULD BE WORSE), who co-stars as Brenda's often overbearing, yet caring and well-meaning mother, while Anne Gottlieb plays celebrity CEO Max Glass, who may hold the key to bringing Alix and Jackie's goals of creating a plus size fashion line to life.
For Kaufman, the idea for RARE BIRDS OF FASHION came as a result of her own frustration with how Hollywood portrays, and continues to portray, female characters in traditional movies and TV, and from a recent news story that showed how even one of today's most popular actresses had difficulties with trying to get the thin-obsessed fashion industry to create beautiful fashion for plus sized women.
"I read an article about Melissa McCarthy creating her own line of clothing after designers refused the opportunity to design red carpet couture in her size. I thought, 'that is insane!' Melissa McCarthy is one of the most successful, talented and smart people in Hollywood," recalls Kaufman.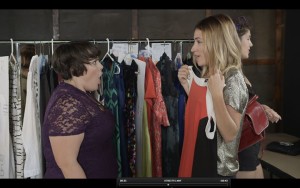 "I would have thought that having Melissa McCarthy wear your design on the red carpet at, say, the Oscars, or the Emmys or the Golden Globes would be fantastic for your brand," adds Kaufman, who notes that the industry's reluctance to mass market plus sized fashion is equally baffling. "It didn't make sense to me that designers cared more about size than how impressive a person is for what he/she has achieved!"
Just as important for Kaufman was bringing viewers of RARE BIRDS OF FASHION characters and stories that feature women in positions of leadership; something rarely, if ever, explored in traditional movies and TV series.
Recalls Kaufman: "I love romantic comedies as much as anyone, but I often ask myself, what if the girl was chasing a career instead of a boy? What if she was ambitious instead of boy crazy? Then I thought – what if I just write my own story?"
Kaufman did just that by writing the role of Brenda (played by Zebrowski), a talented, hard-working woman who enjoys life, friends, and work in equal measure.
"I created my dream character Brenda. She is awesome, smart, ambitious, funny — you want to be her best friend. Side note: it just happens that she is also plus size," says Kaufman. "I teamed up with my friend, producer Jackie Schwartz, who shares the same ideals and the project really began to come to life."
From there, Kaufman and Schwartz began working on developing the concept, storylines and characters that would be part of RARE BIRDS OF FASHION's first season.
"Jackie is a great producer," remembers Kaufman. "She is a writer herself, and has a very personal connection to plus size fashion, thus she was the perfect producer to give very helpful notes to help get the script and characters in the best shape possible."
Realizing how important it was for Kaufman to cast an actress who could easily convey the multi-faceted aspects of Brenda's character, Kaufman was instantly won over by Zebrowski's charm and talent.
"Casting the role of Brenda was really important to set the right tone for the show," she says. "I wanted to find an actor whose lovability is infectious, who could be as goofy as she is smart, and who exudes confidence."
Kaufman first became aware of Zebrowski through her demo reel, and through attending one of her many live stand-up performances. "When Haley (Rawson) first sent me Jackie Zebrowski's reel, I realized that coincidentally, I had just seen Jackie perform live at the Tromadance Film Festival in Brooklyn," says Kaufman. "Jackie was funny, edgy, confident, and you just simply really like her the second you meet her."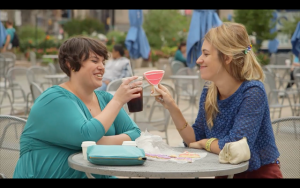 Although traditional movies and TV series (like soap operas) have often portrayed women in adversarial relationships, RARE BIRDS OF FASHION is refreshingly different because it brings viewers female characters who boost and support each other in good times and bad.
In fact, Kaufman explains, the relationship between the series' two main characters is perfect evidence of RARE BIRDS OF FASHION's distinctiveness.
"In RARE BIRDS OF FASHION, our heroines are totally loyal to one another. Alix always has Brenda's back. Alix is spunky and outspoken, and she also supports and encourages Brenda to take risks and go after her goals," she says. "Sometimes Alix's encouragement gets Brenda into a sticky situation, but then Brenda uses her confidence and smarts to make the best out of any situation."
As production on season 1 began, Kaufman and Schwartz worked intensively with each of the series' cast members to fine tune their performances, and gave them the opportunity to explore their characters in greater detail.
"Before we started filming, the actors and I spent a week rehearsing each episode before we locked the script for shooting. This was an amazing opportunity to work with each and hear the lines in his/her voice," Kaufman adds.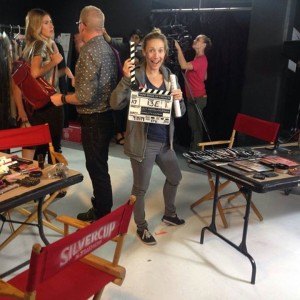 On set, the cast's overall dedication, professionalism and creativity was on full display.
"Actors like Anne Gottlieb are pros! Anne knew her character inside and out, and it was a great process to incorporate ideas Anne had about alternate lines her character might say, or brainstorm backstories," says Kaufman. "Also, these actors are very smart and very funny. On many occasions, Jackie came up with lines that were way funnier than the original I had put in there!"
Even the show's title came about thanks to a contribution from one of RARE BIRDS' primary cast members. "Haley thought up the line "Brenda, you are a 'rare Bird of Fashion' and that's how we came up with the title," Kaufman responds. "So thanks to the actors, we kicked the script up a notch. That's pretty cool."
One episode of RARE BIRDS OF FASHION turned out to be a family affair for Kaufman. Her sister, cinematographer Charlotte Kaufman, shot the web series. Meanwhile, the role of the Camp Counselor (in episode 4) was played by Lloyd Kaufman, the independent filmmaker and creator of irreverent B-movie superheroes like THE TOXIC AVENGER.
"Full disclosure: he is also my dad, and as a kid he had directed me/forced me and my sisters in bit parts in the background of his outrageous movies," Kaufman says. "So, Charlotte and I definitely got a kick out of having the chance to direct and film dad for once. Also, he is very funny and improvised some hilarious lines."
While Hollywood continues to struggle with the problem of career and pay inequality for women and minorities on both sides of the camera, Kaufman says that RARE BIRDS OF FASHION provides much needed equal opportunities for female filmmakers to succeed in all aspects of production.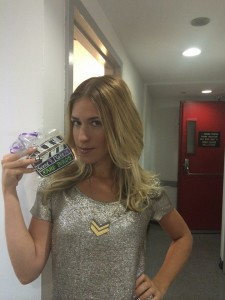 "When it comes to behind the camera, RARE BIRDS OF FASHION is written, directed, produced, filmed, designed, and edited by women (with a couple of men on board too!) We had a fantastic crew that was a mix of men and women, but there is no question that 70% of our crew were women."
For Kaufman, the talent and determination of RARE BIRDS' behind-the-scenes production team, combined with that of the series' ensemble cast, helped make season 1 of RARE BIRDS a tremendous success.
"RARE BIRDS OF FASHION wouldn't exist if it weren't for our fantastic crew who believes in the mission: that we can improve how society thinks about women, by how women are portrayed in popular media," Kaufman says.
In addition to planning several more seasons of RARE BIRDS, Kaufman has also been working on bringing the show to an even greater audience via the small screen.
"I sold a half-hour TV version of RARE BIRDS OF FASHION to a major network, and have been writing the pilot," she says. "I would love to have the opportunity to bring these women we created in RARE BIRDS OF FASHION to life on TV, and to offer a broad audience a new kind of heroine."
Yet, regardless of how successful RARE BIRDS is, Kaufman hopes to achieve a very important goal through her series.
"I believe that popular media is addictive and influential. Fictional characters on TV influence our social norms, (and) we get our role models from Hollywood, US Weekly & BuzzFeed," Kaufman says. "Let's make ambitious women the desirable ideal. Let's raise the profile of intelligent women by writing empowered female characters for film and TV!"
A hilarious, yet incredibly realistic and honest portrayal of women that's unlike any TV series or movie out there, RARE BIRDS OF FASHION is a comedy that Kaufman says is guaranteed to provoke much needed conversation among viewers about how the fashion industry – and our world at large – can overcome their ignorance and disregard for plus sized women, while empowering people to accept and embrace themselves in spite of how "imperfect" most of society sees them.
"RARE BIRDS challenges how society thinks about ambitious women, and promotes acceptance of all body types and shapes," she says. "Why is a show about plus size fashion important? Why do designers ignore the plus size community? Why aren't women of all body shapes represented on TV? What will your daughter think about her body after seeing unhealthy super skinny women on the runway, on billboards and in film and on TV?"
For Kaufman, including a multitude of voices and perspectives in that conversation is perhaps the greatest goal she hopes to achieve through RARE BIRDS OF FASHION.
"On another note, we hope that we are inclusive of all audiences. We want to create a dialogue so we can change how women are perceived in society," she adds. "It's important that everyone is included in this conversation, men and women!"
Note: Regarding closed-captioning/subtitling of RARE BIRDS OF FASHION, Kaufman says: "I would love to close caption/subtitle RARE BIRDS OF FASHION. We didn't have the budget to do this in our first cut. In the future, I would absolutely add this option if our budget allows."
In addition, Kaufman hopes to add descriptive audio technology to each episode of the series. "I also would love to explore options to make the series more accessible to the visually impaired. It is very exciting that Netflix added audio description to Marvel's DAREDEVIL," she adds. "We would love to be able to add audio description to our video content so the show is accessible to everyone."
Episode 1 of RARE BIRDS OF FASHION can be viewed here:
ON THE WEB: http://www.rarebirdsoffashion.com
YOUTUBE: https://www.youtube.com/user/RareBirdsofFashion
FACEBOOK: https://www.facebook.com/RAREBIRDSofFASHION/
TWITTER: https://twitter.com/rarebirdsseries