This past Sunday (March 20th), the third annual Vancouver Web Fest wrapped up another successful weekend of web series screenings, panels and networking with its closing night awards ceremony gala, held at Performance Works Granville Island in Vancouver, Canada.
The ceremony, which was emceed by FOOLS FOR HIRE co-stars Michael Cavers and Nick Harrison, honored some of the most outstanding original series produced for new media within the past year, along with the best acting performances and behind-the-scenes accomplishments, in 23 categories.
A panel of judges, representing 7 different countries, picked the winners for this year's Vancouver Web Fest awards, and Canadian series dominated the honor roll. Among the notables were THE BANKS, which took home Best Drama Series and Best Canadian Series honors, while RIFTWORLD CHRONICLES won for Best Overall Series and Best Sci-Fi Series.
American comedy series MANIC PIXIE DREAM WIFE won the DailyMotion Choice Award, representing the popular video service's choice for best series currently streaming via that site. In addition to Canadian content, series representing the United States, Switzerland, Norway, Germany, France and Australia took home awards in various categories.
For Suzette Laqua, founder and executive director of Vancouver Web Fest, as well as the entire event staff, attendees, sponsors and web series creators who participated in it, the gala ceremony capped off a tremendous weekend.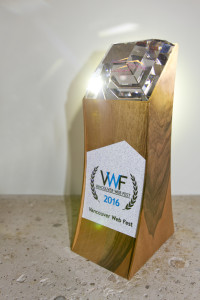 "I just want to thank everyone for making VWF2016 an absolute amazing success! The past 3 days were filled with so much positive and wonderful energy," says Laqua. "The feedback has been overwhelming! Some fun highlights that we will definitely be bringing back next year are the complimentary neck and back massages, and the wonderful Falconlady with her falcons."
Glittering statuettes, specially designed for the ceremony by luxury jeweler Swarovski, were handed out to the winners. Laqua says that the company's involvement in this year's festival was one of several memorable moments that made the 2016 edition of this growing event a success.
"The unveiling of the Swarovski trophies was definitely a highlight of the festival! I'm so grateful for the overwhelming generosity of the Sparkling Hill Resort & Spa for sponsoring this year's trophies," adds Laqua, who's already anticipating even greater success and growth for next year's festival. "I'm really looking forward to what VWF2017 will bring!"
The following is a full listing of the award winners at the 2016 Vancouver Web Fest, accompanied by show title and place of production origin.
Best Overall Series:
Riftworld Chronicles (Toronto, Canada)
Best Canadian Series:
Les Berges (The Banks) (Montreal, Canada)
DailyMotion Choice Award:
Manic Pixie Dream Wife (Seattle, Washington, United States)
Best Actor:
JAROD JOSEPH – Coded (Vancouver, Canada)
Best Actress:
SARAH JANE SEYMOUR – Rapt (Dublin, Ireland)
Best Director:
STUART GILLIES  – The Drive (Vancouver, Canada)
Best Screenplay:
Teenagers (Toronto, Canada)
Best Action/Adventure Series:
Sudden Master (Toronto, Canada)
Best Animated Series:
Uberdude (Toronto, Canada)
Best Comedy:
Couch Surfing (Long Beach, California, United States)
Best Drama:
Les Berges (The Banks) (Montreal, Canada)
Best Family Series:
Ty The Pie Guy (Pasadena, California, United States)
Best Fantasy Series: 
Walking In Circles (Van Nuys, California, United States)
Best Horror Series:
Il Sonnambulo (United States)
Best Mystery/Thriller Series:
The Rolling Soldier (Valley Village, California, United States)
Best Science Fiction Series:
Riftworld Chronicles (Toronto, Canada)
Best Documentary Series:
Stories Of Youth: A Portrait Of A Generation (Oslo, Norway)
Best Reality Series:
Listen Up: Making It At Berklee College of Music (Miami, Florida, United States)
Best Foreign Series:
Persuasif (Paris, France)
Best Cinematography:
JENS BAMBAUER –  Number of Silence (Giessen, Germany)
Best Original Score:
Arthur (Mendrisio, Switzerland)
Best Sound Design:
Airlock (Ryde, Australia)
Best Special/Visual Effects:
Phoenix Run (Seattle, Washington, United States)
For more information on this year's Vancouver Web Fest, visit: