Whether in college, or living in an apartment complex, having a roommate can present a multitude of advantages. Yet, while having someone to share your days and nights with is perhaps the most obvious of those pluses, living with a roommate can sometimes be an awkward and humiliating experience.
As the acclaimed comedy series MY GAY ROOMMATE proves, though, having such a companion can also provide plenty of humorous and rewarding moments. All 3 seasons of the series, co-created by Noam Ash (who also co-stars) and Austin Bening, are available via its official Youtube page (see additional links below), featuring a different story – and roommate – in every season.
Already having gained a strong worldwide fan following among LGBT viewers, and major recognition from news outlets including The New York Times, Vanity Fair and The Huffington Post, MY GAY ROOMMATE now seeks to expand its reach to TV as a half hour sitcom. (Note: Ash and Bening say that details on where and when people will be able to watch the TV version of MY GAY ROOMMATE will be announced as soon as a distribution deal is reached.)
Both having shared their own memorable experiences, as well as the same dorm room, while attending Tufts University, Ash and Bening culled extensively from those moments, and their own real life friendship, to develop the concept, storyline and characters for MY GAY ROOMMATE. Ash plays Nick, who comes to college after recently coming out to his parents. Possessing a love of Broadway musicals and live theatre, Nick also prides himself on being a clean freak.
Nick's first season roommate, the decidedly slovenly, romantically awkward and straighter than straight soccer standout James (played by Philip Lockwood-Bean) just happens to be someone who has never met a gay person in his life; a distinction that also happens to be shared by Bening, before he met Ash. Over the course of MY GAY ROOMMATE's first season, Nick and James share not just a dorm room, but also plenty of hilarious adventures in each episode.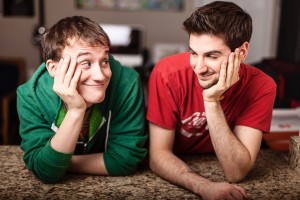 Season 2 has Nick spending his time on summer vacation by living with his way too overbearing mom (played by Heather Peterson), who constantly bends over backwards in her attempts to turn her son into a member of the working world.
After she finds him a new summer job – that of being a party promoter, his mom is soon disappointed to discover that Nick likes it so much, he's decided to leave college to pursue it full time.
In season 3, Nick moves into his first real apartment in New York, which he describes as a "fixer upper" – just like his new roommate, the avid gamer and fantasy devotee Ed (played by Drew Paramore). Making things even more bizarre for Nick is when the characters that were once make believe end up vibrantly coming to life in their apartment. In fact, he even ends up carrying on a romantic relationship with one such character, known simply as "The Cowboy" (played by Matthew Christian).
For every upstart actor and filmmaker, the common experience of constant rejection, and the constant struggle to make ends meet while pursuing their dreams of success in showbiz, both go hand in hand. Nowadays, the vast opportunities that the Internet provides for undiscovered talent to make a name for themselves has given many performers and web series creators the chance to showcase their skills on their own terms.
It was no different for Ash and Bening, who decided to take on the task of creating and producing a series all their own; one they could be proud of, and one that could show people their creative abilities. "I had just gotten back from studying at the National Theater Institute, and Austin had come back from working at several YouTube companies in L.A.," remembers Ash. "We wanted to make something together, something that was ours, that we could shape and create, and not need permission or approval from others to do it."
Yet, as Bening explains, the real inspiration for MY GAY ROOMMATE comes from the many great, and not so great, times that he and Ash had while in college, and on up to today. "We like to think of the first season as the highlight reel of the triumphs and pitfalls of our flowering plutonic love affair as freshman year roommates," he says. "After living as freshman, sophomore, junior, and finally, as senior year gold star roommates, we used our wealth of first hand research to create the first season of the show."
Even though Ash and Bening's friendship confounded those they encountered in real life, the moments and experiences they shared would provide plenty of fodder for the wacky situations and characters depicted in MY GAY ROOMMATE. As it turned out, the gay/straight friendships, as well as the interplay between Ash's character and his straight roommates, depicted in every episode of MY GAY ROOMMATE is a key factor in what makes their series unique among LGBT-centered comedies.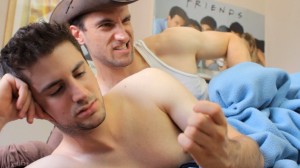 "People were always fascinated and somewhat confused by our gay/straight-best friends-old-married couple dynamic, and we didn't see our relationship portrayed anywhere in the media, so decided to make a show about it," recalls Ash. "A lot of what you see in the show is inspired by things that have happened to us over the years. We've been living together for over 6 years now, so we have lots to draw from."
Making MY GAY ROOMMATE even more unique from many web series comedies is how it approaches its style of humor, while emphasizing the importance of its characters and story. Ash and Bening say that it's an approach that transcends the typical boundaries and expectations of typical short form comedy webisodes.
"What sets MY GAY ROOMMATE apart is that it's equal parts funny and heart," Ash and Bening say. "We're not pure sketch comedy, but we're not a fully serialized show, either. Our jokes are big and outrageous, but at the end of the day, we're telling the story of a beautiful friendship. (We'd) say MGR has a unique combo of innocence and edginess. We're never afraid to 'go there', but it's always from a rather pure place of curiosity and exploration."
It goes without saying that creating and producing a low budget indie web series can give filmmakers a first-hand education in what it really takes to successfully develop, organize and manage their project. For Ash and Bening, that experience grew throughout the three seasons of MY GAY ROOMMATE.
"We definitely learned more as we went along," they say. "As we became more successful, and had more experience, our equipment got better, our editing got sharper, etc. By the third season, we were able to significantly upgrade the quality of our show with some new equipment, etc. Some of it has to do with Austin learning not to shake when he holds the camera, but most of it has to do with us becoming better at what we do."
As the show's production quality improved over time, so too did Ash and Bening's knowledge and skill in various key behind-the-scenes roles. "Season 1 was the pinnacle of technical access, since we were able to use the university equipment and had a crew of people pitching in. Season 2 was just us in Noam's family's attic, with Austin manning the camera and the mic, doing a one-man-band sort of thing," the show's creators remember.
Once the show's third season began, the knowledge that Ash and Bening gained over MY GAY ROOMMATE's preceding two seasons would fully pay off, resulting in a dramatically improved production aesthetic. "In season 3, we recruited a new crew and got some new lighting," they add. "But mostly, the improvement in quality has to do with us getting better at what we do over time, and collaborating with more people who could help us push our story, and the quality of execution therein."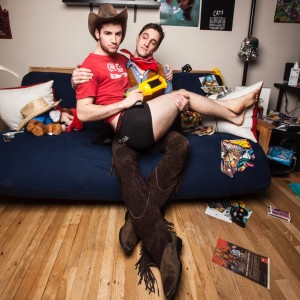 As MY GAY ROOMMATE prepares to make the leap from the web to TV, viewers can expect more of the same from Ash and Bening.
Thanks to the traditional half hour length of sitcoms, the newly expanded version of their series will provide Ash and Bening greater opportunities to focus on the show's main characters, while expanding its overall story universe to include new faces and experiences that will make for even more hilarious moments.
"The longer format allows us to create an ensemble piece, and build out the world past the dorm room. The new MY GAY ROOMMATE still focuses on our two heroes, but they are accompanied by a rascally band of suite mates," Ash and Bening add. "And so, the world is bigger – we get to know more people and follow their different journeys through college and into adulthood. There's the same domestic style within the room, but these more singular moments, like the lessons of #RazorYoga, have consequences in the greater world."
While outside creative interference is a major concern for indie web series creators who seek to bring their shows to TV, Ash and Bening feel that MY GAY ROOMMATE will benefit tremendously from the input and guidance of those they'll be working with to make their series' shift from digital to TV a successful one. After all, as Ash explains, it's because teamwork is something that just comes naturally for him and Bening.
"Austin and I are very collaborative, (and we're) very much 'best idea in the room wins' kind of people," says Ash. "We're super excited to be working with an awesome team of people who can help make MY GAY ROOMMATE the best it can be. We're really excited to bring people into our weird little sandbox to help us push the show to the next level."
Once it reaches that next level, it'll be because of how tremendously successful the web series version of Ash and Bening's show has already become. Of course, that success could not have been made possible without promotion. The decidedly grassroots campaign organized by Ash and Bening for MY GAY ROOMMATE, and the overwhelming media response that followed, proves just how effective great content, and word of mouth outreach, can work wonders for any web series creator.
"It's really a snowball effect. I think a lot of people were touched and tickled by the show and inspired to share," the show's creators explain. "We never did any paid advertising or promotion – it's all been organic: through awesome publications like The Huffington Post, Queerty and NewNowNext featuring our episodes, to people sharing them on Facebook, Twitter, etc."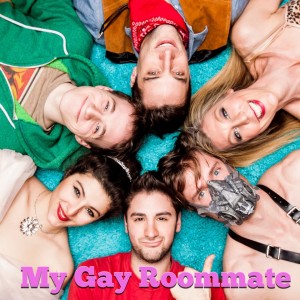 MY GAY ROOMMATE is, first and foremost, a comedy. Yet, it's that one key element that, Ash says, can unite people regardless of their beliefs, sexual orientation, or outlook on life itself.
In a society that's continually evolving while becoming increasingly divided, the power of laughter can transcend all boundaries and differences. Ash and Bening hope that their series will accomplish that goal, as well.
"My biggest hope for MGR is to make people laugh. It sounds simple, but through comedy I think we can really build the world we want to live in. A world where there aren't 'gay stories' and 'straight stories', 'gay shows' and 'straight shows' – there are only human stories, human shows," says Ash.
"For me, MGR is all about surprising people. It's about finding the laugh where you didn't think there'd be one or even the heart felt moment to punctuate a poop joke," adds Bening. "It's not just about shock or homoeroticism or breaking boundaries – these are the vehicle to show how surprisingly universal these moments are and finding a space where we can all – gay boys, straight boys and grandmas – laugh about it together in harmony."
For young adults who continue to struggle not just with their place in the world, while also attempting to discover who they really want to be, MY GAY ROOMMATE's characters and comedy will surely resonate. "Our story touches everyone, and it will make you laugh because it's incredibly human and vulnerable," Ash responds. "College is a very formative time in life, and everyone can relate to trying and failing, and getting back up again only to fall on your face as you try and figure out what you want to do and who you want to be."
While many other films, TV shows and web series have given viewers a greater understanding and acceptance of, as well as respect for, LGBT characters and the community as a whole, MY GAY ROOMMATE is a series that fully takes into account the present-day realities and continuing struggles of the LGBT community.
"If WILL AND GRACE and QUEER AS FOLK started the revolution to include gay characters on TV, MY GAY ROOMMATE is a post-revolutionary tale. It's the story of the world we actually live in – a world with marriage equality, gay people serving openly in the military, etc.," Ash and Bening explain.
Thanks to the realistic presentation of the series' characters, and the experiences they become part of, Ash and Bening also feel that MY GAY ROOMMATE also reflects the present – and future – potential for LGBT people in our society. "Of course, there are many challenges facing the LGBT community, and we're not down playing those for a second. But we feel that those have been portrayed already. By re-creating our fully integrated lives, our show is aspirational – it shows the world not only how it is, but how we think it should be."
YOUTUBE: http://www.youtube.com/user/MyGayRoommate
FACEBOOK: http://www.facebook.com/MyGayRoommate/
TWITTER: http://twitter.com/MyGayRoommate69