Of all the things that can either unite or divide us, religion is among the most potent. Regardless of which god we worship, or what we believe in, it can also be an extremely touchy subject in casual conversation. The same is true when it comes to comedic depictions of religion and spirituality in today's modern media.
For actors and filmmakers alike, attempting to create humorous moments while not offending the sensibilities of the devout has always been a challenge. While that obvious fact of life will remain constant, it doesn't mean that the more extreme aspects of religion aren't a prime target for satire, and the new comedy series THE SHADES proves that in hilariously memorable fashion.
Created by Kevin Davis and Mike Barnett, and with its first 5 (out of 10) season 1 episodes now streaming on its official Youtube page, THE SHADES focuses on life inside a typical gated suburban community that just happens to be filled with a wide assortment of oddballs and weirdos (including Buddhists, Hasidic Jews, pagans, and even Satanists) who take themselves just as seriously as their beliefs.
All of this bizarre activity is seen through the eyes of a newly married couple, Hailey (played by Rebecca Spiro) and John (James Aiello, Jr.) who find that their seemingly unbreakable bond is about to undergo its greatest test as they try to make themselves at home amid their wacky new neighbors.
Despite having grown up in a strongly religious home, Hailey has since shunned any belief in a higher power, and seeks to be the best mother she can be. Yet, her dream of an ideal life is quickly becoming more and more difficult. John's dreams of personal and professional success are compounded by his overt tendency to make snap decisions, without taking into consideration the true meaning of his choices.
THE SHADES also stars Natalie Kropf as Jade, a devoted feminist and pagan who takes pride in being open-minded, but who also is quick to seduce and entice anyone she meets. Meanwhile, Jade's partner and fellow pagan Angelo (Jake Bee) does his best to live life to the fullest, while possessing a strong interest in anything that's even remotely considered offbeat or unusual.
A comedy that gleefully and unapologetically pokes fun at life in suburbia, as well as the absurd aspects of religious extremism in today's society, THE SHADES is sure to delight – and, in some cases, offend – viewers in equal measure. Yet, as Barnett describes the show's concept, it's a comedy that will also make quite an impact on anyone who's ever grown up with religion, plus those who've grown up living in the daily doldrums of middle class life.
"Religious extremism is such a taboo thing to talk about. By flipping it upside down and turning it into a commonplace fixture of some weird, magical suburbia, we opened the doors to writing real social, political, and religious commentary," he says. "We could slide it perfectly into our absurdist and darkly twisted brand of humor, all while hopefully developing real characters and telling a real story."
As it turned out, the seeds (pun intended) for THE SHADES's development into what would be come a hysterically funny and refreshing take on modern spirituality were planted during a rather casual chat between Davis and his better half.
As he explains, it was during their talk that the concept and story for the series' memorable pilot episode (more on that later) would fully blossom.
"It started as a one off conversation between my girlfriend and I. We were riffing on something related to Pagans and easter and she mentioned Easter eggs filled with semen," recalls Davis.  "It was one of those moments where, after she said that, I rushed home and wrote out the pilot script immediately. There is very little change from the initial script to what was filmed."
Then, Davis recruited his longtime friend and collaborator Barnett to help him transform the already funny words and story he wrote on the page into what would become THE SHADES' uproarious debut episode. For both creators, it was only the beginning of what would be an extensive, and often exhausting, but ultimately successful production process.
"After sitting on that script for a while, the idea of these characters, and this community in particular, didn't leave my head, and it became something I wanted to develop," Davis adds. "I have known Mike for the better part of a decade at this point, and we always were the type to constantly riff, come to an idea we liked, and either develop it fully or beat it to death. I couldn't think (of) anyone else who could expand this concept."
"After Kevin showed me the first draft of the pilot script, I fell in love with the show's premise, and started immediately building up this crazy fictional neighborhood in my mind," remembers Barnett, who instantly worked with Davis to fully flesh out and expand the season-long storylines and characters for THE SHADES.
"We both couldn't stop thinking about it, and (we) decided to move forward and develop the series. I booked a bus down to Baltimore and spent a weekend writing with Kevin," Barnett adds. "We churned out the first few scripts of the series, along with ideas for a lot of other episodes and an overall season 1 arc. It really came together naturally once we could bounce ideas off of each other."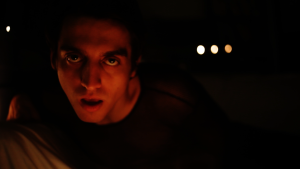 While most comedies tread lightly when portraying a subject that can bring as much emotions and feelings to the fore as religion, THE SHADES stands out precisely because of its bold, no holds barred approach to its humor.
"While there are other shows looking at religion in certain ways, no one is taking it to this grand and crude of an extent," says Davis.
Echoing Davis' sentiments, Barnett feels that THE SHADES is a most uncommon comedy series; one that bypasses the all too familiar ground covered by most shows, while bringing viewers a decidedly unsubtle, laugh out loud funny take on a topic that other comedies either tiptoe around, or simply fear to tread.
"The current web series culture is constantly growing, and more creative & unique web content is coming out all the time," Barnett says. "That said, I often see a lot of the same stories being told. A bunch of roommates 'just figuring it out' in the big city, millennial relationship dramas, one note comedy gag sketches, etc. THE SHADES is a big departure from what web audiences are used to watching."
Given the way it satirizes religion and suburbia, while employing a decidedly in-your-face style of comedy in each episode, Davis feels that THE SHADES will entertain viewers, while also encouraging them to examine the true extent of spirituality and belief in modern society.
"THE SHADES is very daring in its concept and messages. It has messages that need to be addressed and tackles a subject (religion) that is considered taboo (one of the two things you don't discuss in polite company)," says Davis, describing the series. "However, it is something that needs to be discussed so we as people can communicate more honestly and have a greater understanding for each other."
Along with making viewers laugh (regardless of their beliefs), THE SHADES' commitment to high quality production is just as crucial as its commitment to fearless comedy. "We also put a lot of focus into the production value of our show and continuing to push ourselves in our content and execution, as we have high standards of what we want to produce," Davis explains. "We want people to be as immersed into this world as possible."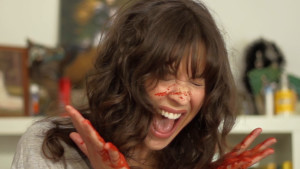 For Barnett, each episode of THE SHADES also manages to provide equal amounts of sophisticated and un-refined comedy.
"Not to stroke my own ego, but I think what we created is a very high concept comedy show that straddles the line between low brow and high brow humor," he says. "I think we struck an interesting balance of social commentary, interesting character arcs, graphic situations, and tastefully placed genitalia jokes. Oh, and Satan-themed bro puns (can't forget those)."
Making THE SHADES even more entertaining, as well as unique among comedies, is that viewers can also expect the unexpected. "We play with tone and shift reality constantly; no two episodes were written to feel alike. And I think that will really resonate with audiences who want more than just a quick laugh, though," adds Barnett. "THE SHADES definitely has its fair share of funny moments & slapstick bits. Each episode is self contained, yet when viewed together, they form a greater picture of this neighborhood and the characters within it."
While Davis and Barnett were easily able to assemble the show's talented ensemble cast, putting the wacky moments they'd experience on screen was only the first in what would be several major production challenges they'd face as filming of THE SHADES got underway. From an irregular shooting schedule, to constant shuttling back and forth from one city to another for filming, Barnett and Davis knew they'd face a tremendous task.
"The production process was done in spurts. Mike and most of our cast are based in New York City, while Jake (Angelo) and myself are based in Baltimore," Davis says. "As such, we had to shoot on the weekends, most of the time Jake and I traveling to New York City or Connecticut or New Jersey, where we shot the majority of this series, on a Friday night or Saturday morning, shooting and doing any pre or post-production work until Sunday night, and driving home."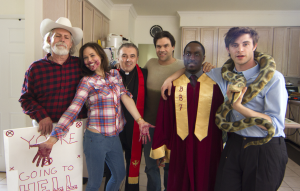 Amid all those obstacles, filming each episode of THE SHADES was ultimately a success for all involved on both sides of the camera.
"It was a grind for sure, but totally worth it, and even with the sporadic nature of our production process, our cast and crew never missed a beat," says Davis, who explains that despite the infrequent shooting schedule, they managed to make the most of the down time provided to further refine the crucial elements of each episode.
"This method allowed us time to reflect on our shoots and process, and expand upon the concept, writing, and production value with each shoot," he says. "It had its moments of stress, but overall, it went as smooth as it could go. Considering we shot moments of children handling 'seed', (details shortly), extreme Christian stereotypes and a pagan orgy (stay tuned!), I think it went very smoothly. It was very important to provide a relaxed, fun, and productive environment, and we made sure to show our cast and crew the utmost respect and keep them well fed."
When it came to filming THE SHADES' pilot, which revolves around an Easter egg hunt that ends up giving kids something that definitely doesn't look or taste like candy, Barnett and Davis would experience the first of what would be many awkward moments as they tried to convince the real life neighborhood residents they'd meet to understand the decidedly coarse nature of their series.
Even though many difficulties would arise later during production, from Barnett's efforts to navigate finicky special effects in the series' fifth episode "Beware The Sabbath" (now streaming) to Davis and Barnett's ultimately successful attempts to convince a strictly devout Catholic to use her house as a filming location, the experience they had while shooting the pilot episode was among the most eventful.
"Our biggest challenge came shooting our pilot," recalls Davis. "As you have seen, it involves children playing with easter eggs filled with semen, or 'seed.' We had a good amount of kids lined up, but the day before the shoot their parents decided to bail. I guess they read the script last minute."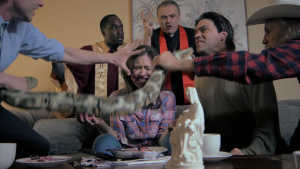 In fact, were it not for some quick thinking by Davis and Barnett, the first episode of SHADES may have never gotten past the script stage.
That's not to say, though, that they had an easy time trying to convince the parents of the real life kids who would appear in the pilot that things were above board.
"We were scrambling to find replacement kids, which luckily we did, but it was down to the wire," Davis explains. "On the shoot day, we basically created a real Easter egg hunt for the kids with eggs filled with candy, to get them in the spirit and make it more comfortable for them. The parents were, of course, a little apprehensive though. You could feel the awkward tension."
While the air of uncertainty during filming was undeniable, the situation would slowly – but surely – begin to turn around for Barnett and Davis. Of course, the true test of whether they were successful in putting the parents' minds at ease would be determined as soon as cameras rolled.
"They started to become a little more comfortable once we briefed them on the situation, what the 'seed' actually was (water and confectioners sugar) and saw how professional we were, but they were still apprehensive," Davis explains. "It was our pilot, so we didn't have anything of this series to show them besides the scripts, so it was risky. Plus, they weren't sure how we were going to explain what was in the eggs to the kids when they opened them."
Thankfully, it was Davis' main squeeze who would end up saving the day before filming began on THE SHADES' pilot. "The night before, my girlfriend came up with the idea to call it 'Easter bunny snot,' because kids that young don't need to know about semen," says Davis. "So we are doing our first shot, the little girl opens up the egg, she is shocked, and her parents are nervous."
Then came the moment of truth: "After we cut, I screamed, 'oh no! Easter bunny snot! The Easter bunny must have played a trick on us.' Any nervousness on the parents' behalf was gone, as they start cracking up and even started to film the following takes on their cell phones," Davis remembers.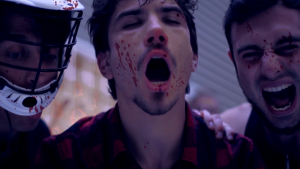 While religion will continue to be a prevalent, and often controversial part of our daily lives, THE SHADES takes pride in taking full aim at the all-too-common stereotypes and absurdities that come with both belief and with modern life in the suburbs.
With comedy that will attract fans of such shows ranging from SOUTH PARK, IT'S ALWAYS SUNNY IN PHILADELPHIA and other comedies that feature edgy humor with witty social commentary, THE SHADES is a series that is sure to get people laughing – and hopefully, talking.
"THE SHADES is a satire that shows the ill effects of religious extremism and suburban life," says Davis, summing up the show's concept. "This season's main theme is communication, and how things fall apart because we don't communicate, whether it is about religion, race, or our feelings. If this series does anything, I hope it makes people laugh, provokes some discussion, and inspires people to communicate more openly."
"The overall message is about communication, and what happens when we fail to communicate," adds Barnett. "Whether in our relationships or our religious beliefs, communication is vital in relating to the world, understanding each other, and avoiding conflict. And THE SHADES is really an exercise in the consequences of communication breakdown."
(Note: Regarding closed-captioning of THE SHADES, the show's producers say: "The current Youtube release is not closed-captioned. However, we will be releasing the director's cuts onto Vimeo in the near future, and those will have closed captioning.")
YOUTUBE: https://www.youtube.com/channel/UCsgxF3t_bGjxa1NItpNsRbQ