As anyone who's ever watched a James Bond film (or read the Ian Fleming novels they were based on) can tell you, being a spy can often land you in some sticky, and potentially dangerous, situations. Sometimes, though, as evidenced in movies like Melissa McCarthy's hit comedy SPY, the perils of the job can also come with plenty of hilarious moments.
The same can be said about the acclaimed series THE MOP AND LUCKY FILES, created by and co-starring Chloe Taylor and Jennifer Erholm Zorbalas, and streaming all 5 episodes of its sophomore season on its official web site and YouTube page (see links below). Now picking up where season 1 left off, season 2 of THE MOP AND LUCKY FILES brings more wacky capers, new characters, and more dating disasters for its two protagonists.
In season 1, Mop (played by Taylor) and Lucky (played by Zorbalas) find themselves on the unemployment line after being let go from their waitressing jobs. Desperate to make money in any way possible, they decide to establish a distinctively different kind of business in the form of a spy agency. Yet, it's not just any ordinary spy agency. In addition to its main headquarters being inside a cramped storage locker, Mop and Lucky operate an agency that specializes in the covert art of "personal espionage".
However, things start to get even more precarious when Mop and Lucky find out that the storage building's owners – Teddy (played by Frank Potter, SONS OF ANARCHY), and Micky (Michael McGee) just happen to be associated with the mob.
As season 2 begins, the feds are in hot pursuit of the two mobsters, while Mop and Lucky attempt to crack some of the most unusual – and comical – cases they've ever tried. Along the way, they meet some interesting new clients, and potential romantic interests.
In addition to a new set of baffling, yet hilarious mysteries and awkward encounters, season 2 of THE MOP AND LUCKY FILES also features an interesting and offbeat assortment of new clients and would-be love interests. Guest starring in season 2 are Jordan Feldman (MAD MEN) as interior designer Tristan, and Eddie Jordan III as rap star Cocoa Negs.
On the dating front, Lucky finds herself falling for former co-worker/bartender Nick (Cody Chappel). As for Mop, her already complicated life is made even more so when her mom Vicki (played by Constance Forslund) re-emerges. Aside from her parental issues, Mop develops a steady friendship with a homeless man (played by SONS OF ANARCHY's Mark Boone Junior).
THE MOP AND LUCKY FILES' first season gained not only large viewership, but also overwhelming critical acclaim, and multiple awards from various film and web series festivals. It's a series that was inspired not just by Taylor and Zorbalas's determination to create opportunities for themselves to succeed as actors and filmmakers, but also their frustration with the entertainment industry's systematic inequality against women.
"As actresses in Hollywood, we were inspired to take matters into our own hands, and create something that would be fun and more rewarding than waiting around for opportunities to present themselves," they say. "We were tired of just sitting around and waiting for our agents to call. We were also tired of the lack of good parts for women."
While much has stayed the same throughout both seasons of THE MOP AND LUCKY FILES, there's been some significant changes – both on the screen and off. For Taylor and Zorbalas, the knowledge and experience they gained throughout the process of writing, producing, starring in and distributing the show's first season gave them the determination to reach for greater heights in season 2.
"For the most part, the production for the second season was very similar to what we did in season one. If it ain't broke, don't fix it. However, we definitely felt more confident this season," recalls Taylor and Zorbalas, who describe how the lessons they learned while making the first episodes of THE MOP AND LUCKY FILES helped them prepare for its second season.
"Last season, we were definitely living by the old adage 'fake it till you make it.' We'd show up to rent some sound gear or something, and not understand a word of what the person was saying to us," they say. "We'd constantly be Googling things to know what the hell anyone was talking about. By the time this season came around, we knew a lot more about filmmaking than we did the first time around."
Even though viewers of THE MOP AND LUCKY FILES probably won't notice them, the key aspects of its overall production have undergone significant changes. As a result of these changes, the quality of each episode, and the depth of the series' overall story arcs, has enjoyed a major boost thanks to the hard work and talent of Taylor, Zorbalas, plus their cast and crew.
"We feel like there are subtle improvements throughout, from the writing and production through post production, which has resulted in what feels like a more dynamic season. A large part of that is due to the experience we gained in season one," recalls Taylor and Zorbalas. "Also, we have moved beyond the initial sort of pilot part of the story, and we now feel the freedom to really move our story forward and introduce more characters and storylines."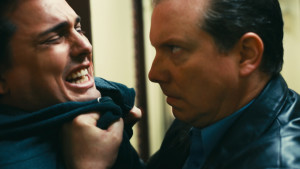 Along with the show's hilarious comedy and zany characters, viewers of THE MOP AND LUCKY FILES will also be introduced to an equally memorable soundtrack.
"We're also especially proud of the music in the show," Taylor and Zorbalas add. "We have an original score by Mandy Hoffman (the composer of HBO's DOLL AND EM), as well as a lot of songs by awesome up and coming bands and artists."
As they learned the ins and outs of producing a web series, Taylor and Zorbalas would also understand the importance of securing locations, and working around the busy schedules of cast and crew alike. "We'd also learned a lot about logistics. For example, maybe don't schedule 20 cast and crew to show up at a location where there is no free parking without providing everyone with parking money for the day," they add. "Things like that, we were better at this time around."
With five episodes written, Taylor and Zorbalas would not just be responsible for their on-camera performances as the show's two leads. They would also be overseeing a relatively large scale production for season 2 of THE MOP AND LUCKY FILES; one that took place during an 8 day period, involving 13 different locations and 61 pages of script. Just as it was for the show's first season, the show's co-stars/co-creators knew that they would face a tremendous challenge.
"In both seasons, we managed to shoot the show with what is considered to be nearly an impossible shooting schedule. Our budget vs production schedule/production value made for huge challenges," explains Taylor and Zorbalas. "This season, we had to decide whether to make only three or four episodes (which was more realistic) or go all out and try to shoot all that we had written, which was five episodes, shot in way too many locations. We decided to go big or go home."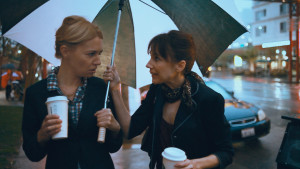 So, they did. Despite the obvious difficulties that came during production, Taylor and Zorbalas managed to pull off a successful shoot for each episode of THE MOP AND LUCKY FILES' second season.
Thanks to the dedication and skill of their cast and crew, it all came together. "We had one pick-up day to deal with in the end, but we did it," say Taylor and Zorbalas. "Without a hardworking, enthusiastic and experienced cast/crew, we never could have accomplished this."
Of the show's entire team, Taylor and Zorbalas single one key member of that group for praise. "Our director, Scott Paulin, who is a seasoned network TV director (having helmed episodes of BEVERLY HILLS, 90210, MELROSE PLACE, DAWSON'S CREEK and EARLY EDITION, among others); we never could have pulled it off without him," they say. "We also had help from many friends who donated time and talent to our project. We are very grateful for all of them."
Although the show's co-stars/co-creators pride themselves on creating and producing a network quality series in THE MOP AND LUCKY FILES, they also realize how much of a challenge it can be to do it on a consistent basis. "We've made a web series that looks and feels more like a TV show. This is good and bad," explain Taylor and Zorbalas. "We've won a lot of awards and accolades, but at the end of the day, the show is too expensive to keep making on our own. However, like we said, we wouldn't change a thing. Our motto is still go big, or go home."
It's a motto they continue to live by as filmmakers and actors. Should there be further seasons of THE MOP AND LUCKY FILES, Taylor and Zorbalas seek to both continue the success they've already experienced through their series, while gaining additional support to create more comical mysteries for their on-screen personas to solve, and gaining new viewers in the process.
"We've created a show with endless possibilities for storylines, characters and a huge arc for Mop and Lucky," they say. "So, ultimately, the goal is to find a way to be able to continue to make the show. With our production costs, we cannot afford to do it on our own. Hopefully, season two will allow us to garner a larger audience base."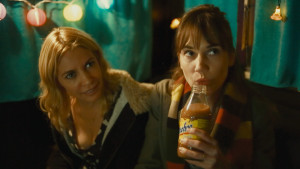 Regardless of what the future brings for Taylor and Zorbalas, and how successful this season will be, they hope that THE MOP AND LUCKY FILES will reach more viewers and attract the attention of online video sites that are just as committed to distributing quality content as they are in producing it.
"We just want our show to get out into the world more, so that someone or some place that is a good fit for us will find us," they say. "We think we made a good show that, if nothing else, is original. Our hope is that somebody out there with our sensibility will be looking for some original content. There's a home out there for us somewhere; we just don't where that is yet."
All in all, THE MOP AND LUCKY FILES demonstrates that some of life's most fascinating mysteries and dilemmas just happen to be the ones we experience every day. As reflected in its hilarious characters and storylines, each episode proves that how we go about solving those typical mysteries makes a huge difference.
Taylor and Zorbalas describe the show's theme, as well as their aspirations for reaching viewers through it, this way: "We don't make the show to send a specific message, but we do like to explore life's challenges in a comedic way, and by doing that, we hope that we will create a simple human connection with our audience."
Note: Regarding closed-captioning of THE MOP AND LUCKY FILES, the show's creators say: "At this point the show is not closed-captioned, but we are interested in doing that for future seasons."
ON THE WEB: http://www.mopandlucky.com
YOUTUBE: https://www.youtube.com/channel/UCTd_b4eHaMgXHew6Fy7jjEg
FACEBOOK: https://www.facebook.com/TheMopandLuckyFiles/
TWITTER: https://twitter.com/mopandlucky