Have you ever wished you could venture out of your own familiar surroundings? Have you ever wanted to explore the world beyond your front door, along with all its distinctive and unique food, culture and people? In a busy, hectic and unpredictable world, the chance to visit some of the world's most interesting places has attracted billions of would-be travelers. Much of that attraction has come from a wide array of TV travel documentary series.
Various shows hosted by chef Anthony Bourdain, author Rick Steves, Monty Python cast member/writer/producer Michael Palin, and actor/comedian Karl Pilkington's AN IDIOT ABROAD, among others, have all helped to fuel our fascination with far off places, unheard of (and often taboo) customs, and culinary delights that exist throughout the world.
Now comes the new web series ON-GOING WITH MATILDE KEIZER, which does more than just give viewers an upfront look at unusual, offbeat and beautiful worldwide destinations.
Currently streaming its first 4 episodes on its official Tumblr blog and Vimeo pages, plus the growing indie video network Stream Now TV (see additional links below), ON-GOING is a unique kind of travel-based documentary show that melds stunning cinematography, an enthusiastic on-camera host, and a touch of comedy to make, according to its official web site, "an earnest attempt at a documentary travelogue, and a loving parody of the genre."
Hosted by Keizer (who also co-created and co-produced the series with her boyfriend, Trevor Silverstein), ON-GOING shows viewers, through their on-screen excursions, some of the best shopping, dining, and sights that most travel shows have rarely, and in some cases, never, explored in-depth.
All of it is seen through the eyes, and lens, of Keizer and Silverstein, who also comprised the show's entire on-location production team. (More on this ahead.)
Among the locations featured in ON-GOING's maiden season: Rome (featured in its premiere episode), plus other notable hotspots including Kuala Lumpur and Penang (Malaysia), Bukit Lawang and Lombok (in Indonesia). Future episodes will take viewers to Cambodia, Thailand, Vietnam, and Myanmar, just to name a few. (Note: The show's creators say that while this season has 10 episodes, the Vietnam episode could be a 2-parter).
Originally from Italy, Keizer was inspired to create ON-GOING not just by her desire to travel the world, but also the personal struggles she faced while staying in the United States to pursue a career as an artist. As she recalls, the growing cost of living in New York, and the insurmountable red tape she would fight to obtain a work visa after graduating from college, convinced Keizer to examine making a change of address.
"During that time, I was going through the incredibly rigorous procedure of applying for an artist visa to stay in the U.S.," remembers Keizer. "Long story short, it was overwhelming and potentially cripplingly expensive, so at a certain point I offered to Trevor the idea of leaving the U.S. for a little bit and moving to Europe, specifically to Berlin, with some time to travel through Southeast Asia in the intermediary period."
From there, Keizer and Silverstein would begin to research the possibilities of making their own travel series. In an attempt not just to visit places that they'd otherwise only have dreamed of, but also to improve their filmmaking skills, the two would begin work on researching the popular documentary genre, and in developing the concept and episodes for ON-GOING itself.
"I was ready for a change too, and then from there we came upon the idea of using this trip creatively: both for Matilde to build upon her natural talents, and slightly irreverent point of view, as well as for me to challenge myself as a filmmaker," says Silverstein, who envisioned combining the unique perspective and personality of Keizer with a humorous and unique style of episodic storytelling throughout ON-GOING's first season.
"I'd never really ventured into 'documentary' work before, but I love comedy and was thrilled at the idea of taking aim at some of the travel content out there in the world," he adds.
"So, in terms of inspirations, Matilde and I basically started studying some of the great hosts like Michael Palin and Anthony Bourdain. More often than not, we also scoured the web for many not-so-good travel hosts, who we won't name but they served as some inspiration as well."
While most travel-centric TV series that viewers have become used to present an unrealistically positive depiction of the destinations they feature, ON-GOING is unafraid to explore the otherwise hidden parts of places we all know well; spots that, in many cases, tend to be more interesting than the glamorous parts of the world's most popular cities.
For Keizer, ON-GOING's blend of witty humor and first person-based experiential storytelling, and the enthusiastic, yet honest approach that she and Silverstein take when guiding viewers on their travels, is just one of many factors that makes ON-GOING a one-of-a-kind travel documentary series.
"Travel shows, and just travel content in general, tend to shy away from truthfulness in order to show a very idyllic view of the world. I tried to keep my opinions both honest and respectful at all times, without losing the humor that we were going for," explains Keizer. "When you travel, sure, you can have some really profound and astounding experiences, but you also have way more dull or embarrassing moments. Somehow, those rarely make the final cut of most travel shows."
When it comes to production aesthetics, Silverstein feels that ON-GOING is a series that, in large part due to its potent mix of comedy and documentary-style filmmaking, is in a category of travel video content all by itself. "ON-GOING is conceived as a series with a slight narrative arc of this being one trip for this first season, which we hope distinguishes our intentions from something like a Youtube channel, which seeks to continually create content."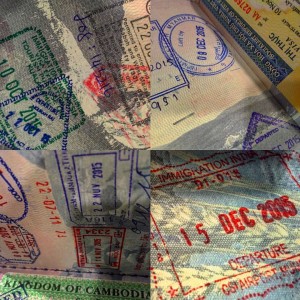 Before a single second of footage is shot, or any travel arrangements are made, Keizer closely investigates the destinations that she and Silverstein hope to visit and film.
"On my end, it (the production process) involved a lot of research of the place. Deciding what foods were 'must try,' figuring out what we could see that was slightly off the beaten path, finding transportation, accommodation, etc," she says. "Being that it was just the two of us, it was easy to say 'we should do this' without having to get into huge crew discussions."
As mentioned earlier, every episode of ON-GOING is produced by Keizer and Silverstein, working as a two person crew on each shoot. The inconspicuous nature of working in tandem as a filmmaking unit, and the small footprint that it provides in public settings when making each episode, provided them with some advantages throughout their travels. However, as they both can attest, the simplicity of such an arrangement also has its problems.
"Traveling always brings up it's own set of issues. Traveling with a microphone and camera in hand—even ones as small and discrete as our handy-dandy GoPro and small sound recorder—brings up even more issues," says Keizer. "We had to navigate many different locations as well as cultures without being imposing with our filming."
Despite the disadvantages that came with lack of resources and manpower, Keizer and Silverstein decided to take full advantage of their ingenuity and talent as ON-GOING's production began. "We wanted the show to be incorporative of our limitations. So, it was always interesting to see how Matilde, as the show's host, really was the one more apt to figuring out where we wanted to go, what we wanted to do, and most importantly, what we were going to eat," recalls Silverstein.
While shooting each episode of ON-GOING, Silverstein also considered how their efforts on location could best be represented during post-production. "I was always ready to film and thinking about how it might come together in editing. I could say, 'okay, I think that might work/that might not work," he adds. "Of course, in terms of challenges, sometimes I wished I had a more capable camera person with us, but that's a hope for the next time."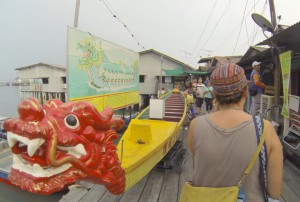 Even more challenging was the task of how to make each shoot as economical as possible – both in footage shot and in miles traveled.
"We also spent lots of time trying to find the things that would make the best material, and something that is visually stunning does not necessarily provide the best juice for us to work on for the episode," Keizer adds. "It was also about balancing costs whilst traveling, and not exhausting ourselves, or our resources."
Case in point: the shoot for what would be ON-GOING's season finale, set in the fast paced atmosphere of Kolkata (formerly known as Calcutta), India. "We were exhausted at that point, having been through so many places in a relatively short time span, and (we) were possibly unprepared for just how chaotic and full of life that city is," says Silverstein. "However, that shaped the narrative framework we have for that episode in a fairly nice way, that I hope can work in the editing."
While every episode of ON-GOING takes viewers on a colorful journey to some of the world's most beautiful cities and offbeat places, there are several treks featured throughout the show's first season that stand out in Keizer's memory bank. Looking back on those visits, Keizer also marvels at the high level of production that's found in every episode of the series.
"For me, there are so many memorable moments, and I don't want to spoil too much for the sake of the upcoming episodes, but I loved being in Myanmar, seeing Orangutans in Indonesia, the stunning archipelagos in the Philippines and the food in Vietnam. The list is endless," says Keizer. "In terms of producing, I've been stunned at the quality of materials we were able to get, despite our non-existent production budget."
Perhaps the hardest part of making each episode of ON-GOING was that difficult decision every filmmaker faces before final cut: determining what to keep, and what to leave on the cutting room floor. Because of the series' combination of non-fiction and narrative-based storytelling, Keizer and Silverstein were aware of the challenge that faced them while editing each episode.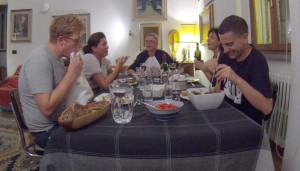 "Post-production is definitely challenging, but it's frankly also the most creative part of this entire process so far," adds Silverstein. "It's exciting for me since I come from a writing background and that's essentially what the editing is like, once we manage to slog through the painful hours of assembling footage."
"I think most challenges are beginning to happen in post-production. Finding the arc we want to tell, and doing it somewhat skillfully is very difficult," says Keizer. "We have an excess of material, (and) our episodes could be 30 to 60 minutes long! For me, it is always hard seeing moments I found great/funny not making it into the episode."
As it turned out, some of the best experiences that Keizer and Silverstein had while filming ON-GOING didn't end up on camera. Says Silverstein: "Almost comically, we'd decide we weren't going to film, and then suddenly, we'd see something or meet someone who would point us toward something we would have never found on our own, and would have been perfect for that particular episode. But that's okay."
Thanks to their new partnership with indie-centric streaming network Stream Now TV, Keizer and Silverstein will have the opportunity to grow their devoted audience, while gaining critical promotional and production support; assistance that will also help them to produce and distribute even more adventures in world traveling through ON-GOING. As Keizer remembers, their involvement with the service began with a simple Facebook post.
"Stream Now has been incredible. We started the collaboration with them because Ron Valderrama, the CEO, happened to see our second episode ("Kuala Lumpur") in a Facebook group called Web Series Today," says Keizer. "He reached out to Trevor from there and offered to include the show in Stream Now's library. He's also helped with some marketing tips, promoting new episodes and so forth. It was a very happy chance encounter!"
Silverstein agrees. "It (meeting Valderrama) really was fortunate, and of course. (it) gave us some confidence that what we were creating could reach beyond friends and family. It's great to know that people can discover this show in a whole number of ways, Stream Now being an important part of that," he says, adding that the service's experience and backing has also helped him and Keizer navigate another crucial aspect of web series production – getting the content out to wider audiences.
"In terms of distribution/marketing, putting the episodes out into the world has been such a strange experience so far, explains Silverstein. "I think it's fair to say that it's the area in which Matilde and I are the least experienced and is filled with so many surprises. You constantly aim to get as many eyeballs as possible but you also hope to get the right eyeballs at the right time. That's what happened with Stream Now and hopefully we can have more moments like that."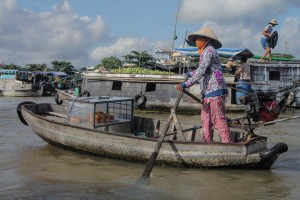 Amid all the challenges and difficulties that she and Silverstein faced when producing and distributing ON-GOING, Keizer says that the experience of producing and bringing their show to viewers was a rewarding one.
For anyone who aspires to make memorable web series of their own, Keizer cites the knowledge, skills and determination she and Silverstein brought to bear as proof that producing original online video content is truly worth all the hard work.
"Do it. The risk is worth it. There are so many little satisfying moments out there that we could not have experienced without having done this series," explains Keizer. "Figure it out! There are many rocky moments and arguments, but in the end, you have something that you can be proud of, and if that is the least you get out of it, that is a lot. Also, (know) that marketing is a strange, complicated monster."
Silverstein emphatically concurs. "The best advice I can come up with—even though I think we are still very much the people who can benefit from advice—is to not wait or sit on an idea, good or bad," he says. "If you feel the urge to create something like a web series, go for it and forget about needing money and lots of equipment. When it comes to distribution and getting people to see your stuff, that's where I'm learning from the experiences we're having now."
While both Keizer and Silverstein have their own "wish list" of additional global hotspots they'd like to visit in future seasons of ON-GOING, their main goal for its success is to encourage more people to explore and experience, places, people, customs and cuisine that they'd never have access to within the boundaries of their everyday lives.
"For me, I want people to see that traveling is possible and doable. That in this globalized world we live in, there are incredible things for us to explore and experience. And, it doesn't have to be outrageously expensive or stressful," Keizer says, summing up her hopes for ON-GOING's impact upon viewers. "For me, in an ideal world, my hope for the show is to get ready for a season two!"
As for continuing their adventures in world traveling through ON-GOING, Silverstein adds, "Like Matilde, my personal hopes for the show is to find collaborators who appreciate her point of view, and our capabilities as filmmakers, to help produce a second season of this show – and beyond." Most of all, Silverstein hopes that ON-GOING's viewers will gain a greater appreciation for, and knowledge of, the world at large.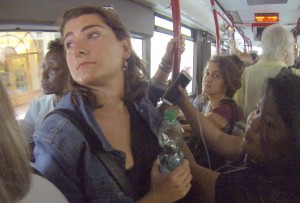 "Overall, I want the show to find its way to people who might enjoy it purely on an entertainment level. If they are also inspired to travel to these places, I think that's wonderful and completely worthwhile too," he says.
"As far as our show being helpful to people traveling on a purely informational basis, I would hope they certainly supplement it with the many detailed guides and websites available. Although, I love the idea of someone someday being like, 'oh, let's go to that restaurant that Matilde ate at!'"
Note: Regarding closed-captioning of ON-GOING WITH MATILDE KEIZER, Silverstein says: "It's slightly time-consuming, but I'm happy to know that it's helpful to some viewers, whether they are watching somewhere where they can't have the volume up, or in some cases where they are actually hard of hearing. So, we definitely intend to close-caption all the episodes at some point."
TUMBLR: http://thisisongoing.tumblr.com
Stream Now TV: http://streamnowtv.com/realdoc/on-going-with-matilde-keizer/
VIMEO: https://vimeo.com/channels/thisisongoing
FACEBOOK: www.facebook.com/thisisongoing
TWITTER: https://twitter.com/thisisONGOING
INSTAGRAM: https://www.instagram.com/thisisongoing/