Editor's Rating
THE SHADES is a series with an enticing concept full of dark humor and satire that will attract certain viewers like moths to a flame as it is not suited for everyone.
Looking for a series that will keep you on your toes? A good surprise? Maybe something that really pushes the limit when it comes to being inappropriate? Well, this might be a series for you. The first word that comes to mind when describing this series would be jaw-dropping. What do you mean by that? Well, I mean my jaw literally dropped while watching the first episode.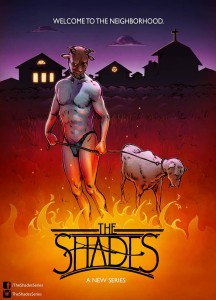 THE SHADES is a dark comedy/satirical series from Visibly Shaken Productions and Novelty Hat Productions. It is written and directed by Kevin Davis and Mike Barnett. It is about a young married couple, Hailey (Rebecca Spiro) and John (James Aiello, Jr.) that unknowingly move into a private neighborhood that happens be where religious extremists live including Jade (Natalie Kropf) and Angelo (Jake Bee) who believe in Paganism. There are a bunch of other interesting characters that appear throughout the series.
The series is currently in its first season with five episodes. You can check out the official website here. You can watch the episodes there or you can go directly to their YouTube channel. Sounds pretty interesting, right? The synopsis grabbed my attention. The idea sounds highly entertaining. I'm a fan of dark comedy.
In the first few minutes of watching the pilot, my jaw dropped. Why? Well, the series really pushed the limit. It's a courageous move too. I applaud them for the guts to do that. I expected them to do something less without throwing it right in the viewer's face. Nope. They totally went there. What am I talking about? I'm talking about watching children hunt for Easter eggs. Children opening the Easter eggs to reveal a liquid substance pouring out of it. Just wait until you find out what it is! So gross!
There is a pro and a con to that kind of courage depending on the audience. The pro is that for viewers that like that sort of humor, it can be pretty funny. It can be right up their alley for entertainment. The con is that it can be a bit excessive if it is a constant occurrence and turn off the viewers.
There were episodes that took a step away from that situation though. Episode 5: Beware The Sabbath and Episode 2: Good Karma are good examples. Those two episodes were my favorite as they matched more of what I wanted to see upon reading the synopsis of the series. They poked fun, but in a unique way pointed out flaws in practicing a certain religion. The series pointed out something very common in the world today too.
What? Well, how people judge other religions different from their own when they have certain beliefs. You can also take it as a general message for how we judge people that are different than us. It's kind of scary how accurate the behavior of Hailey and John is to reality.
This show took a step into special effects territory. It's another courageous move because you run the risk of it not looking believable to viewers. I will say I had an argument with myself trying to figure out if the goat was real or digitally inserted into the shot.
It's not a crazy thought as the interior of the house in Episode 5: Beware The Sabbath appeared as a digital creation. In certain shots, the goat looked real. Then there would be a shot where the movement of the goat appeared mechanical and it appeared to walk across the grass as if it were walking on water. You couldn't see the grass or leaves move like the guy walking the goat. I kept playing the scene back trying to figure it out after watching it the first time.
It takes major guts to attempt digital creations like this on film especially if you're limited on equipment. I applaud the crew for doing this kind of work. It's pretty difficult! It was enough to grab my attention, make me curious and then make me have a battle inside my brain trying to decide if the goat was real or not. It took me out of the episode for a few minutes.
My attention was back by Episode 5. I had a couple of laughs during this episode and then felt bad about it. That happens often with dark humor. The performances in this series were strong and consistent. I believed each of the characters. The beginning shots of Episode 3: Satanists Go Hard, Bro were excellent. They flowed nicely and added to the feel of someone being under the influence of a substance. It translated very well.
THE SHADES is a series with an enticing concept full of dark humor and satire that will attract certain viewers like moths to a flame. It isn't suited for me personally even though I find steps in inappropriate humor hilarious depending on the situation. I think that other viewers that find strong pushes toward inappropriate subject matter even as a constant occurrence hilarious will enjoy this series.
YOUTUBE: www.youtube.com/channel/UCsgxF3t_bGjxa1NItpNsRbQ
FACEBOOK: www.facebook.com/theshadesseries
TWITTER: www.twitter.com/theshadesseries
INSTAGRAM: www.instagram.com/theshadesseries