Next to tying the knot on their wedding day, one of the greatest moments any married couple can experience is the birth of a child. However, just getting there can often be a complicated journey for many would-be parents, who in many cases attempt to find guidance on the issue from a variety of sources; people whose knowledge, advice and qualifications can be just as wide ranging as their supposed credibility.
Such a challenge awaits the primary couple at the heart of the new comedy series HOW TO BUY A BABY, created by Wendy Litner, produced by Litner, Lauren Corber, Priscilla Galvez, and Tanya Hoshi.
A trailer for the series (embedded at the end of this article) is currently streaming on its official Youtube page and web site, and additional content is available via its Twitter and Instagram pages (see links to all below). On Monday, June 13th, the series fully qualified for funding of its 10 episode first season via Canada's Independent Production Fund (IPF).
HOW TO BUY A BABY follows the story of Jane and Charlie Levy (played in the trailer by Meghan Heffern and Mathieu Bourassa, respectively), who began their relationship during their high school years, and have since fully consummated their romance into a steady marriage. Unfortunately, their hopes for reaching the next logical step in their lives together – that of starting a family – have been complicated by their struggles with infertility.
While Jane and Charlie have shown a sense of naivety about the responsibilities and demands of bringing a new bundle of joy into their lives, they really want to learn about what it takes to be good parents. As time goes on, though, they gradually become swamped with differing opinions and advice from just about anyone who has any sense of expertise on the subject.
Having written extensively about the struggles of living with infertility for such publications as Today's Parent, Mammamia, The Huffington Post, and her own blog SadInTheCity, Litner knows all too well from her own marriage the challenges faced by modern couples who find themselves unable to conceive.
"My husband and I have been struggling with infertility for years and despite the fact that 1 in 6 couples in Canada are diagnosed with infertility, there still seems to be a lot of secrecy around those who are going through it," says Litner, who adds that infertility is gradually becoming less of a taboo subject than before.
"Social consciousness is changing now as more and more celebrities are making it hipper to be infertile, resulting in more and more people sharing their own personal stories about their paths to parenthood."
However, that's not to say that infertility is becoming a major part of storylines in movies, TV and web series. As Litner and co-producer Hoshi explain, HOW TO BUY A BABY is already bucking that trend. "I think the subject of infertility is still coming into its own as a true, primary plot," Litner responds. "So, I think the subject matter itself, and the humorous manner in which it is being tackled, sets it apart."
"I have never seen any web series approach this topic. Infertility is such a taboo subject and most people are afraid to tackle such a sensitive topic," adds Hoshi. "I think it's brilliant that Wendy used her own personal experience to not only bring the topic to light but also find a way for everyone to laugh and beginning to open up about it. It's truly a story worth telling."
While her own personal experience with infertility was just one major inspiration for Litner to create HOW TO BUY A BABY, it was the way she looked at the situation she found herself in – and how one acclaimed comedian used humor to take on another health problem that continues to impact women worldwide – that really gave her the strength to cope with her own difficulties, as well as the impetus to bring HOW TO BUY A BABY to the web.
"I was really inspired by Tig Notaro's live standup (the HBO special TIG NOTARO: BOYISH GIRL INTERRUPTED, plus the concert album TIG NOTARO LIVE). She was poignant, and hilarious, and brave, and everything I would want to be in the face of adversity," explains Litner. "I felt like if she could laugh at breast cancer, then I should be able to laugh at not being able to have a baby."
HOW TO BUY A BABY first came to life during a web series development program held by Canada's Women on Screen organization, which campaigns for equal representation for women on both sides of the camera, and for accurate depictions of women in mainstream film, TV and web series, while reaching out to various individuals, groups and companies to help achieve these goals. (More info at the link below). With its scripts read live by a cast that included Heffner, who joined the series thereafter, the live reaction was overwhelmingly positive.
"We all met at the Women on Screen Web Series Incubator event, where Priscilla and I got to see Wendy's pilot script read by actors," remembers Hoshi. "It was very obvious with the roar of laughter coming from the audience that Wendy's script was easily enjoyed by everyone. Priscilla  (Galvez) and I approached Wendy about making the show come to life, and we have been producing it together ever since!"
HOW TO BUY A BABY brings viewers a hilarious, yet highly relatable take on the problems faced by married couples (such as Litner and her husband) in their efforts to procreate. As the show's concept and characters were developed, Litner took full advantage of the chance to bring her own knowledge of, and experience with, the issue to the pre-production process.
"Infertility is an isolating and painful experience and I wanted to lend my voice to this narrative as well," she says. "I loved the idea of fictionalizing mine and my husband's experience with infertility, drawing on what has happened to us and tweaking it into a new story."
Working alongside producers Galvez and Hoshi, Litner was able to accomplish that goal. "Priscilla and I loved her story and knew it needed to be shared with more people," recalls Hoshi. "We combined our collective producing experience, and helped Wendy bring the story from paper to screen."
The series' official trailer gives viewers a glimpse of the humorous moments that HOW TO BUY A BABY will provide in every episode. For Hoshi, the task of capturing it all on film was a team effort in every aspect of its creation, and the end result of their hard work has already made quite an impression on those who've seen it.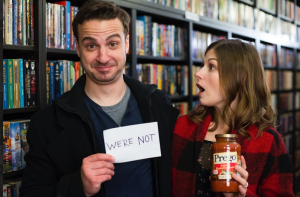 "Like any production, it was both a lot of fun and involved a lot of planning (and coffee). We were lucky to have our filmmaker friends help us out on the one day shoot and the entire day went by extremely smoothly," she says. "Pre-production was four days of putting footage and sound together to make a comprehensible and eye-catching trailer. We're happy that viewers found it funny and engaging."
Through its upcoming crowd funding drive, HOW TO BUY A BABY will also involve viewers in ways that far transcend the otherwise passive experience of watching a web series. "We are definitely planning on involving our audience and giving them the chance to help us make the show," adds Hoshi. "Crowd funding would allow them to feel involved by receiving awards for their contribution such as credits, shout outs, as well as having the chance to be a background actor in the series!"
No matter how successful HOW TO BUY A BABY is, Litner, Hoshi and Galvez feel that its story, characters and situations will strike a chord with audiences who've experienced all the problems that can arise as a result of infertility in a spousal relationship, and the ultimate joy that comes with the birth of a child (or children).
"Statistically, everyone has had trouble with having a child or knows someone who has (would enjoy HOW TO BUY A BABY)," says Litner. "I think it will be refreshing for the infertility community – who is very active online – to see their struggle in a really honest, funny and respectful way. More than that, I think that this is a story of a marriage, though, under pressure, and has a much broader appeal as a relationship story. I think we have all experienced wanting something that we can't have, no matter how hard we try."
Even though Litner sees some similarities between HOW TO BUY A BABY and the popular Amazon Video comedy CATASTROPHE, she says that the incredibly hilarious, yet relatable stories of its characters, and their journeys toward parenthood, are what really make HOW TO BUY A BABY work. "I hope the series will show a realistic view of a relationship under pressure, with a couple that can go toe-to-toe with each other comedically."
Note: Regarding closed-captioning of HOW TO BUY A BABY, Litner says: "The trailer is closed-captioned, and we intend for the entire series to be as well."
For more information on Women in Screen, visit:
The show's trailer can be viewed here:
ON THE WEB: http://www.howtobuyababy.com
YOUTUBE: http://www.youtube.com/channel/UC_4q_L1Sk3Kg3Yydx6VlJYQ
FACEBOOK: www.facebook.com/howtobuyababy
TWITTER: @HowToBuyABaby
INSTAGRAM: @HowToBuyABaby