Thanks to the growth of "film noir" in the 1940s and 1950s through films like THE MALTESE FALCON, THE BIG SLEEP, TOUCH OF EVIL and DOUBLE INDEMNITY, just to name a few, gritty yet seemingly realistic stories of crime and passion have gripped audiences for generations. So too have the iconic performances of such legends as Humphrey Bogart, Lauren Bacall, Edward G. Robinson, James Cagney and other Hollywood greats.
Just as those classics have withstood the test of time, their typical genre conventions (damsels in distress, skeptical private eyes, scheming criminals) have also become rich sources for parody in films like DEAD MEN DON'T WEAR PLAID, WHO FRAMED ROGER RABBIT, THE CHEAP DETECTIVE, and THE LONG GOODBYE, among others.
Over the years, countless TV shows ranging from MOONLIGHTING and PRETTY LITTLE LIARS to CASTLE, plus web series like NOIRHOUSE and UNDER COVERS, have poked fun at the genre. Carrying on this tradition is the award-winning comedy web series THE PANTSLESS DETECTIVE, now into its third season of 5 episodes on its official web site and YouTube pages (see links below).
Created by and co-starring Tom Chamberlain and Dipu Bhattacharya (who co-produced with Leigh Newsom), season 3 of the acclaimed series continues the adventures (and misadventures) of grizzled gumshoe Richard Panceliss (played by Chamberlain), a detective who, in spite of the fact that he lives in a decidedly modern age, tries his best to apply good old fashioned leg work to every case he seeks to crack. By the way, did we mention that he does so while not wearing pants (thus his surname)?
The series also stars Bhattacharya as Panceliss' loyal yet constantly harried assistant Smitty, who somehow manages to help his boss solve the toughest of cases, even though he often finds himself at the receiving end of his verbose tirades. Assisting Det. Panceliss is Temperance Friday (Amy Lewis), who serves as the voice of reason inside the chaotic atmosphere of his agency.
Just when it seems things couldn't get any more sticky for Det. Panceliss, his world becomes even more hectic when a former love – Constance Trustworthy (played by Rebecca Robinson) -suddenly reenters his life. Exactly what she wants, and how significant of a role she played in his own personal history, will be featured in greater detail in season 4, which is now in pre-production.
It all leads to a shocking, yet hilarious, series of circumstances that results in Det. Panceliss becoming a prime suspect in her murder, and his being held captive by an unknown, mustachioed associate of notorious crime boss Bruno Weisenheimer (played by John Stanhope). Will our private dick get out of this latest jam? Will his name be cleared? Will we finally find out why Det. Richard Panceliss is always so…pantsless?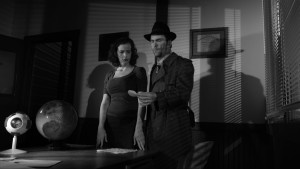 Inspired by Bhattacharya's and Chamberlain's longtime love for the film noir genre, its larger than life personalities, and the various parodies of its most familiar aspects, the idea for THE PANTSLESS DETECTIVE emerged from, of all things, a special film created for the 40th birthday of one of Bhattacharya's closest friends, co-star Brian Sierer (who portrays Sgt. McAdams, an ex-colleague and constant thorn in Panceliss' side throughout each season of the series).
"I had become the go-to guy among our friends for making short films for milestone birthdays. Our friend Trish (Sierer) asked me to do something for the surprise 40th birthday party for her husband, Brian (also our friend)," Bhattacharya remembers. "His parents had been in the CIA, so I wanted to do a '50s spy spoof, because I love spoofs. But because Tom had two trench coats and wanted to buy a fedora, it morphed into a '40s film noir detective spoof."
It was out of sheer necessity, mainly due to harsh summer heat, that Chamberlain's throwback private eye character would become THE PANTSLESS DETECTIVE. "When we started filming, Tom was an unnamed detective. It was also August in Austin, Texas, so it was brutally hot," says Bhattacharya. "To prevent Tom from dying of heatstroke, I mostly shot Tom from the waist up so he could he wear shorts (I assumed) underneath the trench coat, instead of long pants."
Chamberlain recalls the experience a little differently, but also, rather amusingly. "I had a pair of light wool pants I was going to use, but when Dipu explained the shots for the original birthday piece to me, I figured I didn't need pants at the first few shoots, because he had planned only medium and close shots," he says. "I wore shorts to be more comfortable at the non A/C locations."
Because of that same blistering hot weather, Chamberlain did his best to stay cool during filming. During a critical scene, though, the actor would find himself turning what would have otherwise been an embarrassing mishap into an instant source for comedy. "I didn't even bring pants to those shoots, so when on the spot, we thought to do a wide establishing shot, we were stuck," he adds. We had to show my pantslessness to get the shot."
As it turned out, that peculiar appearance would soon become the most unmistakable element associated with Chamberlain's character.
"Halfway through filming, enough people had commented on how funny the trench-coat-with-no-pants look was that we decided to go with the look and make him officially The Pantsless Detective," Bhattacharya responds. "It was not originally intended, but I think we quickly and clearly saw the comedic potential of it, and (we) made it a feature of the video, and later the series," says Chamberlain.
The resulting 16 minute short film, which featured Chamberlain, Bhattacharya, and Stanhope originating their series roles, was a tremendous success. It was at that point where Chamberlain and Bhattacharya decided to continue their partnership through what would become THE PANTSLESS DETECTIVE, a hilarious, yet highly suspenseful parody of classic film noir thrillers.
"Tom enjoyed the character and the interplay between his detective and my intern so much that he kept pushing the idea of continuing with this concept," adds Bhattacharya. "So, I tweaked some of the ideas from the short and wrote a half-hour pilot that would become our first season. John continued his role as the Thug from the short into the series, and Brian, the subject of the short, joined the series to play McAdams."
As viewers will notice while watching the series, THE PANTSLESS DETECTIVE's production quality grew tremendously over the course of its first two seasons. Thanks to the success of a Kickstarter crowd funding campaign held prior to the debut of its sophomore season, construction of a specially designed office set (for Panceliss' detective agency) began, with filming taking place at Austin-based Picturebox Studios. As Bhattacharya describes, a new dedicated spot for shooting each episode was only the first of many changes in the show's production.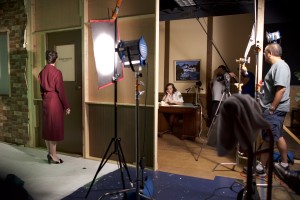 "We were also able to recruit a much bigger production crew for Season 2, shooting on DSLRs from our new cinematographer, David Avila, and having a dedicated lighting and sound crew," says Bhattacharya.
"While we were able to use the same set and studio space for Season 3, a constrained production timeline (due in part to the success of Season 2 on the web fest circuit) meant we had a smaller production crew on Season 3 than we did for Season 2."
While THE PANTSLESS DETECTIVE's visual and aural elements were enhanced in seasons 2 and 3, its storytelling aesthetic also improved. "I think the production values and production design made a leap between Season 1 and 2," Chamberlain says. "Plus, I think our writing and editing is getting better every season. I think we are finding our tone, and are getting better at being consistent in that tone."
In addition to acting, writing and producing THE PANTSLESS DETECTIVE, Bhattacharya also serves as the series' post-production editor. Being in that position has also made a major impact on him throughout the past 3 seasons of the series. "As the editor for all three seasons, I'm learning more and more every year, and the editing software keeps getting better and opening up more possibilities," he says. "As we progress, we can also see more and more possibilities for each character, filling in the back stories and playing more to each actor's strengths."
Although viewers can expect to see more of the same wacky humor tempered with edge-of-your-seat suspense throughout every episode of THE PANTSLESS DETECTIVE, Chamberlain hopes that they will end up getting more out of it than they anticipated. "While it is primarily a comedy and a loving send up of noir tropes, I'd like to think there is some satirical skewering on white privilege and the basest part of American culture," he says.
THE PANTSLESS DETECTIVE continues to prove that when it comes to fighting crime, one man can make a difference – even if what he lacks in trousers, he more than makes up for in dogged determination, and possibly, complete stubbornness. "I mostly just want to make people laugh and entertain them with this show," Bhattacharya says. "I suppose if there's a theme, it's this: don't take anything too seriously, especially yourself."
(Note: The series is currently closed-captioned.)
ON THE WEB: http://pantslessdetective.com
YOUTUBE: https://www.youtube.com/user/PantslessDetective
FACEBOOK: https://www.facebook.com/ThePantslessDetective/
TWITTER: https://twitter.com/PantslessDet