While every home has its own special charms and creature comforts, not all humble abodes are filled with innocence, nor are they used merely as a place to hang one's hat. It's a fact of life presented in the new drama series RED LIGHT DIARIES, created, written and directed by Katarina Waters and now streaming all of its 13 episodes via its official YouTube page (see link below, along with the embedded pilot episode). 
The series follows a young woman named Candy (Caitlin Carleton) who sees her own residence as much more than merely a home. Having decided to support herself by taking part in the world's oldest profession – prostitution – Candy becomes the prime focus of her own ongoing fantasy as her home becomes a de facto castle. In this twisted scenario, Candy casts herself in the role of a princess held hostage by her loyal yet domineering boyfriend/"evil king" Tyler (Alex Bennett).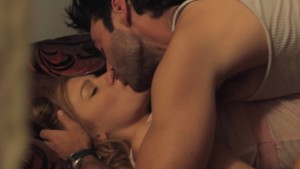 Already doing big business with her well-meaning but socially awkward client John (Joseph Ryan Meehan), Candy's newest customer Chris (played by Max Benton), sees Candy as someone who can finally help him achieve romantic satisfaction after a period of personal and career setbacks.
In turn, Candy feels that Chris could be her path to a happier life. With Chris immediately posing a challenge to Tyler and John, their paths soon converge, leaving Candy to make a fateful decision that could dramatically affect all of their lives.
No matter how big or how small any creative project is, and no matter what medium it's created for (movies, TV, web series), ideas are nothing without inspiration. Often, that inspiration can come from the successes of other talented individuals. Such was the case for Waters, who became determined to make her own indelible mark on the world of digital storytelling after meeting with two filmmakers who achieved major success through their acclaimed web series.
"A friend of mine from the U.K., Lisa Gifford, had come to the L.A. WebFest with a series she had created entitled 3SOME (which is really great by the way, and also on YouTube)," Waters says. "I met up with her and her husband, producer Elisar Cabrera, and it was then that I realized I wanted to follow in her footsteps and make my own. That was hugely inspiring to me and (it was) basically the trigger that set it all in motion."
While many web series creators have to deal with the obvious limitations that come with low to zero budget filmmaking, Waters decided to work within those limits by using a single setting to serve as the backdrop for the exploits of a woman whose "fairy tale" life is filled with risks that are often greater than rewards.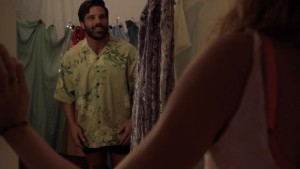 "I thought to myself, 'what can I write that takes place in my apartment?' The obvious answer was the story about a prostitute who never leaves the house. And voila, RED LIGHT DIARIES was born! Once I started writing, other parts of the story started to develop," explains Waters. "Naturally, it expanded into a few other locations, but that is how I initially came up with the concept."
Having cast the series through a mix of past collaborators and friends, Waters also found inspiration to move forward on RED LIGHT DIARIES' pre-production from the actress who would soon play its protagonist. "Caitlin (who plays Candy) and I had worked on a couple of plays together," recalls Waters. "One day, I saw she put out a post looking for people who wanted to work on some new projects. I met up with her and told her I had an idea for a series in which she would play a hooker. She liked the idea, so I started writing and putting it together."
Waters believes that RED LIGHT DIARIES' memorable characters, its unique take on the seamy side of sex, and its uncanny ability to transcend multiple story genres over the course of its 13 episodes, is sure to be a major drawing card for fans of movies like BOOGIE NIGHTS and other similar fare. At the same time, Waters feels that those above-mentioned qualities make RED LIGHT DIARIES unlike many web series geared towards mature audiences.
"I think what sets it apart is, for one, the subject matter. I think it's quite an unusual theme for a web series and it is quite adult oriented (albeit it contains no nudity), and also in terms of language," she adds. "There is a lot of swearing. I also think it doesn't really fit into a specific genre, as it starts as sort of a dark comedy, and ends up being quite dramatic and almost thriller-like."
Having overseen much of its production behind the camera as RED LIGHT DIARIES' writer, producer and director, Waters was able to successfully achieve the creative objectives she sought to accomplish through her series. "For me, anytime I get to direct, it is just so exhilarating to watch my ideas and visions that live so strongly in my mind manifest in real time," describes Waters of directing the series. "Sometimes, (it's) different than expected, but somehow (it's) always magical."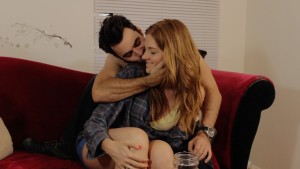 Even though working on a small budget had its drawbacks and difficulties, Waters says that seeing the show's talented cast and crew work its magic on-set made the entire experience worthwhile.
"It was really great, despite the small budget, or in some ways because of it, since everyone involved was so helpful, and (they) just went above and beyond to put it together and make it work," she responds. "I couldn't have been happier and more grateful for every one of the actors who put so much into it, and (who) were so supportive."
As viewers watch RED LIGHT DIARIES, they'll see just how the decisions its characters make will carry significant consequences, and how those choices can change their lives in the most desperate of situations. "If there is a message (to send through the series), I would say perhaps that people are multi-faceted, and that you really can't judge or predict anyone's behavior at all," Waters says. "I think it is mainly an exploration of what makes people act in certain ways."
Citing the trajectories of its characters as a guide, Waters hopes viewers will not just understand the what behind their decisions, but also, the why. "How does a guy like Chris, from a wealthy family with traditional moral values, get caught up in a situation where he falls in love with someone like Candy, to the point where he is pretty much ready to put his life on the line to help her?" Waters asks. "Rationally, we might think it impossible, or shake our head at him, but if we can go through the steps and share the experience with him, we might understand. That, to me, is incredibly fascinating, and I hope the audience will feel the same."
NOTE: Regarding closed-captioning/subtitling of RED LIGHT DIARIES, Waters says: "It is not (captioned or subtitled), and to be honest, I had not yet considered that. I will look into it though, as I can see that would be a good idea."
YOUTUBE: www.youtube.com/RedLightDiaries