As evidenced by the runaway success of the NPR true crime docuseries SERIAL, plus TV series like 48 HOURS MYSTERY, DATELINE and others, putting together compelling stories about grisly murders, unexplained disappearances and the like can often involve playing on the emotions and feelings of those who watch and listen. From there, it can be hard to tell if such shows are meant to inform, or to entertain – or both.
With that issue in mind, and with his hometown of Buckhannon, West Virginia serving as its backdrop, Rob Raffety (creator of the award-winning comedy series CAP SOUTH) launched his latest project, the new multimedia crime drama MUCK. Originally produced as a short film, MUCK, created, written and directed by Raffety and now streaming on its official web site and Youtube pages (see links below), consists of 5 episodes and podcasts featuring its main character, investigative reporter Albert Edwin Carter (Danny Gavigan).
Carter, who himself is the host/correspondent for a fictional, SERIAL-like public radio show called "The Muck", travels down to Buckhannon to investigate the long unsolved disappearance of a local businessman, Gregory Verdant. Having been held criminally liable for the deaths of twin children Natalie and Nicole Unseld when deadly chemicals from his company's nearby plant contaminate the town's Sago Swimmin' Hole, Verdant suddenly vanishes prior to a scheduled plea deal hearing.
As Carter's inquiry unfolds, though, he discovers that the reasons behind Verdant's unexpected disappearance are just as unknown as his possible whereabouts.
Through his interviews with Natalie and Nicole's father, John Wesley (Jeff Allin), his niece Samantha (Juliana Schoettler), the local sheriff, Lisa Hughes (Cindy Jackson), and longtime gas pipeline worker Randy (Bradley Foster Smith), Carter's investigation is compounded by the strange, unsettling reluctance of the townspeople to solve a mystery that's become ingrained in their own daily lives.
While he's a big fan of SERIAL, and acclaimed scripted dramas like FARGO, TRUE DETECTIVE and TWIN PEAKS, Raffety sought to explore a much deeper issue through MUCK by examining how shows like the popular NPR podcast, plus other news/documentary series that focus on real life crimes, can often transform information into manipulation.
"About halfway through the season, I started wondering about the gray lines between fact-finding and entertainment, truth and spin, reporting and sensationalism," he says. "How was the narrator presenting the 'evidence' to her audience, and what sorts of emotions was she seeking to invoke? So, those were some of the themes that inspired MUCK, initially."
Another source of inspiration was West Virginia itself. Determined to film MUCK on location in the very place Raffety grew up in, he and longtime collaborator Travis Edwards sought to produce a series that's part crime drama/part love letter to the beauty, people and places of rural Appalachia. "Up to then, we'd (Edwards and Raffety) focused almost entirely on goofy comedies," adds Raffety. "Between the inspiration of SERIAL, and our ambition to shoot something in Buckhannon, it was the convergence of these two things that gave birth to the idea of MUCK."
An even more passionate, yet nonetheless imaginative tribute to Buckhannon, West Virginia can be found in MUCK's introductory trailer, a black and white, shot-for-shot remake of the famous opening sequence from Woody Allen's 1979 comedy MANHATTAN.
Named "Buckhattan", narrated by Gavigan, and featuring a bluegrass take on Gershwin's classic "Rhapsody In Blue" ("Appalachian Rhapsody", performed by West Virginia band T.K. Swoop and the Taylor Ave. Track All-Stars, and available to download on MUCK's web site), the short film introduces viewers to MUCK's setting, while showing them all that makes West Virginia special.
"It took about three weekends and something in the neighborhood of sixty separate shots. A second videographer – Charles Blatz – also helped snag all the footage," says Raffety. "The best part was the Appalachian-themed soundtrack, arranged and performed by a team of local musicians (see above). In many ways, 'Buckhattan' is probably the best thing I've ever made. The way that all came together was just magical!"
While Raffety now lives and works outside Washington, D.C, he also understands the identifiable differences between the constantly active mood of the nation's Capitol, and the intimate, down home atmosphere of his hometown. Like the reporter Gavigan portrays in MUCK, many out-of-state visitors to West Virginia struggle to understand the true nature of its lifestyle and people when they've been used to seeing stereotypical depictions of both in the media. It was a problem that both Raffety and Edwards sought to portray through MUCK's protagonist.
"Travis and I had this idea that a true outsider like our main character, Albert Edwin Carter – a real city-slicker who's never set foot in 'flyover country' –  would just be completely out of his element and dumbfounded by rural life," explains Raffety, adding that the people who comprise MUCK's story universe reflect the hard-working, kind-hearted nature of those who call West Virginia home.
"One thing I learned very early on growing up in that world (West Virginia) is that you shouldn't judge people by the way they talk or look," he says. "The character 'Randy' (played by Smith) was an attempt to illustrate this – he comes across as a simpleton at first, but it becomes clear as the story evolves that he's actually quite wise, or at least he knows more than he lets on."
Raffety's devotion to accurately capturing the people of West Virginia is also reflected in the rest of MUCK's key players.
"The other local characters – the Sheriff (played by Jackson) and the roller girl at Skateland (Samantha, played by Schoettler) — harbor some personality traits that are common among my West Virginian friends and family – a healthy suspicion of outsiders and a low tolerance for bullshit," he adds. "Overall, yes, I wanted the characters and story to ring true to the West Virginia I knew and loved as a kid, and as an adult."
Seeing the chance to expand MUCK's characters and storyline beyond the time limitations of a typical full-length movie, Raffety decided to add an extra layer to both elements. "It (the short film version of MUCK) ended up being pretty long – about forty minutes – and honestly, while we were shooting it, I just started to believe the story merited more time than a feature film would afford. I also started thinking it would be cool to produce a podcast mini-series, narrated by the main character, that was ostensibly about the film we were shooting. Very meta."
When it came to creating MUCK's supplemental podcast, Raffety realized the potential for it to shed further light on the series' story and characters, while providing viewers the chance to experience the show in a unique fashion. With each podcast episode written by Raffety and recorded by Gavigan after filming wrapped, Raffety feels that the primary events and personalities captured in Carter's travels can easily be consumed, regardless of medium.
"The idea for the podcast – the aspiration, at least – was to tell MUCK as one story over two platforms," the show's creator explains. "In theory, the audience could consume the podcast or the video series independent from one another and enjoy it (so) that both platforms would be independently compelling and entertaining. But for the people who consumed everything, there would be a lot of surprises and Easter Eggs."
Most importantly, Raffety effectively uses MUCK's aural and visual elements to examine how news and entertainment have seemingly become one and the same in today's society. "As I explained earlier, one of the themes I wanted to explore with MUCK is the use and abuse of editing by journalists to shape a narrative rather than simply report facts," he remarks. "The idea for MUCK was to create overlapping content in the videos and podcasts that is, at times, complementary, and at times, contradictory."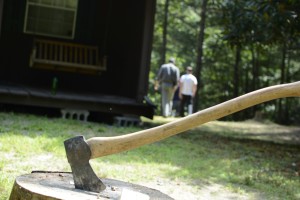 As for producing and recording MUCK's podcasts to go along with the main series, Raffety found himself in uncharted territory.
"Going into (MUCK's) production, I knew I'd be producing some sort of podcast. I just didn't know much at all in terms of what it would contain," remembers Raffety, who recalls both the challenges and rewards that came during the podcast's recording sessions.
"Just knowing that I had an ambition to create a podcast with overlapping content meant that we needed to Danny to record audio of some of the interview scenes with his smart phone, so I could intercut the footage into the podcast script," he responds. "This was not – I repeat – NOT – the best approach to making a project like this."
Despite whatever problems he and Gavigan faced as they worked on the podcast version of MUCK, it all managed to come together seamlessly. "In an ideal world, you wouldn't start production on a project like this without complete film scripts and podcast scripts in hand, and without precise knowledge of when and where you need to record audio clips on set," Raffety responds. "If I had to use a term to describe my approach, it would be 'bass ackwards.' Amazingly, it still works!"
Through each aspect of making MUCK as a short film/web series/audio podcast, Raffety believes that waiting for things to be exactly right during any filmmaking project is impossible – and counterproductive – for anyone involved in the production process. "I could have delayed production until everything was perfect, but guess what – I never would have made MUCK, because nothing is ever perfect! In my experience, you do the best with what you can and you find a way to make it work."
Over the past few months, Raffety has also pitched his concept for MUCK as a weekly TV series to major industry execs at such prestigious events as Los Angeles' American Film Market conference, the web series-focused ITVFest, the Austin Film Festival, and Austin's ATX Television Festival (which landed him and his show in the top 10 of the festival's pitch competition). His determination to take MUCK to even greater heights remains constant.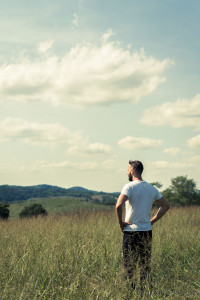 "My dream of dreams would be to partner with a major television outlet to produce a complete season of MUCK in my hometown – ten one-hour episodes, a podcast mini-series – the whole shebang," Raffety says. "It would take an enormous amount of resources, but I think it would be a hit. Short of a major television & podcast production, I'd be open to expanding MUCK into a feature film project."
No matter how successful MUCK becomes, or how big it may grow, it remains a project that Raffety, Edwards and all involved in its production take pride in.
Thanks to its memorable characters, its loving and accurate depiction of West Virginia, the cultural and political gulfs between big cities and small towns, and its probing examination of how journalism can all too often serve as a pretense for emotional manipulation, MUCK powerfully captures how some mysteries truly defy explanation – and possibly, understanding.
NOTE: Raffety says MUCK is not closed-captioned/subtitled at the moment, but adds that he will work on adding that feature to the series' episodes in the near future.
ON THE WEB: www.welcometothemuck.com
YOUTUBE (playlist for episodes and podcasts): https://www.youtube.com/playlist?list=PL02-7PIX2zWABiQxv-jYrMi4AA0dtRxXr