While many TV series and movies over the years have portrayed New Orleans, its people, its daily struggles, and its unique qualities with varying degrees of accuracy, the best representations of each can often be found in productions helmed by filmmakers who truly know and appreciate what makes the city special.
One of them is the new crime drama ARCENEAUX, with its first season of four episodes, or twelve 7-10 minute webisodes, set to premiere in either March or April of 2017 (on a platform, or platforms, to be announced). Subtitled "Melpomene's Song" for the mystery explored in its debut season, the series' premiere episode made its official debut at last year's New Orleans Film Festival. (More on that later.)
Created, written and directed by Jason D. Buch, and with each season of the series centered on a single case, ARCENEAUX stars Lance Nichols (HBO's TREME, THE CURIOUS CASE OF BENJAMIN BUTTON, just to name a few) as Detective Lonnie Arceneaux, a longtime New Orleans police investigator who begins an extensive inquiry into the unsolved murder of a young teenager, Mallory Whelan (played by Lauren DeVore).
Having had a tremendously fractured relationship with her affluent parents, namely real estate mogul Malcolm (portrayed by veteran actor J. Patrick McNamara, BILL AND TED'S EXCELLENT ADVENTURE, CLOSE ENCOUNTERS OF THE THIRD KIND), and his younger wife Kim (Vanessa Cloke, THE WALKING DEAD, THE BIG SHORT), Mallory's troubled life comes to a shocking end on the same night that her father's latest hotel property has its gala opening.
Determined to find out who killed her, and to understand what led to her murder, Det. Arceneaux interviews various people connected to Mallory, her parents, and the community. Among them: Wilton Lowe (Billy Slaughter, BAD MOMS, TRUMBO, THE MAGNIFICENT SEVEN, MAX STEEL), a thriving young businessman who Malcolm hopes to partner with. He's also a neighbor to the Whelans – and the first person to find Mallory's dead body after she is brutally murdered.
Shanna Forrestall (THE LAST EXORCISM, OLYMPUS HAS FALLEN, and ARCENEAUX casting director) plays psychiatrist Dr. Amanda Blaine, who tried to help Mallory cope with the difficulties that she faced in her everyday life; one that she also shared with her devoted boyfriend, Tommy Lafon (played by Matthew Thompson). Rachel Varela also co-stars as Mallory's ex-best friend Tanya Graham, a rebellious, vengeful and often blunt girl who enjoys living on the edge in spite of her wealthy parents.
Phyllis Montana-LeBlanc (GET ON UP, TREME) plays prominent local activist Deborah Miller, who's determined to stop Malcolm's upscale housing development from destroying the unique fabric of her community and the city itself. In addition, Ian Casselberry plays Circle-K, a small time drug dealer whose main customers are the students of the prestigious private school that Mallory and Tommy attended. In fact, Circle-K's ties to Det. Arceneaux are just as intriguing as the case he's trying to solve.
ARCENEAUX's first season serves as both a whodunit and an exploration of how one person can dramatically affect many lives. "I wanted to work on a story that revolved around this girl, Mallory, who's been killed," Buch says. "She's someone nobody really knew, not entirely, and only through this process, this investigation, do we, along with Detective Arceneaux, learn who she really is, the troubles she's faced despite being born into privilege, and how she's been mistreated by almost everyone around her in some way."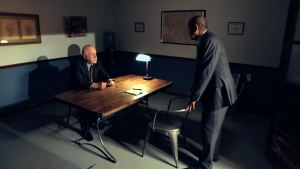 Along with giving viewers a compelling, season-long storyline with equally memorable characters, Buch sought to examine the deeper problems that New Orleans continues to deal with 11 years after the devastation of Hurricane Katrina, including the ever present scourge of crime, and how the city's one-of-a-kind cultural landscape has been threatened through gentrification.
"I also wanted to explore New Orleans and several of the issues facing the city, which, much like Mallory, is being pulled at from all sides," explains Buch, who describes ARCENEAUX's simple, yet refreshingly straightforward production approach. "I wanted to tell a story that didn't rely on flashy camera work or slick editing to keep the audience's attention, but instead focused on the characters, and the actors' portrayals of them. It was, in part, a challenge to myself."
Having previously worked alongside Nichols as a line producer on the 2010 short film THE PRICE OF FLOWERS, Buch knew early on who he wanted to portray the series' eponymous protagonist. "To me, there was no other actor to play that character or lead the show," he recalls. "I contacted Lance and sent him a summary of what I wanted to do with the series, including information on the interview room format, and fortunately for me, he agreed to be a part of it."
For Nichols, a native of New Orleans whose acting credits also include supporting roles in NCIS: NEW ORLEANS, HOUSE OF CARDS, AMERICAN HORROR STORY, FANTASTIC FOUR and the upcoming thriller ABOVE SUSPICION, ARCENEAUX represented a new challenge for the veteran actor. "This is the first project in which I had to carry a show," Nichols says. "(In) my past films and TV shows, I was part of an ensemble."
In fact, Nichols feels that the most difficult aspect of headlining ARCENEAUX was playing and developing a character whose interrogations comprise the vast majority of the series' scenes. "Creating a compelling, believable human being in one setting (was challenging)," he adds. "Because all action (aside from Mallory's bedroom webcam sequences) takes place in Arceneaux's office, the story could become tedious.'
Given that fact, Buch says that the often dramatic face to face interactions between Nichols' detective character and the people he interviews is key to ARCENEAUX's impact on viewers. "With 90% of the series taking place in the interview room, its success hinges on the dialogue in every scene being compelling enough to keep viewers watching," he explains.
While popular shows like LAW AND ORDER, CSI:, NCIS, CRIMINAL MINDS and ELEMENTARY illustrate the tools and tactics of law enforcement and criminal justice, ARCENEAUX focuses on the lives of those who've been affected by crime, and how one man tries to find the truth in the midst of an increasingly complicated investigation.
"All of the other things we're accustomed to seeing in a procedural (analyzing evidence, searches, etc.) happen off screen," responds Buch, who says that ARCENEAUX's dedicated group of actors greatly contributed to each of its episodes. "I was extremely fortunate to have such a talented cast, who all gave strong performances that really carry the series and the format."
Thanks to the hard work and guidance of Nichols and ARCENEAUX co-star/casting director Shanna Forrestall, Buch assembled a blend of veteran talent and impressive newcomers to star in the series. Working with a crew that included students and interns from Dillard University, LSU (Louisiana State University) and UNO (the University of New Orleans), Buch and his actors began ARCENEAUX's extensive filming schedule.
Aware of the dual challenges of filming on a low budget, and of having to work around the busy schedules of its cast, Buch and his production team also learned how to make the most of the limited resources they did have on hand. One such example was the show's interrogation sequences, which were shot in a converted office at New Orleans' 9th Ward Studios. With the setting retrofitted to the needs of ARCENEAUX's cast and crew, the arrangement had its obvious advantages for both.
"Rather than secure a separate location for the interview room, or build a standing set that would have to be taken down and put back up each time we shot, we instead renovated one of the offices at the studio and turned it into the interview room," Buch says. "We were able to wire it for sound and lighting and leave the set dressed and ready to shoot for months rather than days, which meant that if we suddenly had availability for an actor, we could schedule a shoot day on short notice."
Furthermore, ARCENEAUX's scripts also provided an even more unforgiving test for the series' on-camera and production teams. "For the actors, I think the biggest challenge was the amount of dialogue," the series' creator adds. "Virtually every character has a monologue at some point, often more than one. And, at times, we were filming two scenes back to back without cutting the camera."
As mentioned earlier, ARCENEAUX made its big screen debut at the 2016 New Orleans Film Festival, during a showcase of short films produced by Louisiana-based filmmakers. Once the first episode's screening concluded, those who watched it were intrigued and curious about how the characters and their stories would continue.
"I felt like we got a very positive response from the audience at the premiere," remembers Buch. "We were the only web series pilot, and we have an ending to the episode that leaves its primary question unanswered, so we stood out in that regard. I fielded many questions both during the post-screening Q & A and afterward as people were leaving, and I took that as a good sign."
As has been the case in Louisiana and many states, film and TV tax incentives have either been cut drastically, or eliminated entirely. While the obvious repercussions of such actions has resulted in studio projects leaving for greener monetary pastures (Georgia, California, New York and overseas), Buch hopes that the upcoming restructuring of Louisiana's program will help its homegrown actors and filmmakers sow the seeds for its continued success.
"I've long thought our best chance to create a long-term, sustainable industry is by encouraging and developing local projects," he says. "There are so many talented filmmakers in the state, and they have created truly amazing work in the past. The more we can encourage that going forward, the better off we will be as a state."
Thanks to ARCENEAUX, plus other independently produced web series filmed in Louisiana and elsewhere, the efforts of people like Buch, Nichols, his cast and crew are poised to be successful. "Web series like ARCENEAUX are one place where local talent can be given the opportunity to stand out and to show what they can do," he adds. "It's a very long shot that this show will ever be a smash hit and picked up by a network, but it will be out there for the world to watch regardless."
Nichols emphatically agrees. "There is a wealth of talent, both in front (of) and behind the camera here in Louisiana! I'm hoping that more artists here will begin to produce their own projects and take advantage of the additional tax credits they can get by being local, in-state producers," he explains. "We are more than capable and able to tell our own stories without the assistance of Hollywood. We have the knowledge, the expertise and the talent to produce both TV and film projects of high quality and entertainment."
As a filmmaker, Buch finds that the advantages of doing a show like ARCENEAUX are especially apparent." A web series is also an opportunity to take risks creatively, to step outside of your comfort zone without the pressure of a big budget production, or for marginalized filmmakers to take a hand in creating the roles and chances they might not otherwise be afforded," he explains. "With a web series, you don't have to convince a studio that your project has value. You can take it directly to the viewers and let them show you that they value it."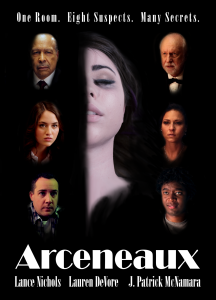 Through its emotionally charged story, its cross-section of characters from various socioeconomic backgrounds, and its focus on the changing face of one of America's most beloved cities, ARCENEAUX sheds light on one man's determination to solve a brutal crime, and the important roles that New Orleans' people and society play towards making it a safer place to live.
"My hope with ARCENEAUX is that it can serve as an outlet to examine the issues the city is facing without preaching toward a particular solution," Buch responds. "I tried very hard to capture in each character some aspect of the city and the people who live there. I've also tried to incorporate quirks of the culture when I can, like the way we pronounce our street names."
Most of all, ARCENEAUX illustrates that the true intentions and behaviors of many people aren't always as clear as they seem. "…Everyone has secrets. Not everyone is a criminal, and not everyone has done something wrong, but everyone has secrets and reasons for keeping them," says Buch. "For this season in particular, we explore themes of neglect, bullying, depression, gentrification, cultural identity, and what progress means. But the overarching question is whether or not we ever truly know the people who are close to us."
Note: Regarding closed-captioning/subtitling of ARCENEAUX, Buch says: "We plan to close-caption all of the episodes, to allow us to utilize distribution platforms that require it. We don't currently have plans for it to be subtitled into languages beyond English, but it is something that we'll consider after the initial launch."
For more information on ARCENEAUX, visit its official web site (which redirects to its Facebook page):