Trying to find excitement in an otherwise boring day is hard. Yet, as the hilarious new Stream Now TV comedy HUMDRUM proves, an average day can quickly be turned on its head when 2 not quite grown-ups try to find excitement – and danger – by getting caught up with vicious drug dealers and other suspicious characters. Created by and co-starring Connor Webb, the series' 3 episode debut season recently premiered on the aforementioned platform (see related links below), and a second season is already in the works.
HUMDRUM stars Webb and Shay Ruddick as two guys – Connor and Shay, obviously – who desperately want to shake up their dull existences. With that goal in mind, they meet the scheming Riley (played by Daisy Porter), who ensnares Connor and Shay into transporting phony drugs. When their targets, Aaron (James Viller) and Vic (Femi Oriogun-Williams) find that they've been played, Connor and Shay find themselves in more trouble than they ever imagined.
Prior to making HUMDRUM, Webb, Ruddick and co-star Shaun Ward developed and refined their skills as comedic actors and filmmakers through their most recent project, the sketch comedy series GREENHORN.
By contrast, HUMDRUM is fully grounded in the structure of a typical sitcom. "I knew that I wanted the new project to be more story-driven and character based and decided that myself and Shay would play the lead characters, who would be very much based on ourselves (hence us using our own names for the characters)," explains Webb.
With multiple character arcs and wacky storylines, HUMDRUM is also a show that humorously examines the struggles of many young adults, including of people like Webb. "I wanted to put more of myself and my own life experience (being a young, generally quite frustrated and unfulfilled person growing up in a very pleasant but unexciting part of the world) into it, and hoped that people would be able to relate to this," he adds.
Knowing that the most memorable stories involve ordinary people being put into extraordinary situations, Webb upped the creative ante by putting HUMDRUM's two protagonists into the most unbelievable crisis anyone could face. "I thought it would be interesting, and fun, to take them out of their malaise and thrust them into a very foreign world of action, with life and death scenarios involving drug deals, kidnappings and hostage situations. Everything else grew up from around that idea."
Unlike most web series that attempt to tell a story in a limited time frame (less than 5 minutes for most comedies), HUMDRUM is a show that extensively probes the journeys of its characters, and the wacky quandaries they find themselves facing. Produced and presented in a typical half hour sitcom format, HUMDRUM delivers more than just the quick laughs. It delivers a fully rounded, yet entertaining and unpredictable comedic adventure in each of its 3 episodes.
"I wanted HUMDRUM to have individual episodes that felt substantial, and for each episode to have a solid beginning, middle and end," says Webb, who adds that despite the first episode being 33 minutes long, he's sought to bring its two follow-up episodes to just under 30 minutes.
"I think the main thing that HUMDRUM can offer that most other comedy web series can't is that it can make you laugh, while also telling a dramatic and substantial story that grows and develops with each episode."
When it comes to writing each episode of HUMDRUM, Webb focuses on more than just what's on the page. "I don't tend to spend an awful lot of time physically writing, but I do spend a lot of time running through ideas in my head, imagining various scenarios and how they might be interesting or funny or seeing how various story elements might fit together and how they would progress," he says. "Once I've got something figured out, I write it down, and even then that first draft will usually go through a lot of changes before the finished product."
That being said, Webb is more than willing to give his actors creative leeway on the set. "Even though I spend a lot of time on the scripts, I always encourage actors to improvise and go off-script if the moment takes them, as I feel that this can help things feel spontaneous and natural, and can also result in some unexpected and funny ad-libs that couldn't have been predicted or foreseen," he adds. "We usually have at least one essential story element that we need to get across in any given scene, but apart from that, we play around with it and experiment a bit."
While the production process was challenging and tense at times, Webb did his best to keep things moving along. "The filming itself can be tricky to organize, as everyone has quite hectic schedules and day jobs," Webb remarks. "Once we've arranged a day though, the filming itself is usually a very enjoyable experience as we hope to create a stress-free and fun environment for everyone. I usually find filming slightly stressful, however, as I'm often running through things in my mind, worrying whether we have all the shots we need and whether it's shaping up well."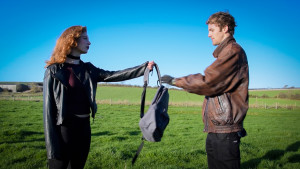 HUMDRUM's online presence has grown thanks to its distribution deal with Stream Now TV. While the series made its debut on Youtube, Webb worked hard to promote HUMDRUM, and to build his audience for the show, by sharing it throughout the Internet.
Yet, it was on the popular message board Reddit (and, in particular, the web series-centered SubReddit section of the site) where Stream Now TV's CEO Ron Valderrama caught wind of Webb's upstart sitcom.
"…He (Valderrama) contacted me to say he liked the first episode and asked when the second (episode) would be released," remembers Webb. "At the time, I wasn't even 100% sure that we would make a second episode, as I was waiting to see the reaction to the first one, and (to) judge whether anyone would be interested in seeing more. Ron seemed to be really interested in the project, and (he) helped convince me to make more episodes."
Once HUMDRUM's second episode premiered in November, Valderrama was determined to get the series on his network. "Ron hadn't forgotten about us, and thought the second episode was 'awesome', and asked me whether I would be interested in having HUMDRUM hosted on Stream Now TV," Webb recalls. "I told him that I would definitely be interested, and we agreed upon a non-exclusive deal, meaning that HUMDRUM would be hosted on Stream Now TV, Stream Now Pro, and also, anywhere else I posted it online, such as Youtube, Vimeo and FilmFreeway."
With HUMDRUM now fully part of Stream Now TV's growing array of programming, the hard work that Webb, his cast and crew have put into making their series a success has truly paid off. "Being hosted by Stream Now TV has been important for us, as it has felt like the beginning of something; it feels like we're beginning to make some waves and gain some momentum," Webb says.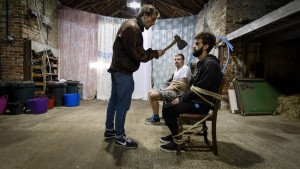 Because of HUMDRUM's partnership with Stream Now TV, Webb and the entirety of his on and off-camera team are already reaping the rewards that come with it.
"I've been making connections and have been in correspondence with people from various places all over the world regarding the project," says Webb. "I think that being on the streaming service will benefit everyone involved with HUMDRUM, as it's helping their work be seen by a wider audience of people."
Yes, HUMDRUM is filled with humor and memorable characters. Most of all, though, it's a story about two guys who just want to make their own lives better – even if it means inadvertently putting themselves through hell. Throughout its first season, and on up to its second season, Webb seeks to examine a multitude of issues in HUMDRUM.
"I think that friendship, and particularly, friendship in the face of adversity, is a major theme in HUMDRUM, as well as temptation, desire and the fear that your life isn't going nearly as well as it could or should be," says Webb. "That's where our main characters are when we first meet them. What could an ordinary person be tempted into doing? Our characters are going to be tested, and there will be consequences to their actions."
Having introduced the incredible world that his characters find themselves in, Webb has even bigger ambitions for HUMDRUM's sophomore season. "Part of my plan for the second season is to venture into some darker storytelling, especially in the finale episode, where the consequences of the character's actions will be realized," he adds. "Not all of the characters will make it out alive. I like the idea that comedy and tragedy can exist within the same space and that one can very easily become the other at a moment's notice. Did I mention it's a dark comedy?"
(NOTE: Regarding closed-captioning of HUMDRUM, Webb says: "This isn't something that we've done yet, but is definitely something that we will look into.")
STREAM NOW TV: http://streamnowtv.com/browse/comedy/humdrum/
YOUTUBE: https://www.youtube.com/channel/UCciGMVW1V2Z1mKKR_QmYFVw
FACEBOOK: https://www.facebook.com/greenhornproductionfilms/
STAREABLE: http://stareable.com/series/view/humdrum
FILM FREEWAY: https://filmfreeway.com/project/857838