Beauty, as they say, is in the eye of the beholder. Yet, what if beauty somehow served as an eye-opening portal to the future? What if the daily act of applying makeup carried with it the unbelievable power to see what comes next? One vlogger finds out the advantages – and consequences – of such an astonishing skill in the new comedy MAX COMPACT, produced by Jenni Powell (THE LIZZIE BENNET DIARIES) and Jo-Dean Roark of Adventure Club Media.
Coinciding with MAX COMPACT's public world premiere at Meltdown Comics' Nerd Melt Showroom in Los Angeles, California, the series' first season of 12 episodes premiered on its official Youtube page (see link below) on January 28th. MAX COMPACT stars Giullianna Martinez as the title character, whose efforts to make a splash as a fashion vlogger are soon complicated when she begins to experience a series of unexplained psychic visions.
Much like the fondly remembered NBC sci-fi/suspense series HEROES, MAX COMPACT focuses on a group of seemingly average people whose lives are suddenly changed after being affected by superhuman abilities. Included in that collection are Max's close companions – the time-bending Kirk (Blaine Miller) and the telekinetic Lily (Maddy Curley). The problem is, though, that their powers are not necessarily as strong as those carried by Max herself.
Just as perplexed as Max is about her newly-gained superpower is her obviously average husband Jordan (played by Youtube personality Michael Bow, MikeBowShow), plus his best friends Ian (Joey Rudman) and Gina (Addie Doyle). Can Max try to balance the responsibilities of her ability to see the future with her goals of making it as the Internet's next hot fashion vlogger?
Inspired by the low-budget, yet effective storytelling format pioneered by THE LIZZIE BENNET DIARIES, and driven by her ambition to return to producing web series following the success of her previous project DORM THERAPY (which she developed during her college years before moving to Los Angeles in late 2015), Roark brought together the incredibly disparate worlds of fashion vlogging and superheroes in each episode of MAX COMPACT.
"I am a part of that world of people that watches makeup artists on Youtube. I wanted to create a show in that world," Roark says, adding that some of her favorite vloggers (Dulce Candy, Michelle Phan) served to inspire Max and a few of the other characters featured in MAX COMPACT. "I've always liked superheroes. I've always watched HEROES. I've watched it 3 or 4 times. I enjoy watching people have a talent or a gift that they don't know what to do with, and struggling in their own way to find purpose."
Having gathered her cast from friends and fellow actors she studied with in New York, Roark decided to reach out to the creative force behind one of the web's most acclaimed transmedia series. "I looked up, 'who is the producer of THE LIZZIE BENNET DIARIES' and I just found Jenni's email, and sent her an email," recalls Roark. "I just emailed her, and said, 'hey, I'm doing a table read. If you could come, that would be amazing.' And she did come, which was wonderful. We had a great time."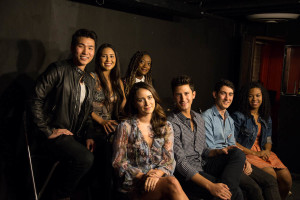 Upon meeting Roark, as well as her talented cast, Powell was quickly impressed by MAX COMPACT's interactive storytelling element (primarily through Max's Instagram page), strong characters, and the superhero through-line that accompanies its vlog-based episodes.
"I just love the concept," she says. "I'm very much the type of producer that gets really jazzed by good ideas. It's so easy to pitch the show. It seems like a no-brainer. It's a great idea, and we should make it happen."
Since MAX COMPACT marks the debut of Roark's new production outfit Adventure Club Media,  Roark hopes that the show can help accomplish its mission of empowering female viewers through the journeys of characters like the titular fashion vlogger. At the same time, Roark also feels that MAX COMPACT and further series projects launched by her company will demonstrate the importance of living life to the fullest with the people you care about.
"We want to tell stories about women who are facing unexpected adventures. I want to focus on women going on crazy adventures, and developing strong friendships, and friendship being a theme (of each show)," explains Roark. "When you watch MAX COMPACT's first season, you'll see that that's something (which is) very much a part of (the show). Finding a group of people who understand you in this world, and going on adventures where you can grow together. That's something I'm dedicated to telling stories about."
Because MAX COMPACT is produced as a character vlog-based web series, the process of shooting each of its first 12 episodes was considerably rapid and efficient. "We did the whole season at once," Roark explains. "It only took about 3 days of filming in November, and we did the whole season and chopped it up into scenes, and out of order (block shooting)."
As referenced earlier, the character of Max Compact reaches out to her audience through both her Youtube vlogs and her Instagram presence. While Powell says that Max's Instagram platform currently serves as the show's main social media hub, she and Roark are examining more ways to expand its interactive outreach.
"There's definitely opportunity in future seasons to go bigger with the transmedia, depending on how big it grows," she remarks. "I think we want to see what kind of an audience base we're working with. Obviously, transmedia is something that I'm passionate about, so I think Jo and I definitely would be willing to expand upon it more."
Determined to expand upon the story and characters established in its first season, Powell and Roark also seek to expand the boundaries of the popular vlog aesthetic.
"As a writer/director, I'm just excited to keep pushing the limits of what can be done within the structure of this blogging narrative," Roark says. "I'm excited to see what other camera angles we can do. I'm excited to see how we can expand the story further in unexpected ways that will surprise people and entertain them. I'm looking forward to that in future seasons."
In addition, Powell and Roark hope to further explore the lives of MAX COMPACT's protagonists. "As long as there's an audience for it, we can keep telling stories about Max. Despite the superhero angle, there's a huge opportunity to watch Max and Jordan's relationship grow as they start to make decisions," adds Powell. "What happens when they're like, "hey, we want to have kids!" How does the power thing factor into it? This is the type of show where the audience can grow with Max, which is something I love about it."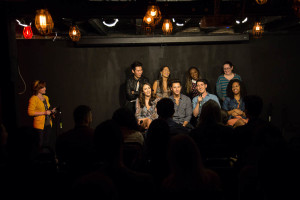 MAX COMPACT is certain to attract fans of superhero adventures and vlog-centered shows like Lonelygirl15, THE NEW ADVENTURES OF PETER AND WENDY and THE LIZZIE BENNET DIARIES – even if those who watch don't happen to possess out-of-this-world psychic powers. Through all its laughs and thrills, MAX COMPACT shows just how great life can be when you've got friends to guide you through life's highs and lows.
"If you're going on an adventure, don't do it alone. Find people who you can be with, and who understand you. 'Find your people' is the first thing everyone told me when I decided to move out here (to Los Angeles). Find the people who get you, who understand your worth, who you can relate with and who you can be with," Roark remarks. "In the show, that's a core thread throughout it. Max finds her people, and relies on others, and not just herself. That's something I want my viewers to see."
"A big theme of MAX COMPACT is not being afraid to hunt for answers. A lot of times, people come up against adversity," adds Powell. "They just sit back, and they're kind of like, 'well, I'll just ride this out. I'll see where it goes.' Max is like, "no. I want to know what my powers are. I want to know how I got them." She isn't afraid to get out there and try to find her answers. Having that strength to know that if something's not perfect, go out and try to find the solution."
(NOTE: Roark says that MAX COMPACT will be closed-captioned.)
YOUTUBE: https://www.youtube.com/channel/UC7hT3WNGEjA5JKeQ_tYT-8g
FACEBOOK: https://www.facebook.com/MaxineCompact/
INSTAGRAM (Max's page): https://www.instagram.com/max.compact/