Every great filmmaker began their careers with a simple, yet profound dream: to tell unforgettable stories through the power of the visual medium. While such legends as Spielberg, Hitchcock, Scorsese, Huston and Tarantino have memorably accomplished that goal, there are many people who've tried desperately to get their 24 frame-decorated dreams realized on the silver screen.
For them, balancing the wondrous possibilities of the creative life with the dull realities of a day job is never easy. Yet, thanks to the vast reaching scope of the Internet, many filmmakers – and actors – are already taking the first steps towards realizing their potential as storytellers.
How? By making a web series, which is what two best friends/Hollywood hopefuls attempt to do hilariously in the new comedy THE BRUISED SPRING'S TEENS, now streaming its first 5 episodes on Vimeo (see link below). The show's premiere episode is also available on its FilmFreeway page (again, see link below).
Created by Itai Guberman, and co-produced by Guberman and Asaf Angel (who is also the show's director of photography), THE BRUISED SPRING'S TEENS stars Zach Cohen as Wes Burman, a driven, 40-ish auteur who aspires to make his first full-length feature.
With his dreams of becoming the next Spielberg fading as rapidly as his youth, and with little to no discretionary income to his name, Wes finds himself facing a real life "all is lost" moment as he tries to get his passion project off the ground.
When Wes' best friend/fame seeking slacker Francis "Shatner" McPhee (Tomer Shechori) moves in to his apartment, things unexpectedly turn around as these two polar opposites join forces to create movie magic in the most efficient, cost-effective way possible: by producing and starring in their own web series.
In every episode, the duo memorably spoofs scenes from such memorable films as CASABLANCA, PULP FICTION, APOCALYPSE NOW and NO COUNTRY FOR OLD MEN, while ingeniously tying them back to the original character arcs and storylines that dominate THE BRUISED SPRING'S TEENS' first season. Alongside those parodies are wraparound "interviews" with Wes and Shatner (poking fun at the HBO drama TRUE DETECTIVE).
Having recently wrapped production on a considerably larger scale project – the short film THIRD TEMPLE, which Guberman and Angel co-wrote, co-produced and co-directed, and is now available to watch on StreamNowTV  – they found themselves ready to keep their creative momentum going after taking a much-needed break from the grinding pace of their filmmaking pursuits. Once they realized that a lack of money would temporarily deter them from starting another prestige undertaking, the show's producers came up with the perfect solution to their dilemma.
"As the previous production drained us financially, we had no money to spend on this next production, so we (Guberman and Angel) tried to come up with a fun project that would be cheap and easy to do, that we could tackle before our next 'serious' production," remembers Guberman.
"After several conversations, we decided that the cheapest thing to do would be a web series and we wanted to try to enter that field anyway, so this was a great opportunity to experiment."
Having been well accustomed to the ups and downs of making movies, Guberman and Angel combined their memories of life on the set with a wacky mix of movie parodies and character-driven humor in each episode of THE BRUISED SPRING'S TEENS. "I quickly came up with the idea to do a show about something we know personally, which is two guys wanting to make serious films. (They) have no money, (they) resort to making a web series instead, and (they) get up to all kinds of hijinks," Guberman adds.
Describing THE BRUISED SPRING'S TEENS as "a web series about two guys who wanted to make a movie so bad, they failed to realize they were living in one," Guberman made sure that the show lived up to that concept through its blend of the funny and the familiar. "I injected all kinds of pop culture references, mainly (from) cinema and TV, into it to create a strange world (or reality) the two characters exist in, which helped turn the crazy up to 11," he explains. The series is loosely based on a true story from that respect, but then (it) goes on its own tangent."
While viewers of THE BRUISED SPRING'S TEENS and movie buffs will definitely appreciate the show's one-of-a-kind takeoffs on cinema's greatest moments, Guberman explains that the show's emphasis on parody serves as the starting point for its humorous scenarios. Consequently, Guberman believes that fans of similarly focused big and small screen comedies will instantly latch on to his series.
"Some elements used in THE BRUISED SPRING'S TEENS resemble TV shows like SPACED, FLIGHT OF THE CONCHORDS and the more recent HAPPYISH and MAN SEEKING WOMAN. Fans of these shows might enjoy our brand of humor," says Guberman. "Fans of films such as ANCHORMAN, WALK HARD, CASA DE MI PADRE, THE KENTUCKY FRIED MOVIE, TOP SECRET!, SHAUN OF THE DEAD, the NAKED GUN movies, Mel Brooks's films and works by Trey Parker and Matt Stone (SOUTH PARK) should also enjoy the material."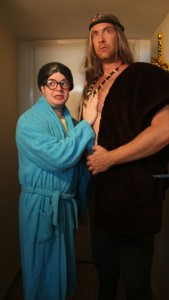 A fervent film aficionado whose own journey in filmmaking has been influenced by such directorial talents as Sergio Leone, Oliver Stone, Paul Thomas Anderson, Ridley Scott, Francis Ford Coppola, Judd Apatow, Mel Brooks, Christopher Guest, Todd Phillips and others, Guberman spent considerable time watching and analyzing several of his favorite movies while planning THE BRUISED SPRING'S TEENS' first season.
"The specific episodes, though, aside for a few plot points here and there, are made up of stories that were written specifically for the series to provide us with a way to include certain film and TV references," he responds. "I basically found a way to use the original scenes from films and TV and spin them into ridiculous situations in the series, and then (I) changed the dialogue to make them even more ridiculous and fit them with the show's storyline."
Even the visual aesthetics of those great movies are recreated, and lampooned, to powerful effect in THE BRUISED SPRING'S TEENS. The show's season finale serves as a case study of that method. "I used the famous farewell scene from CASABLANCA as a frame for a scene where Wes and Shatner have to temporarily part ways," recalls Guberman. "We put the actors in similar costumes to the ones from the film, and I changed the dialogue in a way that references and parodies the original material."
Despite having a limited time frame to arrange and complete production, the critical elements required of THE BRUISED SPRING'S TEENS would seamlessly come together. "Production was a lot of fun. The four of us (Guberman, Angel, Cohen and Shechori) gelled together perfectly and didn't experience much delays," Guberman replies. "Asaf (Angel) and I were very happy with the material, and although we were aware of the low production value, we felt that was kind of the point and it plays a part in the story."
While Guberman and Angel can relate to the hysterical situations and characters in THE BRUISED SPRING'S TEENS, so too can anyone who's ever tried to produce content of their own. "People involved with web series can easily identify with the premise," Guberman says of the series. "Everything discussed before regarding the way we wrote, shot and what we struggled with, should be very familiar for other web series filmmakers. Most of us work in that no-budget/very little resources type of field."
Of course, THE BRUISED SPRING'S TEENS may also inspire viewers to follow in the footsteps of its producers and protagonists. That said, Guberman emphatically encourages would-be web series creators to dive in to the process – no matter how long the odds for success are, or how few resources they may have at their disposal.
"Don't let anyone, or anything, stop you. You can make excuses your whole life as to why you never got to make your feature film, but if you never bothered to try to make a short film or a web series instead, that excuse does not hold water," he says. "Simply make…and as much as possible. Hone your craft, watch a lot of movies and learn from the best. I'm still (and likely will forever be) learning myself, and the process is really what it's all about. Enjoy it and do what you love."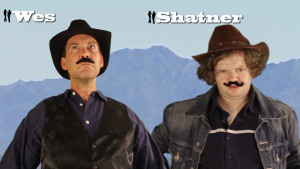 The ultimate measurement of any movie, TV show or web series' success is the size of its audience. With that in mind, Guberman hopes that THE BRUISED SPRING'S TEENS will both entertain and sustain viewers, while ultimately providing him, Angel, Cohen and Shechori greater opportunities to build upon the foundation laid in its first season.
"My overall hope for the show is that as many people as possible watch it. And I don't mean watch one episode, I mean (that they should) really give it a chance and watch the whole season," he says. "I hope that people will enjoy it and that I will eventually be able to find the funding to make more of it. A second season is not a certainty for the moment, but I'm hoping we will get there."
THE BRUISED SPRING'S TEENS not only spoofs some of cinema's most iconic scenes in its own unique way, but it also serves as a tribute to the determination of all who aspire to achieve greatness in filmmaking – no matter how big or small the screen may be. Most of all, it illustrates how comedy can enhance and transform the lives of creators and viewers alike.
"The message of the show is simply (to) 'have fun'. You don't have to read too much into it. It's great if you can, as there are some layers to the material, but I'm just hoping people get a laugh out of it, and (that) it brightens their day somewhat," explains Guberman. "As for the theme or philosophy of the show…I believe that 'Bukkake' is a team sport" pretty much says it all, doesn't it?"
NOTE: Regarding closed-captioning/subtitling of THE BRUISED SPRING'S TEENS, Guberman says: "The series is in English and includes English subtitles."
The show's first season trailer can be viewed here:
VIMEO: https://vimeo.com/album/4280597
FilmFreeway (first episode): https://filmfreeway.com/project/864376
FACEBOOK: https://www.facebook.com/TheBruisedSpringsTeens/
TWITTER: https://twitter.com/wesburman