While dystopian-based fiction has always been associated with dramatized backdrops of brutal oppression, the genre has also demonstrated what can happen when supposedly ordinary individuals fight back against crippling totalitarianism. The compelling new 3 episode web series SWORDS OF INSURGENCY illustrates that struggle through a combination of visual and dramatic realism.
Created and directed by Michael Neal, SWORDS OF INSURGENCY's first episode can be seen on its main web site, plus YouTube and Vimeo (see additional links below), and all 3 episodes will soon be combined into a theatrical film. (More on that later). In addition, the trailer for SWORDS' 2 remaining episodes is now streaming via those same platforms.
SWORDS OF INSURGENCY stars Rebecca Hausman as Abigail, a young woman who struggles to free herself and her people from the brutal regime of Prince Droll (played by Jarod Kearney). Droll's father, the equally diabolical Emperor Taneg (Erik Bernard Johnsen), has trapped Abigail and others opposed to his and Droll's stifling rule.
Mercilessly punishing anyone who threatens to undermine him, Prince Droll wields his tyrannical power with the assistance of The Warden (Mike McMullin). Abigail is soon joined by ex-General Talos (David Norton), whose fierce legion of rebel fighters leads the way towards a violent battle for the future of society.
Describing SWORDS' initial concept as "some sort of post-apocalyptic SAMURAI JACK", Neal found himself in the right setting to create his series.
"The idea originated to do a fight movie in my Brazilian Jiujitsu class, where we were going to just do a small action short with a simple plot," says Neal. "I had already been working on a post-apocalyptic film idea for a while based on Japanese martial arts, where the main character was a descendant of a prominent Samurai family. He had become the leader of the resistance in a village in the countryside."
While Neal has always enjoyed post-apocalyptic thrillers involving zombies and lone vigilantes, he decided to apply his other passions to SWORDS' storyline. "I didn't want to do another zombie thing, so I added some of my other interests like martial arts, and also, my love for the outdoors and more natural settings," remarks Neal.
Neal's talents in filmmaking are also matched by his skills in traditional martial arts. In SWORDS OF INSURGENCY, both of those elements merge during the series' thrilling action scenes. Each of those sequences feature the same combat styles that Neal has worked on in real life. "I have practiced multiple Japanese-influenced martial arts such as Aikido and Judo, which I brought directly into the story with both sword work and hand-to-hand fighting," he says.
Cosmetically, the most visible difference between SWORDS OF INSURGENCY and other dystopian sci-fi entertainment is its use of a more realistic exterior landscape. "I didn't want to focus on urban scenery like most apocalyptic works, so I relied on more traditional Virginia backdrops like a colonial style village, a Civil War mill, wooded terrain and an old Virginia work farm prison," Neal adds.
SWORDS OF INSURGENCY's pre-production started over 4 years ago, but the process nearly ended before it began when an all too similar concept made its TV debut. "We started development in early 2013 and I really thought we had a really original idea until the series INTO THE BADLANDS was broadcast on AMC," remembers Neal. "It almost seemed like a direct copy of my idea, but who knows for sure where they got the inspiration."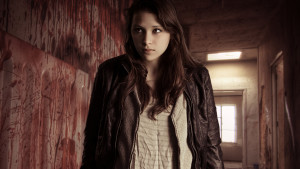 Undaunted, Neal decided to press forward with his addition to the popular post-apocalyptic subgenre. Although SWORDS and INTO THE BADLANDS may have some coincidental similarities, Neal's project is its own beast.
"I think what we have (in SWORDS OF INSURGENCY) is still very different, and has a completely different feel to it," he explains. "It will have some very unpredictable events, as we took some big risks with the story line."
As he constructed the series' primary conceptual elements, Neal's study of history's most infamous war crimes would add a new layer to SWORDS' storyline development. "I was  reading a lot of books about the North Korean prison camps, as well as the Holocaust in Germany, and that influenced the focus of the plot to originate in the political prison camp set up by Emperor Taneg," he responds.
Real life, and reel cinema, equally influenced Neal's creative process. "The prison sequences were derived from my reading on the prison camps of North Korea, while the swords training scene from episode 2 between Abi and Talos was inspired from THE LAST SAMURAI, with Tom Cruise being instructed by his harsh teacher," Neal remarks. "The scene with Emperor Taneg reviewing his map on a table was inspired by the famous photo of Hitler reviewing his battle plans. Every scene and idea draws new inspiration from something I have absorbed."
Taking SWORDS from logline to fully realized series was a journey in and of itself. "I got some writers involved to start building the details and other characters, and we kicked it around for a while until it developed into the current version of the script," replies Neal, who discusses the difficult yet rewarding road to final draft. "We had about 5 different writers for the project over the entire development, and there was a lot of infighting which eventually led to (me) parting ways with many of them, unfortunately. But the struggle resulted in a better final story overall."
While many aspects of SWORDS evolved during pre-production, a significant change in the process would end up working to Neal's benefit. "Abigail, the protagonist, was developed instead of my original idea for a male lead, because Rebecca Hausman was by far the most qualified for the role with her stage combat, dance choreography and theater experience," remembers Neal. "So, the samurai inspired village leader, named Talos by one of the writers, became a supporting character, and the story was developed around Abi's struggle."
Shot in Virginia, SWORDS OF INSURGENCY was a project that proved to be Neal's own version of Filmmaking 101. "The production process was completely chaotic, because this was literally my first film project ever, and it was a large undertaking," he remembers. "I had absolutely no idea how to produce or direct a film. I jumped in with both feet, and just struggled and persisted to get it done, but I learned a tremendous amount in a short period of time."
Thankfully for Neal, the intimidating challenge of being a first time filmmaker was eased by the collaborative talents of his off-camera unit. "It (the production of SWORDS) got better over time, as I brought on more experienced crew like cinematographer Omar Juarez. I gave him a lot of creative control and freedom to direct many of the scenes, as well as the photography."
When it came to finding locations for the series, Neal's attention to detail was at its highest level. "There are so many indie films made in people's basements and backyards, and I definitely wanted to set this (SWORDS OF INSURGENCY) apart from that," replies Neal. "I worked with the Virginia Film Office, as well as networking with the cast and crew to get as many cool locations as possible that fit within my overall vision for the world. The location for the village cost us a good chunk of our budget (about $500 per day), but it really set the perfect scenery for their story."
Even though SWORDS' production was an eventual success, Neal has one huge regret from the time he spent making the series. "The biggest mistake I made was casting everyone up-front, and then trying to work out scheduling afterwards," he says. "It led to the project being dragged out for years when it should have been done in 6 months. There were almost always conflicts where one key cast member was not available when another was, and it was a nightmare."
Now working on the follow-up to SWORDS OF INSURGENCY, Neal has taken a more structured – and timely – approach to finding actors for his projects. "I have since changed how I am doing casting with my new project THE ARCANE WARS, where I have been casting based on availability for firm dates and things have begun to move incredibly faster."
SWORDS' thoroughly planned combat scenes are a sight to behold, and its costume and makeup design are equally eye-popping. Like every other part of the show's production, the process of creating SWORDS' character wardrobes was a team effort.
"I have had some help with costuming from Antonia Arcella, who also plays the character Tabora. She helped specifically develop the look for the villagers, led by Talos," Neal replies. "The makeup was provided by Joanne Abbott, as well as (by) Maddie Ebaugh for the final scene."
Neal also made his own valuable contributions to SWORDS' technical departments. "I developed the costuming for the villains based on a ragtag military look for the leaders, and simple grey coveralls and a ski mask for the imperial soldiers," he says. "The soldiers' disguised costume idea made it possible for anyone to play a soldier, even those playing other characters if we needed them for a scene, including myself. The mutant costumes were prepared by myself by ripping up and weathering clothing."
Neal's experience in another of his favorite activities would also serve him well during his design duties. "The props were usually gathered by me as I prepared for each shoot. Some of them (were) made by hand, such as a monster cage in the last episode," Neal recalls. "I used to play Warhammer 40K, a tabletop war game, so I have experience making scenery and weathering it with paints, powders and such."
With 3 episodes of SWORDS now in the can, Neal's next target is the silver screen as his series will soon be distributed as a full-length movie; one that combines all of season 1 into a 60 minutes-long feature. Even though the web version of SWORDS has won a built-in audience, the success of its theatrical presentation depends on the same people who already love the show.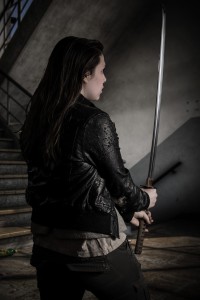 "We are going to play it by ear and see how the feature is received, and to gauge whether or not we should continue. It's all up to the fans," Neal says. "We have a loyal following now, and we will submit it to film festivals and conventions for screening and do a lot of work to promote it and then see how much our fan base grows. In getting the film out there, I'm hoping to grow the fan base from which to hopefully raise more funds, or for a market for video on demand."
Story-wise, Neal also hopes to continue from where SWORDS' debut season left off.
"With a bigger audience and more funding, we can really increase the amount of the story we can tell," he adds. "The faster we can release new material, the more quality we can bring to the costume, settings and props. Having a full crew of talent would go a long ways to raise the production quality significantly, and we could draw from a larger pool of talented actors, as well."
Like other entries in the post-apocalyptic/dystopian sub-genres, SWORDS OF INSURGENCY is itself a powerful depiction of how good can prevail over the worst forms of evil, and how freedom is always worth fighting for when the odds of survival seem overwhelming. Says Neal: "The overall theme (of the series) is resistance to totalitarianism of any form, and the importance of liberty of freedom to the human spirit – no matter the sacrifice involved to achieve it."
(NOTE: Regarding closed-captioning of SWORDS OF INSURGENCY, Neal says: "Yes, we will have closed-captioning on the final versions of the episodes, as well as (on) the combined feature.")
ON THE WEB: http://swordsofinsurgency.com/
YOUTUBE (for the pilot episode): https://www.youtube.com/watch?v=5IEWZGYNl_c
VIMEO: (for the pilot episode): https://vimeo.com/140527978
FACEBOOK: https://www.facebook.com/swordsofinsurgency/
TWITTER: https://twitter.com/SwordsInsurgent