Innovative literary webseries
Classic Alice
first enthralled thousands of viewers over two years and over a hundred episodes. Now there's a whole new way to watch Alice and friends – via Amazon Video! It's the easiest, most convenient way for fans old and new alike to experience
Classic Alice
: just purchase through your Amazon account and watch at any time on any device with an Amazon app, from your big-screen TV at home to your tablet or phone on the go! The longer episode format is perfect for new viewers just discovering
Alice
and for longtime fans ready for a binge rewatch.
To celebrate, creator Kate Hackett will be doing a live rewatch with fans on Twitter, and a AMA with
Stareable
on May 19th.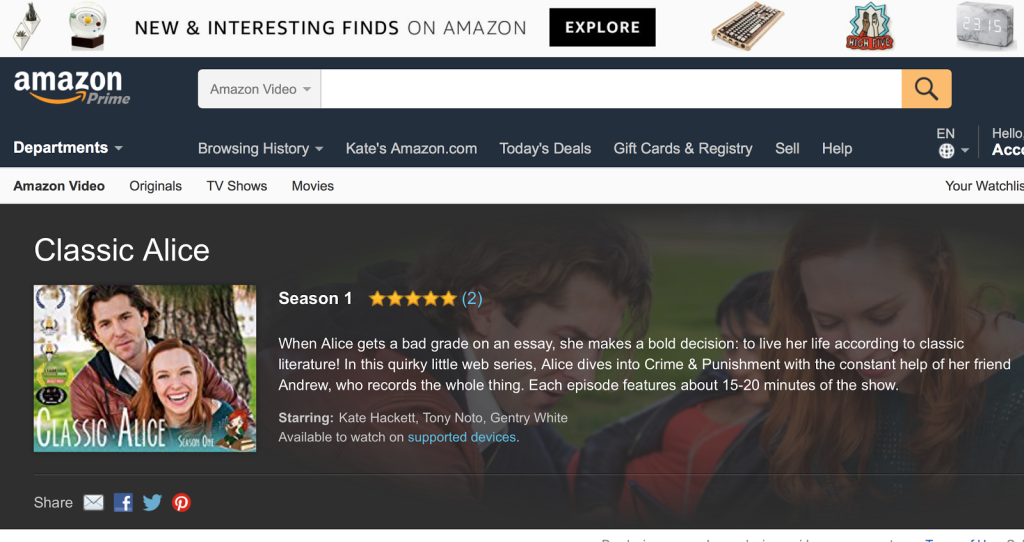 Classic Alice
is a literary webseries with a twist – rather than modernizing one novel, the show tackles multiple classics in interesting ways as college student Alice (writer/creator/star Kate Hackett) makes life decisions according to the actions of characters in classic literature – from
Crime and Punishment
to
Persuasion
– and has to deal with the fallout as she navigates her college career and figures out what comes next. By turns hilarious and moving, and often both at once, the show thoroughly entertains its viewers while making them think about books in new ways.
Classic Alice's original 100+ short episodes are now edited into longer episodes arranged by book, making it easier than ever for viewers to enter Alice's world. Episodes are available for purchase or to watch via Amazon Prime. The entire show is/will be available as of May 19th at http://bit.ly/CA-amazon