Can you stay true to yourself, while trying to fit in to the same heritage you grew up in? In the hilarious and thought-provoking new comedy TOKENS, that question is examined through the travels of two best friends – Anime devotee Troy Riggsby (Troy Dangerfield) and dedicated comic book fan Stefan St. Fleur (Stefan Dezil) – who've both been used to being the "token" African-American in otherwise all-white social settings.
During TOKENS' 8 episode first season (now streaming on YouTube, see more links below), Troy and Stefan daringly seek to discover themselves and their culture during an eventful trip to a secret black Halloween night bash in Los Angeles. While they experience a variety of humorous moments on the way to that gathering, Troy and Stefan realize how they're defined by the heritage they share, and by how the rest of society views them.
Produced and written by Dangerfield, and directed by Benjamin Welmond, TOKENS' comedy and characters are rooted in the real life friendship and experiences of Dangerfield and Dezil. Greatly enhancing TOKENS' storytelling, and its overall effectiveness as a series, is its honest presentation of the same social issues that minorities confront every day. Those issues – tokenism, racism, racial identity, diversity, cultural assimilation – have also touched Dangerfield and Dezil in many ways.
"Stefan and I have always laughed at some of the ridiculous moments that happen in our friendship and lives," Dangerfield responds. "We both have struggled with questions of cultural identity based on factors like socioeconomics and education. It is something I have never seen explored in depth. There is a lot of comedy in these two characters' reality, juxtaposed with how they are perceived by the world around them."
Dangerfield's own experiences in tokenism date back to his high school years. Those experiences have helped him develop unique insight on multiracial society and cultural assimilation. "As a Token, I understand white people in a way that few do. It's an oddly nuanced thing, but I live in their world, in the sense that I operate in the same spaces and by the same rules," he says.
Dangerfield's view of those interactions also informs the way he uses comedy to illustrate the moments shared by TOKENS' two primary characters. "This perspective (that Dangerfield has gained by being a "token" among all-white social groups) strengthens my ability to reach them through humor. It's important for white audiences to see themselves in Troy and Stefan, as well as in the white characters in the show."
From maintaining a true sense of self amid a changing world, to facing the uncomfortable situation of being a "token" person of color in a majority white group of people, TOKENS confronts those challenges with equal parts humor and realism. In fact, as Dangerfield explains, many of his and Dezil's confrontations with those problems formed the basis of much of TOKENS' stories. "…Almost every episode was inspired by a real event. I think it really grounds the show and adds a level of authenticity."
One of TOKENS' memorable first season entries stands as proof of its true to life storytelling. "For example, the runaway episode was something that both Stefan and I have experience in," says Dangerfield. "It is something I wanted to give to Troy's character because he is very unsure of himself and trying to figure out where he fits in the world and his community. For Stefan, I really wanted him to be driving the plot of the show and we have both experienced wanting to reach out to, or to find, a stronger black community."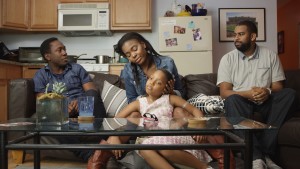 While Dangerfield and Welmond say that TOKENS has its similarities with the award-winning indie film DEAR WHITE PEOPLE and the hit ABC sitcom BLACKISH, they believe that TOKENS' own blend of comedy and social commentary will generate laughs – and reflection – from a diverse range of viewers.
"The subject matter of our show is, for the most part, pretty serious, but I've always believed the best way to deal with the messed up world is to find the humor in it," replies Welmond. "We want to bring people into experiences that might make them uncomfortable, but push them to laugh about it."
"I really think TOKENS is for everyone," adds Dangerfield. "For minorities, I think it allows us to laugh at moments we recognize as part of our lives. I think for white audiences there are still a lot of laughs, but each laugh comes with a little education. A moment or experience you might not recognize, but after seeing it, you are better for knowing it exists. I also believe the show is a great way to start a dialogue. I would definitely compare the show to BLACKISH, but at the core, the brand of comedy is different."
By presenting its main characters' love of comic books and Anime, TOKENS reaches out to another important – and influential – viewer demographic. "This (TOKENS) is for all those anime and comic book nerds out there," Welmond says. "(Graphic novel series) SCOTT PILGRIM (and Anime TV series) ATTACK ON TITANS and SAMURAI CHAMPLOO were all huge influences in the way we approached our storytelling, and we wanted to give small nudges to those things for the fans."
TOKENS also goes where most comedies fear to tread by examining the damaging effects of everyday racial discrimination. "Racism isn't an action that only the most immoral and sadistic people use, but something people experience and perpetuate on a daily basis, and that's not something you see very often on the screen," Welmond adds. "By showing how micro-aggressions can affect a person's psyche, I think it will allow people to think a little bit more aware of the way they interact with the world around them."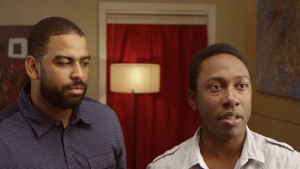 By showing viewers relatable characters in Troy and Stefan, and by presenting equally relatable situations in TOKENS, Dangerfield feels that the series will go a long way towards impacting how viewers perceive the difficulties that minorities encounter in modern-day America.
"…If I can present a situation, and show characters making decisions that are recognizable, this will allow them (TOKENS' viewers) to think critically, to self-assess and to empathize. This is where growth and awareness can start for those that might be ignorant of this struggle."
"It (TOKENS) is about creating self-awareness, telling a community of people that they are heard, but also pushing those outside those communities to listen and to be a bit more thoughtful on the ways they interact with people around them," Welmond replies. "Tokenism, micro aggressions, and racism are things that happen everywhere all the time. They are actions that people put a lot of energy into justifying (example: "I can't be racist, I voted for Obama!"). Opening the door to creating a dialogue is an important first step."
For Welmond, TOKENS' biggest success lies in the spirited conversations about race and society that are sure to ensue after the credits roll. "Another thing that can't be overlooked is that people want to talk about the show. People are eager and excited to discuss the concept and themes. This is exciting because people don't always agree on the content they just watched," he says. "There is nothing wrong with a healthy debate, and for people to talk openly about race is such a gift. If nothing else, the fact that TOKENS has that potential makes me proud."
Welmond also hopes that TOKENS will inspire today's youth to feel at ease with themselves and the world they live in. "I was a part of a program called A Better Chance in middle school. The program gives young students of color the opportunity to get educated at institutions they otherwise wouldn't be able to afford. I would love it if TOKENS could be used within the national organization to help students deal with culture shock, isolation and identity issues that come with this opportunity."
With plans to continue Troy and Stefan's adventures in TOKENS' sophomore season, Dangerfield and Welmond find opportunities to grow those characters even further. "There are definitely more stories to tell, and I think we are just getting to know Troy and Stefan," Dangerfield explains. "I am excited to explore more of their character and journey."
Exploring the struggles of "tokens" from other parts of society is another objective that Dangerfield and Welmond hope to achieve in season 2 of TOKENS.
"We're barreling towards a second season as we speak, and we want to open our doors to focus on other Token experiences in Los Angeles of different races, genders, sexual orientations, etc.," Welmond adds. "We are hoping to go deeper into TOKENS. We have many more stories to tell, and I think this is a show that a major network could get behind."
Great comedy isn't just what makes people laugh. Great comedy also has a ring of truth to it, even if that truth happens to provoke the strongest emotions in all of us. TOKENS' exploration of racial and social issues, and of how our world view can frequently be defined by the people we spend time with, makes it a series that's so much more than a typical sitcom.
As Dangerfield sees it, TOKENS is a reflection on who we are as people. "TOKENS is important because it validates the token experience in America, and it validates nerd and geek culture as part of black culture," he says. "It forces people to rethink what diversity means. Diversity doesn't work or matter if the diverse thoughts, culture, and people are silenced and forced to conform."
TOKENS also makes us consider what we can do to better understand, appreciate and respect people of all backgrounds. "Diversity isn't easy. It takes work. It's not ethnic faces on a brochure for a school, hospital or business. That is the beauty of this country," adds Dangerfield. "Our strength comes from embracing what makes us different and facing it head-on. If you are not growing, you are dying, and if you're not uncomfortable, you're not growing. We should all be a little more uncomfortable."
(NOTE: Regarding closed-captioning/subtitling of TOKENS, Dangerfield says: "The show, at this point, isn't closed-captioned, but that is definitely something we are looking into! It is important in today's media to make sure that everyone has access to the content and closed-captioning, and subtitles really add to the scope of our audience!")
YOUTUBE: https://youtube.com/channel/UCFdAntWSsOw5-XDcUv2mf8A
FACEBOOK: www.facebook.com/TokensWebSeries 
TWITTER: www.twitter.com/TokensWebSeries
INSTAGRAM: www.instagram.com/TokensWebSeries