Damon DeLano has reached his breaking point. His marriage has completely gone over the cliff. He's flunked college, and he can't seem to live up to the high standards set by his respected psychologist father. While anyone facing such troubles would benefit from talking to a trusted therapist, Damon decides to do something inexplicable: he becomes the therapist in the new comedy series HOME REMEDY.
Created by award-winning writer/director Evan Kidd, and produced in two of Louisiana's busiest filmmaking hubs – New Orleans and Baton Rouge, HOME REMEDY's debut season of 5 episodes will debut on November 23rd on Amazon Prime Video. An official link to its primary page on Amazon will be announced on that date.
HOME REMEDY documents the ups and downs (mainly downs) of its aforementioned lead character, Damon (played by Jeff Pearson).
Despite his personal issues, and despite his questionable expertise on mental health, Damon makes his own kind of "house calls" as he hears the concerns of those who are gullible enough to seek his counsel.
Once Damon discovers that his so-called "practice" is causing him more complications, he's forced to do some soul searching of his own, and finds that the best person he can possibly help is himself.
Kidd, who wrote and directed the acclaimed indie comedy feature SON OF CLOWNS, was eager to take on the challenge of making a larger scale project in HOME REMEDY. However, as Kidd explains, a larger factor in the show's creation was his curiosity about the lives of those who work to make other lives better.
"I find the story of our world's helpers interesting. Therapists, doctors, military, etc. What happens to them when they give so much up to help others? What if their heart is in the right place, but logistically their goals just don't work out? These were questions that warranted exploration for me, creatively," responds Kidd.
Deftly straddling the line between giggle-generating humor and often sobering introspection, Kidd feels that HOME REMEDY will find an audience with fans of similar "dramedy" style shows like MARON and YOU'RE THE WORST. However, he also believes that viewers will appreciate how people who dedicate themselves to help people in need can often face difficult circumstances of their own.
"It's a little more on the comedic side at the start, but there are some deeper moments if you come along for the ride. Kidd says of the series. "I hope people come away with a better understanding of the folks in the world who exist to assist. You don't know what they go through, and I hope with both parts comedy and drama, HOME REMEDY can shed some light."
While SON OF CLOWNS was made within a low production budget (roughly $2-$3,000, according to Kidd), HOME REMEDY's five episodes were shot with practically no such funding.  For Kidd, though, the constraints of such an arrangement would only serve to present intriguing opportunities. "I wanted to see if it was possible to create an entire season (length-wise, a little longer than a feature) over a few months for literally nothing," he says. "Turns out you can, if you're hard headed enough."
That said, doing a zero-budget web series wasn't exactly a walk in the park for Kidd and his team. Timing was one such challenge.
"We made this series for no money. Because of that, we had to work around a lot of people's schedules where we were not the first priority, and that's okay," Kidd remembers. "Our production spanned five months on and off, with some shoot days having a month of notice, and others, a few days."
While HOME REMEDY's production experienced some hiccups along the way, Kidd takes pride in the work and effort put into every episode. "We made due, because this was resource-based filmmaking at the end of the day," he replies. "It's not for everyone, but if you stick with it, the output you get is truly like nothing else. Believe me. That was the biggest reward personally; looking back with my cast/crew after we crossed the finish line and saying: 'we did that.'"
Kidd can celebrate that hard work because of the skilled actors and behind-the-scenes collaborators who call Louisiana home. HOME REMEDY's commitment to spotlighting homegrown filmmakers and performers is critical to its success, and to Kidd's efforts to help build a sustainable local industry in what's been a popular destination for Hollywood-backed movie and TV productions.
"I'm all for out-of-town productions coming through. I want to see more and more of it sooner, rather than later. However, you also have to invest in your local talent," says Kidd. "Series like HOME REMEDY stand out because it educates, invests in, and promotes the local talent & rising talent with a local production to call their own. Our production office isn't in Los Angeles. We're not staying in hotels. We're local. Authenticity comes from that kind of mentality."
Authenticity was evident in the casting process for HOME REMEDY, and its goal of showcasing local and regional talent definitely attracted those who eventually became part of the show's ensemble cast.
"I believe the fact we were a local production that only wanted to work with area actors in the Southeast made the project compelling to our cast. We wanted them to actually be from the area their characters inhabited for this one."
Just as he did with SON OF CLOWNS, Kidd chose Amazon Prime Video to deliver HOME REMEDY to viewers. In both cases, Kidd was impressed by Amazon's substantial audience reach, and its ongoing support of independent filmmakers like him. However, the decision to again use Amazon Prime for HOME REMEDY didn't come without a significant amount of personal examination on Kidd's part.
"After distributing SON OF CLOWNS, I had to take a long look in the mirror and decide what kind of content I wanted to make. Did I want to invest in a platform (Prime) that was doing so much to invest in fellow indie filmmakers, or play the slots that were the open market of festivals, conferences, and private would-be deals? I wanted to get right to my audience with HOME REMEDY. For an episodic, and not a film, this was the best move, in my opinion."
As it was with SON OF CLOWNS, Kidd and Amazon Prime Video would again become a winning combination. "Nearly everyone has a Prime account for the shipping alone, so we get into a lot of living rooms this way," Kidd adds. "The platform is also doing a lot to invest in local indie productions such as ours with Video Direct. I don't see a lot of other streaming platforms looking out for the local & regional filmmakers like that. That's rare."
SON OF CLOWNS is, on its surface, a typical half-hour sitcom that anyone could easily envision being on regular TV. That being said, Kidd explains that its presence on Amazon Prime Video doesn't make it any different from other shows that are exclusively on streaming networks. Nor does the way it's structured as a series, or the way each episode is offered to its viewers.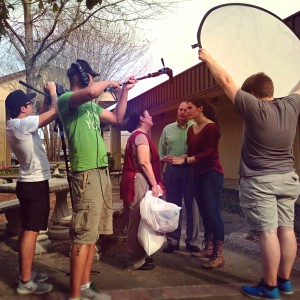 "We are premiering online via Amazon Prime Video, but gosh, half of TV does that now," he remarks. "I approached the series like that, knowing that it's this blend between the traditional episodic we've grown up with where you're only allowed one piece of candy a day/week, (while) also bearing in mind (that) occasionally it feels nice to go for the whole jar in one sitting."
In some cases, shows originally made for Hulu, Netflix and Amazon are presented in weekly installments. However, with binge-watching already a huge part of the TV viewing experience, audiences can experience HOME REMEDY any way they prefer. That fact was on Kidd's mind during the development of his series.
"I know no two people will watch HOME REMEDY the same way. So, I watched a lot of TV and traditional cinema before production/writing and took notes," recalls Kidd. "Then, I attempted to land somewhere in the middle, because it's really one cohesive experience at the end of the day. What you do with it is up to you. I find that aspect of the art thrilling personally; giving up a little control."
Everyone has problems, but everyone eventually discovers a way to overcome them. It's a lesson that HOME REMEDY's meandering protagonist, like many people in real life, works to learn in each episode. As Kidd discusses, the people who Damon comes in contact with in HOME REMEDY have much in common with those we encounter on an everyday basis. While everyone is different, and while no one's beliefs are the same, HOME REMEDY proves that a little empathy towards all people can go a long way.
"Damon DeLano and the supporting cast of characters in HOME REMEDY come from all walks of life," says Kidd. "I think it's that groupthink mentality of perspectives that helps Damon find his way through each episode, eventually getting (him to) where he needs to go. Overall, the transformation, and how he finds common ground with a lot of people who think differently than him, is what makes the watch hopefully worthwhile. That seems relevant, especially today."
(NOTE: Kidd says that HOME REMEDY will be closed-captioned.)
FACEBOOK: https://www.facebook.com/HomeRemedySeries/
TWITTER: https://twitter.com/HomeRemedyShow