Like the fictional hamlets of Mayberry, Stars Hollow and Twin Peaks, real life small towns across America are bound to have their share of friendly yet eccentric residents. However, none of those aforementioned settings may be quite like the idiosyncratic atmosphere of another made-for-the-small-screen spot: 
Created by Louisiana-based filmmakers Zack Godshall and Ross Brupbacher, filmed in Louisiana, and starring a talented group of local actors, HOGWASH's first 8 episodes are all available on its main web site and Youtube channel (see additional links below). Godshall adds that the series' second season, which was filmed in conjunction with its first, will also air via those platforms. (More on HOGWASH's extensive production schedule ahead.)
Shot cinema verite' style, HOGWASH focuses on a memorable assortment of multifaceted characters who are just as interesting as their connections to the town of Oubliette itself. Budding documentarian Thomas Partridge (Thomas Alan Williamson)'s have camera-will travel mentality allows him to parlay his video explorations of his hometown into a local TV series.
Among the people Thomas meets: Jerika Boudreaux (Eric Schexnayder), known for being the best bookmaker in all of Oubliette. Of course, her reputation for barbecuing and rumor-mongering is just as notable.
Around town, Jerika's half sister Phoebe (Susie Labry) is in high demand for her housekeeping and pastry skills. On the spiritual side, Phoebe prides herself on possessing supposedly uncanny prophetic abilities.
Family-wise, Phoebe is reunited with her once-orphaned great niece Crystal Meche (Ashley Duran), who works hard by day, and parties harder by night. On the upper end of the social ladder is Roslyn Bonair (Kristen Merritt), who decides to stray from her wealthy upbringing by behaving in ways that most people wouldn't typically associate with the rich – or with people in general.
Oubliette's resident Shakespeare, local playwright/performance artist/oddball Claudius Flambeau (Justin Bickham) attempts to put on the most spectacular theatrical event that's ever been seen by anyone: an epic opera called "Beowulf and Salome". Though he may be somewhat delusional, Claudius' creative ambition is undeniable. Equally so is Claudius' determination to achieve greatness through the opera's production.
Should legal representation be needed as a result of life's calamities, Claudius and every other resident of Oubliette can seek the "advice" of local lawyers Griffin Todd (Drew Thompson) and Adam Touplichette (Granville Content). The word "advice" is in quotes because the law firm they run, Touplichette and Baronne, has an incredibly notorious reputation in Oubliette. In fact, Griffin and Adam's business practices are even shadier.
While wacky and sometimes questionable characters abound in Oubliette, there's one person that just about everyone agrees is the most knowledgeable: Captain Hart (played by real life Louisiana swamp tour captain Hart Fortenbery, DEEP SOUTH PARANORMAL). Captain Hart's incredible sense of intuition is as extensive as his expertise on Oubliette's vast waterways.
Known for its mouthwatering food, eye-catching beauty and ear-pleasing music, Louisiana is one of America's most distinctive states.
It's a place where many great artists, singers, musicians, actors and filmmakers have had their creativity aroused by its picturesque sights and hummable sounds.
For Godshall, all that makes Louisiana special has a strong presence in his film work. That especially goes for HOGWASH.
"All of my experiences in Louisiana play a role in some way in everything I make. It's impossible for them not to," Godshall replies. "If you watch HOGWASH, you might see some things that are distinctly of Louisiana – the chocolate-brown bayous, the above-ground cemeteries, and the occasional Cajun accent. I'm sure the plot and characters could exist elsewhere, but what would be missing, I suspect, are the juxtapositions that seem to stand in such high relief here in South Louisiana."
According to Godshall, those who've seen HOGWASH say that it shares many of the same aesthetic traits with cinema verite documentaries, reality TV (HERE COMES HONEY BOO BOO, SWAMP PEOPLE, THE REAL HOUSEWIVES OF…) mockumentaries (WAITING FOR GUFFMAN), and scripted dramas (DESPERATE HOUSEWIVES, TWIN PEAKS and NORTHERN EXPOSURE, among others). Yet, just like its setting, HOGWASH is a breed apart from those genre entries.
"Compared to other web series, I'd say HOGWASH is probably a bit more like a feature film due to the pacing, character development, and the continuing story," explains Godshall. "It's not a sitcom. Nor is it sketch comedy. The episodes are intended to be watched in order. The show blends a bunch of tones and genres, which hopefully makes for a unique viewing experience."
HOGWASH's main setting may have lots in common with Louisiana's tinier municipalities, but Godshall stresses that Oubliette is one of a kind. "Oubliette is not based on a single place," he says. "Oubliette may look like a town in South Louisiana, but it also looks like any small city in the deep south – ostentatiousness juxtaposed against decrepitude. Muddy bayous alongside derelict graveyards. McMansions down the street from shotgun houses."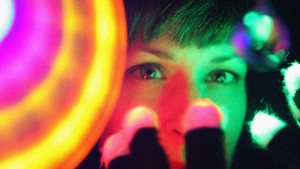 Through their collaboration on the 2011 indie film LORD BYRON, Godshall and Brubacher discovered the potential for doing a uniquely Louisiana-centered story with Louisiana talent.
"Making the feature LORD BYRON with Ross in and around Lafayette, Louisiana, with local actors, inspired us (Godshall and Brupbacher) to make HOGWASH," Godshall says. "We liked the idea of making a low-budget, small-town mystery with a cast of local actors."
Working from the same freeform production structure that they used on LORD BYRON, the two veteran filmmakers also found potential in the people they worked with on-camera. "We tend to work with a loose outline of characters and scenes," responds Godshall. "This process is very open and collaborative, and it requires a lot of improvisation and split-second decisions. Very few shots and scenes are pre-visualized, and so, the process is also part of the inspiration."
Originally supposed to have more episodes in its first season than what was eventually released, HOGWASH split its production into 2 seasons – both of which were shot simultaneously during an extensive filming period. Those who've seen season 1 of HOGWASH can look forward to seeing some interesting additions to the upside down world of Oubliette.
"Season 2 will pick up exactly where Season 1 leaves off," Goodshall remarks. "It will also introduce several new characters – Michael Salazar, a detective who is obsessed with the playwright Claudius Flambeau; Mary Sinclair, Oubliette's mayor; Mina Barboza, the mayor's handler; a couple of local witches named Violet and Raven; and the mysterious Maya."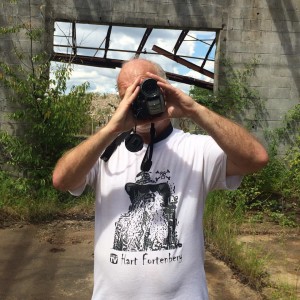 Since its introduction in 2002, Louisiana's film and television tax credit program has provided many local actors and filmmakers with jobs and exposure.
Thanks to new legislation, the program has been restructured to ensure economic stability, while planting the roots for what Godshall and others hope will become a firm homegrown-centered industry in the State.
The goal of creating such an industry is part of what Godshall aims to accomplish through his series, and through his ongoing partnership with Louisiana's best indigenous talent.
"HOGWASH is a community-based project that relies on participation and collaboration," he explains. "I'd love to see more projects that are born of other communities, as opposed to industries and studios who are here and gone."
With a second season soon headed to viewers, HOGWASH serves up the splendor of Louisiana with a taste of the surreal. For their part, Godshall and Brupbacher feel that the series' storytelling potential is limitless – even though their finances currently aren't. "All along, the goal has been to make a compelling series according to our own tastes," says Godshall. "With limited means and no real budget, we have had to work within certain bounds. I'd love to complete the HOGWASH story, but to get to Season 3, we'll need to have a budget."
NOTE: Godshall says that each episode of HOGWASH will soon be closed-captioned.
ON THE WEB: www.hogwashtv.com
YOUTUBE: https://www.youtube.com/channel/UCoG_Ain8OYAqUZW6u0CNtBA
FACEBOOK: https://facebook.com/hogwashtelevision/
TWITTER: @Hogwash_TV