Ex-military fighter turned corporate mercenary David Shepard makes a living by targeting enemies of the United States for the Harris Corporation, a mysterious government-backed defense contractor. His next task is to kill five women who've inexplicably gained tremendous supernatural powers after surviving a traumatic experiment.
Once he finds out that his newest job ties back to the unsolved death of his scientist wife, David – and his would-be victims – end up becoming the targets in the new suspense thriller THE CELL. Created and written by Bryan Thompson (who also stars in the lead role of David Shepard), and produced by his studio Imani Films, the first season of THE CELL is distributed by Italy-based Lulifilm. As of this writing, an official announcement on when and where the series will be seen is still pending.
Developed while Thompson concluded his service in the U.S. Army, THE CELL's action-packed first season examines David's mission to uncover what role the corporation may have played in the demise of his spouse (Eve, played by Cinderella Graham). Working in tandem with his partners/fellow assassins Garcia (Karlee Perez, best known as WWE diva "Maxine") and Vasquez (Humberto Castro), David defies his employer's directive by protecting the five women he was originally ordered to kill.
Those women, though blessed with extraordinary abilities, come from troubled backgrounds. Having lost her family, Luisa (played by Aranzazu Diez) solely relies on her existing skills in card hustling and computer hacking to survive. While only she knows the extent of her newly gained supernatural powers, Luisa doesn't yet possess the knowledge needed to employ them in her life.
Neither do the other four women that David finds himself guarding: model turned drug pusher Nadia (Estefany Tejada), exotic dancer Haley (Megan Woods), thief Destiny (Lenicia Porro), and scorned former housewife Amber (Sarah Kaminski).
Accused of killing her abusive ex-husband in a bizarre stabbing, Amber finds herself fighting for her freedom and life in equal measure. With the corporation's deadly forces now in pursuit, its CEO Yvonne (Frances Mitchell) may be the one person that could save David and his cohorts from danger.
While it's an intense thriller, THE CELL explores how resilient people can be when they find themselves afflicted by corruption. "This is a story of a group of people brought together by accident (each suffering an injustice) who must count on each other and make each other better in order to survive a common enemy and (to) get justice for the wrongs against them," says Thompson.
As an Army veteran, Thompson knows the importance of teamwork and leadership. While those traits have benefitted his work as both a filmmaker and director of the Miami Web Fest, Thompson's military background gives him a unique perspective on the collaborative nature of cinema.
"Being in the Army made me intensely aware of certain things that the average civilian will never know about. It also shaped my ability to build an organization and lead a team. These skills are as useful in directing a film as they are in directing a web series festival," Thompson explains. "Most importantly, the 'can-do' spirit has enhanced my innate sense of determination, which is how I have seen my film projects and the festival through to fruition."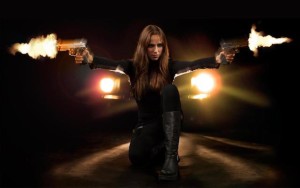 That 'can-do' mentality saw Thompson and his colleagues through the making of THE CELL. "We shot 14 episodes in about 20 days. The production took about a year though, because we had to work around schedules and our D.P. was based in Madrid, Spain," remembers Thompson.
Post-production turned out to be the most complicated part of putting THE CELL together. "The editing took just as long because there were a number of hang-ups, including a hard drive that was destroyed while we were trying to create the backup, leading to re-shoots, etc.," Thompson adds. "In short, production was a great bonding experience, but getting this product to market was really tough."
Despite the problems that occurred while Thompson and his colleagues worked on THE CELL, the actor/filmmaker remains honored to work in the visual media. "For me, it is a luxury to tell stories that matter to me and to have people watch and enjoy it," Thompson says. "It is addictive. I am inspired by filmmakers who have done that well, and I am inspired by actors who have evolved into directors and producers for that same reason. The examples are endless."
One of those inspirations is Karlee Perez, whose contributions to THE CELL proved to be immeasurable. "Karlee is a ray of sunshine! The 'can-do' culture that we emphasize at Imani Films is something she showed-up with! She is willing to take chances, does great character study and 'knocks it out of the park' every time," adds Thompson. "More importantly, she is very 'down-to-earth', which is surprising given the level of projects she works on."
THE CELL also features Perez performing many of the same skills that made her a force to be reckoned with as WWE (World Wrestling Entertainment) Diva Maxine. Knowing the potential for his series to instantly attract Perez's pre-existing fan base, Thompson created opportunities for the pro wrestling superstar to demonstrate the powerful athletic talent that made her famous.
"I intentionally wrote areas into the script where she could use her 'signature moves.' At WWE, she performed the 'guillotine choke' against opponents," Thompson responds. "I knew her fans would recognize that, so I wrote it into the script. She finishes an assassin with this move. Her WWE character Maxine was also famous for performing the 'slap-and-kiss' on her love interests. In THE CELL, there is a scene where she does this as well."
For Thompson, Perez's presence helps to make THE CELL a series where human drama and heart pumping excitement go hand in hand. "Fun is our distinguishing characteristic. We didn't follow any rubric with this show. I just wanted to tell the story without being too limited in structure, so that is unique," Thompson replies. "I think we took chances with the story and the stunts. We have aliens, explosions, a Lamborghini car chase, rockets, 007-style gadgets, etc."
While THE CELL has yet to reach home viewers, Thompson hopes that the series will benefit his talented collaborators as much as it will benefit the audiences who'll watch. "I simply wanted to create a project that would allow me to keep providing exposure for a core team of professionals (cast and crew) so that we could all grow as a team, and as individuals. I believe that when you do that, the money (from distribution) will inevitably come."
(NOTE: Thompson says that THE CELL will be closed-captioned.)