Motherhood is both the greatest gift that women can receive, and the greatest responsibility that they can bear. With their lives permanently changed and enhanced by the challenges of parenting, many women also face an even more personal struggle: the struggle to stay true to themselves. Looking at that task through a comedic perspective can be helpful, though. To that end, the upcoming new series THE MOTHER LODE provides a funny and relatable look at parenthood and personal authenticity.
Created by and starring Theresa Gambacorta, and co-produced by Gambacorta, Bri Castellini and Natalie Johnson, THE MOTHER LODE is currently running a Seed and Spark crowdfunding drive intended to help fund filming of its first four episodes (additional links below). If successful, the series will debut sometime mid-to-late 2018. So far, two seasons have been penned by Gambacorta, who also hopes to explore her character's journey over a total of four seasons.
In THE MOTHER LODE, Gambacorta portrays Margaret, a woman who put aside her artistic career to spend years raising her young son. While she seeks to rebuild her pre-motherhood life, Margaret is still shaken by the death of her estranged father, Frank (Louis Mustillo, MIKE AND MOLLY, THE SOPRANOS), and by the unexpected return of her former friend Sara (played by Meredith Holzman, THE SINNER).
Thanks to her professional achievements as a TV writer, Sara seemingly lives a life that most people just dream of having. Behind the scenes, though, the childless Sara hopes to move on from a painful breakup. With their lives at a crossroads, Sara and Margaret's already fractured relationship reaches its greatest depths. "It's difficult terrain for two friends who had been so close and have had their friendship unravel. They each want what the other has, in a way," says Gambacorta.
Amid all that tumult, TV producer Karen (played by Gaby Gold) speaks to Margaret about possibly being the front woman for a new "infotainment" platform that's targeted towards millennial moms. However, as Gambacorta explains, that opportunity comes with heavy risk. "If there is one character that is responsible for sending Margaret into her spiral and ultimate breakthrough, it's Karen, (whose) obsession with Margaret's parenting style (is something) that she sees (as) ripe for exploitation."
At Margaret's side throughout is Frank, who emerges from the afterlife to import some uncomfortable but ultimately necessary advice to her daughter.  
"Now that he has gone beyond his earthly limitations, he follows Margaret around to try and guide her," adds Gambacorta.  "Watching Margaret struggle against the advice/insight from her dead father really, really makes it so difficult for her. But, you know the saying…'my mother was right?' In this case, it's Frank. The means by which he tries to school Margaret are what make him so lovable and horrible at the same time."
This being Gambacorta's first film project, THE MOTHER LODE's concept and storylines evolved from two interesting sources.  "The overall arc of seasons 1 & 2 were developed from a solo play, THE VEGAS PROJECT, that I rendered into a screenplay," Gambacorta replies. "I kept writing hours when (my) son started Pre-K and rendered Season 1 in about three months. Season 1 was originally based on a blog called "Mama at the Park" that I started, and then I quickly realized that the material was ripe for a shorter, dramatic form."
The similarities between THE MOTHER LODE and THE VEGAS PROJECT are even more evident in Gambacorta's arc for season 2 of her series. "The second season explores Margaret and Frank's relationship through a trip she took to Las Vegas with his urn. No kidding, true story," she remarks. "It's essentially THE VEGAS PROJECT screenplay rendered into 10 episodes."
In a deeper sense, Gambacorta made THE MOTHER LODE with the goal of changing the typical media narrative of motherhood in today's world. "Life, and the desire to create content for women that was not status quo stories about leaky boobs and diaper changes (was what inspired me to make THE MOTHER LODE)," says Gambacorta, who finds equal inspiration for her series in the ups and downs of her life as a parent. "Motherhood brings joy, and it also brings great pain. Navigating the pain in a funny way is what speaks to me, and (so is) bringing honesty, authenticity, and my largeness to the screen."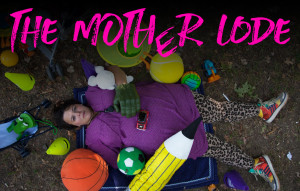 Gambacorta believes that THE MOTHER LODE's funny yet relatable characters, and the show's emotion-filled storylines, are bound to attract women and moms of all generations. "It's a no-brainer that women and mothers are my audiences, but I think particularly millennial moms would love the show," Gambacorta says. "These are young women who have inspired interests, and (who) try to navigate motherhood as a source of inspiration as well."
At its heart, THE MOTHER LODE examines an aspect of life that has virtually gone unexamined in popular media. "While there are several shows out there that deal with motherhood, none of them explore our topic: grief/loss of self/grieving with our unique spin," explains Gambacorta. "For as much as Margaret is mourning the loss of herself, she is also mourning the loss of her father. Intergenerational wounds are a theme that underpins the playground fun."
THE MOTHER LODE also takes note of how motherhood itself is changing with the times.  "It used to be that people would tell you, 'oh, you can have your career and motherhood'. This generation of young mothers is saying, 'well, I don't want to go to some shitty office for a job/career I hate and put my kid in daycare'," Gambacorta adds. "They are looking for ways to make motherhood and inspired personhood a territory that they want to navigate, and guess what: I still don't think there is a balance, but we try."
Laughter can heal even the most wounded broken hearts, which is why THE MOTHER LODE's humorous yet poignant look at life's adversities is so powerful. "The writing is smart, and we have an incredible cast of terrific actors. The topic is timely, and yet timeless," Gambacorta says of the series. "It's healing, and it's grief and loss explored in absurd and touching ways. There are no easy answers – and that's what makes Margaret's journey so palpable and relatable."
(NOTE: Regarding closed-captioning of THE MOTHER LODE, Gambacorta says: "We plan on (using) closed-captioning for our episodes.")
To contribute to the series' Seed and Spark campaign, visit:
http://seedandspark.com/fund/motherlodeshow
For more information on THE MOTHER LODE, visit: