The world is filled with as many dreamers as there are dreams. Yet as actor/filmmaker Ari Frenkel (Silicon Valley, All Rise) has discovered, there are also as many offbeat characters and inopportune distractions as there are Broadway superstars and iconic tourist attractions. As audiences will see in Frenkel's critically acclaimed comedy series Sorry, Ari, those characters and distractions can make for some humbling yet relatable moments – even if we and Ari wished such incidents never happened.
Over 17 hilarious episodes (now streaming on the show's web site, linked to below), Frenkel plays a perpetually cursed yet resiliently optimistic man who just wants to live his best life, but whose unceasing run of misfortune makes for unforgettable slice-of-life humor a la Jerry Seinfeld (the titular star of his classic NBC "Must See TV"-era sitcom) and Larry David (star/creator of HBO's equally classic Curb Your Enthusiasm). An eighteenth episode of Sorry, Ari is coming soon, with more to follow.
Despite all the zany situations Ari endures in each episode – getting blamed for an apartment's rat infestation that he had nothing to do with, meeting a questionable fortune teller, being stopped by annoying tourists and a harmonious barbershop quartet while attempting to reunite a woman with her missing wallet – he always takes his bad luck in stride while staying hopeful that things will improve…eventually.
Having just won the 2021 Stareable Fest award for Best Comedy (among many previous honors), Sorry, Ari also features an amazing assemblage of veteran talent appearing as some of the many unique people Ari both meets and tries to flee from as he gets caught in one disaster after another: Nicole Pacent (Anyone But Me, Stumptown), Stephen Guarino (Eastsiders, The Goldbergs), Jee Young Han (Santa Clarita Diet), Susane Lee (SusaneLAnd, Gilmore Girls), Dan Shaked (The Mysteries of Laura), Jamie Renee Smith (9-1-1), Christine Ko (FX's Dave) and Molly McCook (Last Man Standing), just to name a few.
Knowing that not everything in life goes according to plan, Frenkel based Sorry, Ari on many of his most humiliating experiences. "I was inspired to make the show because comically bad things would happen to me in real life and the stories felt too crazy not to (put) into a narrative," he says, noting that he also took the opportunity to make each episode feel like more than a run-of-the-mill sitcom. "The show has now developed into a platform for me to explore new ideas and genres."
Though Frenkel obviously sees Seinfeld and David as his greatest creative influences, the narcissistic qualities of their fictional personas are nowhere to be found in Frenkel's reactions to his own mishaps in Sorry, Ari. "The biggest difference (between their characters on both Seinfeld and Curb) though, is that while (they) are objectively selfish people who bad things happen to, my character is earnestly trying to be a 'good' person and do the right thing," says Frenkel. "Despite this, bad things happen to him, just like (in) real life."
Sorry, Ari often features sizable casts and elaborate sequences in episodes that mix comedy with elements of drama, horror, suspense, silent films and musicals, which required Frenkel and his production team to work overtime to execute the complicated cross-genre styles presented during some of those episodes. In spite of these complexities, the typical path from development to finished product for Frenkel's series runs like this:
"The production process changes from episode to episode based on the scope of the episode, but I usually have an idea, write the script (often with actors in mind), cast it, hire a crew, shoot the show, edit the show, and release it online," he explains. "Sometimes I've had help with the production end, but often it's me on my own."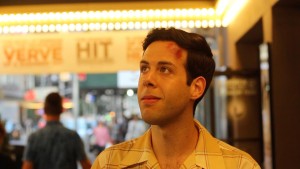 COVID safety precautions were in effect for Frenkel and his team during filming of Sorry, Ari's latest episodes, and although being forced to downsize his traditionally big production during the pandemic was difficult for the multi-talented comedian/actor, he learned how to be resourceful with his efforts in spite of the challenges of the moment.
"During COVID it's been especially difficult and I've had to be savvy about how to shoot things with minimal crew/actors," notes Frenkel. As the pandemic situation improves, though, the usually big trappings of a typical Sorry, Ari show are about to make an even bigger comeback as production of the series resumes. "I'm looking forward to getting back to (working in) normal times and doing a big splashy episode," the show's creator/star adds.
Like all actors who've grown tired of looking for the industry's proverbial gatekeepers to grant them the "golden ticket" to showbiz glory, Frenkel decided to make his dreams come true the only way he knew how to: by giving himself and his peers the opportunities they'd never get by waiting for the next callback.
"What I've taken away from making this show is that if you want to make something happen, you have to do it yourself, and in that hard work you will gain the experience and develop your skill sets that will create other professional opportunities," Frenkel comments. "I also have learned that taking time to invest in a project can really teach you so much about your art and your unique authentic point of view."
If your luck has already run out, or if it's just run dry for the time being, Sorry, Ari offers a funny and hopeful break from life's darkness. "I want viewers to feel better after watching my work. There's enough tragedy and sadness in the world, so my hope is that it makes them laugh and (that it) gives them a burst of positivity and joy in their day," says Frenkel.
Though Sorry, Ari's main character can never seem to shake his bad luck, he – and the show itself – is evidence that staying positive during life's down moments can make a huge difference when things ultimately turn for the better.
NOTE: Frenkel says that Sorry, Ari is not currently closed-captioned or subtitled.
Watch all episodes of the show at: