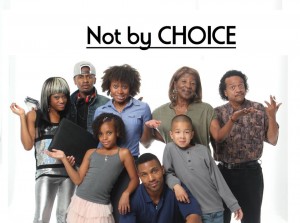 In today's unstable economy, many people are struggling to find work, but in the new comedy web series NOT BY CHOICE, one man goes to great – albeit questionable – lengths to support himself, and his family. The show, created by Michael Glenn, and co-produced by the husband and wife team of Brandon Kyle (who also wrote and directed the show) and Pentene' Monique (who also stars as the show's most popular character, Niecy), stars Dav Lewis as Dave Choice, an experienced cable TV installer who finds himself unemployed after his company goes bankrupt.
In order to make ends meet, and to support not only his fiancee Angie (Lorren Cotton), but also her two children, he is forced to take a job that literally comes not by choice, one that comes with a big risk: installing illegal cable for a shady pimp/businessman named Dolla Stacks (Solomon Hoilett). The cast also includes Deon Sams as Isaac, Dave's wacky best friend who introduces him to Dolla Stacks.
NOT BY CHOICE was loosely based on Glenn's real life experience as a cable TV technician, and it was this experience that led Glenn to approach Kyle to develop the series, which, Kyle says, is unlike any comedy web series, or web series of any genre, that currently airs on the web. "The look, the characters, the story, the dialogue is all different from that of most web based series. It has something that is new, fresh, creative and uncommon than what you would normally see out there. I believe that when people tune in they don't know what they are going to get. You won't watch this show and feel like you've seen this before because you haven't. It's about time to get something different and new out there and NOT BY CHOICE gives the audience just that."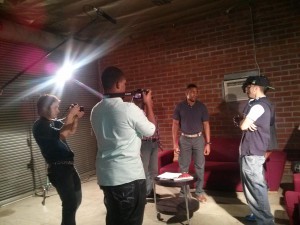 Over a hundred actors auditioned for various roles in the show's cast, before Kyle finally settled on his ensemble. Along with casting, the writing and producing of each episode has been "challenging, but fun," according to Kyle, "from the writing and creating (of) solid scripts and stories, to hiring a crew and cast who believe in the project, developing scripts, getting a clear direction of where we want to go, and attempting to get a quality project for a small budget. Overall it (the production) has had it's ups and downs, but through all the hours and months of work, it has been well worth it."
As a filmmaker, Kyle's main mission is simple: to entertain. "I love film and television. I love entertainment and entertaining people. I love the process of a production from developing to scripting to casting to physically shooting. It's a lot of hard work but it doesn't feel like work because I love it. The time and effort you put in to bring something to life that you developed, created, wrote, produced, directed is an honor itself. Why not show it to the world?
While Kyle hopes that NOT BY CHOICE will achieve success among viewers (he hopes for 50,000+ viewers, and for the show to run 2-3 seasons), as well as financial backing, including revenue from product placement and advertising, he believes that many who watch will not only be entertained, but will also be inspired by, and relate to, its overall message, one that rings true amid the current state of the economy, and a message that the show's protagonist embodies: to persevere, no matter how bad things may seem.
"Everyone in Dave's life brings something different, and despite everything, and all the craziness around him, he still stays sane. The show is straight comedy, yet tells a great story."
ON THE WEB: www.notbychoiceseries.com
YOUTUBE: www.youtube.com/notbychoiceseries
FACEBOOK: www.facebook.com/notbychoiceweb
TWITTER: www.twitter.com/notbychoiceweb
For behind-the-scenes content on NOT BY CHOICE, visit: