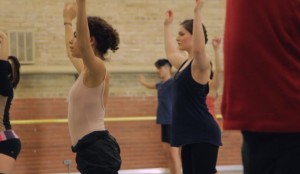 Being an underdog can be tough, and it's a reality that the members of a cash-strapped modern dance company face head-on in a new web series drama, DANCE BY DAY, created, written and co-directed by Jonathan Robbins (CLUTCH), and also co-directed by Jason Leaver (OUT WITH DAD, PETE WINNING AND THE PIRATES and several episodes of CLUTCH).
The series, with its trailer now on Youtube, tentatively set for twelve episodes, and whose ensemble is still to be announced, co-stars Janelle Hanna (Emily in CLUTCH), as one of the company's newest dancers. The production team also includes producer Leonardo Dell'Anno, who also produced another web series involving dance, PRISON DANCER.
Robbins' filmmaking experience began as a dance cinematographer (his work includes the film BEAUTY OF TOUCH, starring dancer Sean Ling of the Toronto Dance Theatre), and it was that background that proved to be the impetus for the show's development.
"10 years ago, I began writing the script for what would be a television show about a modern dance company. While that never took off, the idea kept pulling on me – and then now, knowing the world of web series – it seemed like the perfect place to reshape it."
DANCE BY DAY is unique from many other web series in its approach to storytelling, combining both dramatic and documentary techniques to portray the world of modern dance, a world rarely featured in today's media, Robbins says.
Like the dance troupe portrayed in DANCE BY DAY, the future of the series itself will be determined by funding, primarily from the Independent Production Fund (IPF), a Canadian organization that has long since funded Canadian-made movies and TV shows, and is now backing web series produced there, but with the hopes that each series that is funded will result in a positive return on their investment. Robbins and Leaver shot a short pilot, and submitted it as a pitch to the IPF in hopes that this show will be funded.
"We went into the shoot wanting to keep the cameras as hidden as possible, for it to feel like nothing more than a dance class for the cast, as many of them were non-actors. However, as dancers are used to being watched and being aware of their bodies, they took direction easily and were able to give us exactly what we needed for both the physical portions, and the dramatic moments."
The video was produced with the help of the Toronto-based Winchester Street Theatre, along with many locally based actors and dancers who participated in the filming of the video. Aside from securing funding for the show's production, Robbins hopes to reach many viewers, especially those who appreciate the world of dance who rarely get to see modern on screen, those who enjoy good drama, and also the LGBT audience, with its positive portrayals of the gay community.
While he aptly compares his show to several other notable films and TV shows revolving around the world of dance, most notably Nicholas Hytner's 2000 film CENTER STAGE, Robert Altman's 2002 film THE COMPANY, and the hit ABC Family series BUNHEADS, Robbins says that his show's focus on modern dance is what sets DANCE BY DAY apart from the others. It's a story not only about dance, but about life, told in a unique style. "This series aims to show that yes, it will be hard. Yes, you will have to make choices in your life that not everyone will approve of – socially, financially. But the reward is worth it – the love and value of art cannot be matched. Dance by Day is art unjudged, just presented."
ON THE WEB: www.dancebyday.ca