Have you ever wondered what your voice would sound like if it was auto-tuned? In the new comedy web series MY SYNTHESIZED LIFE, created, written, directed and executive produced by Nate Golon (WORKSHOP) and set to premiere sometime in June with 11 episodes, Brent Bailey stars as Jimmy, a young office worker whose voice is suddenly transformed in a freak accident by his radio during a rap song, resulting in his voice becoming fully synthesized. While most people look down on him, his roommate Steve (played by Jonathan Schwartz, who also appeared in WORKSHOP), and Steve's sister Liz (Katie Gill), help him to embrace the new powers and advantages that his new voice provides.
The show also has an impressive supporting cast, including Tony winner Marissa Jaret Winokur (KING OF THE HILL, AMERICAN DAD!, RETIRED AT 35), Stacey Oristano (BUNHEADS, FRIDAY NIGHT LIGHTS), Katie LeClerc (SWITCHED AT BIRTH), Barrett Foa (NCIS: LOS ANGELES), soap veterans Nicolas Coster (SANTA BARBARA, ANOTHER WORLD, ONE LIFE TO LIVE, and DALLAS, among other numerous roles) and Marie Wilson (AS THE WORLD TURNS), plus two stars of two other popular web series: Sean Hemeon (HUSBANDS), and Alexis Zibolis (DEVANITY). Rounding out the cast is Cindy Pickett, best known as the mother to Matthew Broderick's title character in the '80s classic FERRIS BUELLER'S DAY OFF.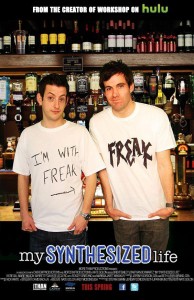 Golon, who also stars in the series as Alan Primrose, says that the concept of MY SYNTHESIZED LIFE is what makes his show unique from all other comedy web series, that of a man whose life (and voice) are suddenly changed, a concept that came, ironically enough, while listening to the radio. "I was inspired to write the show while driving one day in my car, and heard a hip-hop song on the radio in which the singer's voice was auto-tuned. I immediately thought that, plus another musical component which will be introduced in to the show, would make a great storyline," says Golon.
The show was created after production wrapped on Golon's previous series, WORKSHOP, which became the first-ever independently produced half hour sitcom to air on the streaming subscription service Hulu. For MY SYNTHESIZED LIFE, Golon has bigger ambitions. "My prior series, 'Workshop,' is about six actors trying to make it in L.A., and while I am very proud of that show, it is definitely a show that has many inside jokes that folks in LA and maybe NYC can really find common ground with. 'My Synthesized Life' will hopefully appeal to a large demographic."
Among those goals is to get MY SYNTHESIZED LIFE distributed to the widest audience possible. "My goal is to get an amazing distribution deal for the show, where it either stays online and gets seen by as many people as possible, or ideally the concept gets picked up for television. I really want the show to be a success, as then I would have two popular series under my belt, plus another short film that I created last year called Briefcase, which is now licensed for worldwide marketing use by Netflix."
Golon sums up MY SYNTHESIZED LIFE this way: "I would describe 'My Synthesized Life' as a buddy comedy and a 21st century musical of sorts. The show has a superhero arc to it, where a young man down on his luck gets afflicted by something in a freak accident, and becomes an outcast. But once he learns to harness the power of his affliction, he realizes the power that comes with a synthesized life."
FACEBOOK: www.facebook.com/mysynthesizedlife
TWITTER: www.twitter.com/synthesizedlife
YOUTUBE: www.youtube.com/user/mysynthesizedlife
Golon's other series, WORKSHOP, can be viewed at www.workshoptheseries.com.